Coming Home to Lead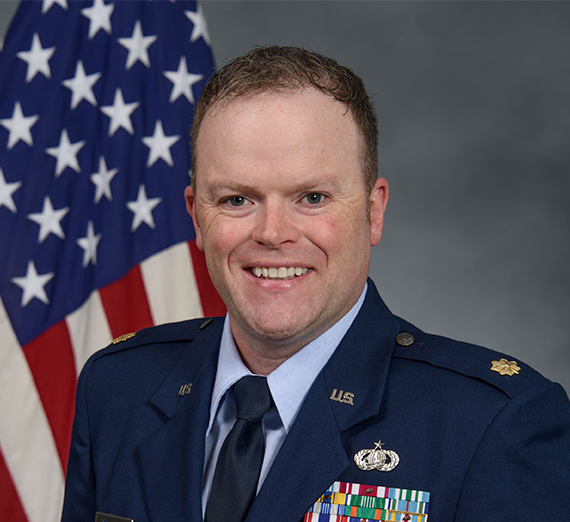 ---
"When I had a bad attitude and found out I didn't get to fly planes, the military culture found me and said, 'You're serving something bigger than yourself, and here's a new world that you can learn to love.' And 15 years later, I absolutely love it."
Commanding the 92nd Force Support Squadron at Fairchild Air Force Base in Spokane is the homecoming Ryan Whitaker ('16 M.A.) always hoped for in his 15 years of service in the Air Force. But, coming home took surrendering to a role he never thought he would fill.
Thirty-five years ago, Whitaker's mom worked as a janitor at the Enlisted Airmen's Club, the Officer's Club and the Alert Aircrew Club at Fairchild. She was responsible for cleaning each facility and "ensuring professional, first-class facilities were available to service members and their families," Whitaker said.
"As a single mom, she showed me the value of making sure my servant's towel was always bigger than my ego, that no one should be above menial tasks like taking their own garbage out or vacuuming a neighbor's cubicle," said Whitaker, who spent much of his childhood in Airway Heights and Colville.
Whitaker joined the Air Force through ROTC during his undergraduate education at West Virginia University. He was motivated by the attacks on 9/11 and wanted to follow in the footsteps of his father and grandfather, both military pilots.
"There was a big rallying cry to get behind the flag and go fight for your country," Whitaker said. "When 9/11 happened, that call to service just yanked at me, and I knew I needed to put a uniform on."
The top graduate out of West Virginia, Whitaker was selected to be a pilot. The number of pilots the Air Force needs, however, fluctuates, and when Whitaker joined, the Air Force did not need him to fly.
"My family business was flying planes in the military," Whitaker said. "My father was an Air Force flyer. His father flew in World War II. What my dad did, and what his dad did – and what I saw myself doing my entire life – got shot to flames right away."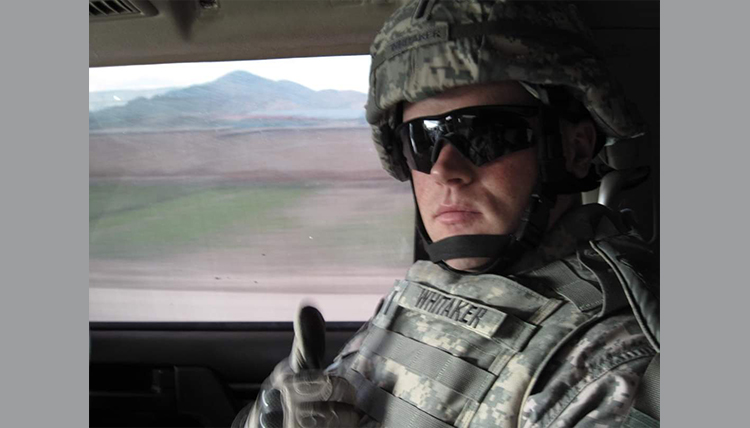 Whitaker served deployments to Afghanistan in 2009 and 2012-13; Oman and Kuwait in 2015; Qatar in 2013; and Qatar, Jordan, Turkey, and the United Arab Emirates in 2016, before arriving in Spokane.
Knowing he had to commit four years to the Air Force, Whitaker said he was going to spend the time "planning my life out of the Air Force." He was assigned to a unit that was in charge of food, fitness, lodging, entertainment and child development centers, things he never had an interest in, he said. At the time, dining facilities in particular were places you went "if you're nobody," he added.
It didn't take long before Whitaker started to have a change of heart, which was fueled, he said, by two things—the brotherhood of the military and Gonzaga's online
Master of Arts in Organizational Leadership
, which he began in 2009.
"My first couple of days in the Air Force, I was wearing a flight suit, I was told I'm going to pilot training in a year, and I was pretty cocky," he said. "It was all about me then. But, through the Gonzaga program, you learn so much more about yourself. If you want to lead, you need to serve. You need to be focused on the larger ecosystem in which you operate."
Whitaker experienced what he called an "awakening" that serving the airmen who fly planes instead of flying them himself was a "pretty cool thing." Gonzaga also taught Whitaker how to forgive others, empathize, listen, and reflect, he said.
"I really found a sweet spot — the ability to serve, the ability to make an impact on an individual human's life through what I do in this career field, and the ability to improve the lives of airmen, soldiers, sailors, and Marines," Whitaker said.
Now, in what he calls his "dream job," Whitaker commands the entire unit at Fairchild where his mom once worked as a janitor. He oversees 475 military, civilian and contract personnel in the 92nd Force Support Squadron, and was promoted to Lieutenant Colonel in August 2021.
"To have the pinnacle job in my career at the location I've always wanted to be, near family, and serve the Spokane community that served me as a kid in diapers, that's a dream come true," Whitaker said. "By my mom's example, I saw that any job worth doing can be a service to another."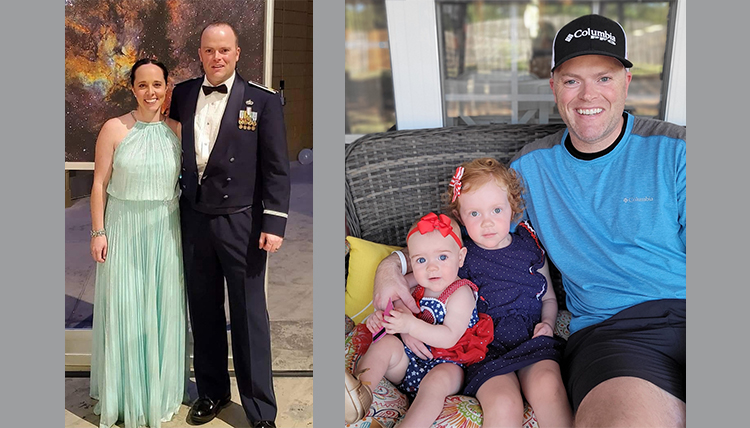 Whitaker and his wife, Stacey, have two daughters.
Learn about Military Science and the ROTC program at Gonzaga.