Zag Selects Tubman for NFL Women's Empowerment Draft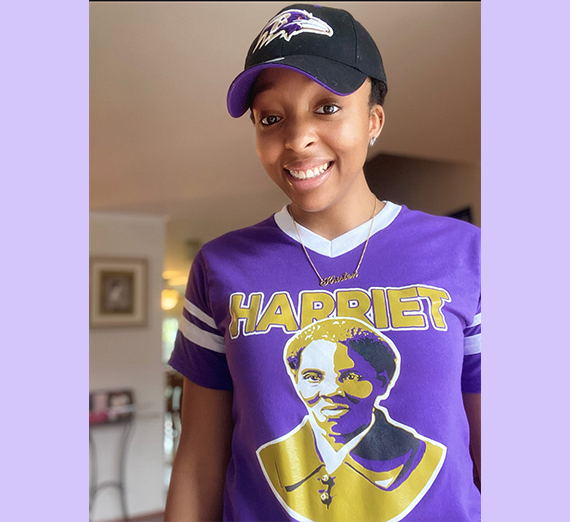 ---
Gonzaga graduate student
Kristen Miller
was honored to represent her hometown Baltimore Ravens in the NFL's Women's Empowerment Draft in April as the football league recognized women of distinction in celebration of the centennial of the 19
th
Amendment's adoption.
Miller, in her second year of the Master's of Communication and Leadership Studies program, selected Harriet Tubman in the draft, a daughter of Baltimore who escaped slavery and freed more than 70 enslaved people through the Underground Railroad.
The draft was presented this spring on NFL Networks. It was initiated by a social justice class on hate studies at Alfred University, called Art Force 5. Miller's friend active in the organization knew of her Zag friend's passion for the Ravens, and of her pursuit of an advanced degree in communications.
"She knew I had practice in public speaking and thought I would represent the cause well," Miller says. The club's task was to find 32 college students with an affiliation to the NFL's 32 cities, each who would draft a woman of distinction from their area.
In selecting Tubman, Miller was inspired by her selflessness. "After freeing herself, she went back to free other people knowing the risk that came with it, and yet, that did not stop her. Her persistence and determination were admirable. And she was a strong, self-educated woman."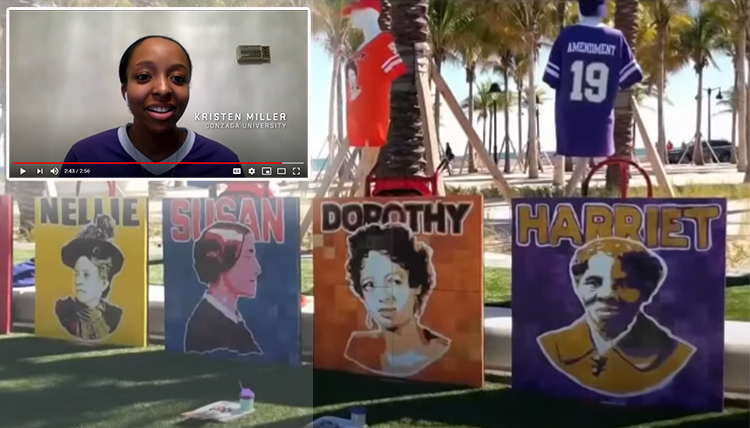 Miller can see a little of Tubman in herself. "I'd like to think I'm selfless. Helping others in any way that I can brings me joy. If I can touch one person and lift them up, that's a win in my book," she says.
So are her studies at Gonzaga. She was a little nervous about taking the University's online master's program, but following an immersion experience here, where she connected easily with professors and fellow students, she knew this was right for her.
"Professors made it such a supportive environment. They provided a safety net. We have such a tremendous opportunity to stay connected with teachers and classmates, through weekly discussions and other electronic means," Miller says.
The online program allows her to continue working in Baltimore, where she recently transitioned from a pediatric rehabilitation technician to a guest services representative at Johns Hopkins Hospital, as resources continue to be redeployed to help meet urgent needs.
She began her career as a fitness specialist at Ithaca College in upstate New York, where she earned her undergraduate degree in exercise science. Her interest in communications came from her establishing a personal blog on Instagram called @DefyTheOdds, which was created to highlight success in the midst of adversity. She aspires to pursue a career in sports media or social media content creation upon graduation from Gonzaga.
She finds herself beginning her professional career at a time in our country's history that may go down as a real turning point in recognition of the true dignity of every human being.
"It may be overwhelming to some, but with the pandemic and the racial issues we're facing today, I feel it's a time to bring people together. The racial unrest has brought social injustice to the attention of a lot of people. It has given us an opportunity to think and reimagine ouir thinking on issues," she says.
"We're stronger together than we are apart. It's time to embrace each other, recognize and appreciate our differences. That's what makes us great. At the table, together."
Learn more about master's degree options like the one Miller selected.