Finding the New Virtual Reality: Admission Creative in Connecting with Prospective Students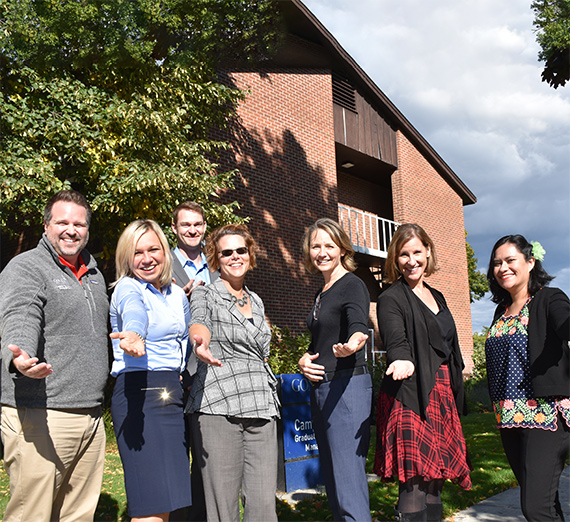 ---
Finding the New Virtual Reality
Admission Creative in Connecting with Prospective Students
"It breaks our hearts that we are not having the face-to-face engagement with prospective students we normally have, but I've been inspired by the creativity of my Admission colleagues as we move so much of our work into a virtual space," says Erin Hays, director of Undergraduate Admission.
March and April are peak times for students and their families to visit Gonzaga. However, with most of the country now staying in place, Admission has had to get creative in developing digital delivery to reach out to Gonzaga's future students.
Interactive virtual information sessions via Zoom, each conducted by a pair of Admission counselors, allows prospective students to learn about Gonzaga, ask questions and get a feel for this place and its people.
"We also are conducting similar sessions for our admitted students, reaching out to them where they are," Hays says. "So far reactions from those students has been positive."
Here are some other virtual opportunities for prospective students:
Meet with a financial aid counselor

Take a virtual campus tour, and new this year, a virtual tour of the residence halls, which has been frequently visited in the last few weeks

Use a new app called ZeeMee introduced this spring to allow admitted students to communicate with each other, i.e. "Who's doing the Honors Program?" or "Anyone else planning to study pre-med?"
Admission is working with Kara Hertz in Alumni Engagement and Erin Shields in Career and Professional Development to collaborate on a network to connect prospective students with alumni and student ambassadors. Admission is also working with faculty to promote academics. Plans are progressing to replicate GEL in a virtual space, Hays says.
"We are working with Marketing & Communications, filming current students talking about their Gonzaga experience, favorite professors, what drew them here and what kept them here. Our counselors and our work-study students continue to call admitted students, answer their questions and stay connected. We'll utilize social media a lot," Hays says.
The confirmation deadline has been extended from May 1 to June 1, allowing families facing hardships and high school seniors who are reeling from their own sadness around missing graduation, prom, competitions, the usual senior experiences, time to shift their focus on their futures.
Hays mimicked the appreciation many around the University are feeling as this community has come together in support of each other. "We're just blessed to have wonderful campus partners, like Marcom, First Year Experience, Parent and Family, Academic Advising and Support, Financial Aid, student ambassadors and our faculty. We'll get through this."
To see all the virtual options, go to www.gonzaga.edu/virtualgonzaga.