Connecting in New Ways with Future Zags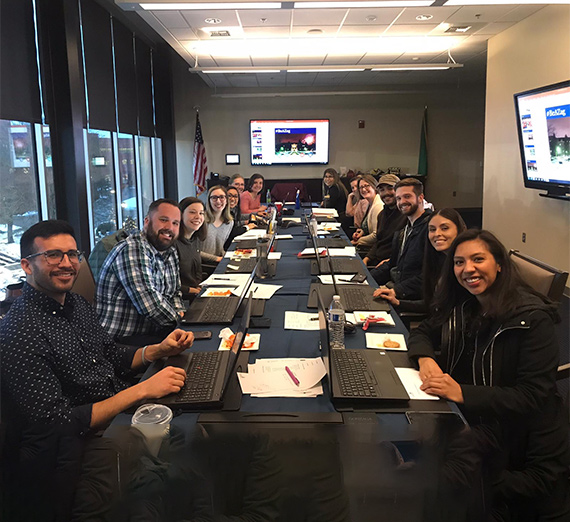 ---
Director of Undergraduate Admission Erin Hays and her crew were likely the most creative problem-solvers on campus during April, in a mad dash to convert all personal visits with prospective students and their families to online encounters, including the coveted Gonzaga Experience Live. "But we believe people have been 'sneaking' onto campus and wandering around without an 'official' visit," Hays surmises, with a chuckle. The April 18 Virtual GEL went off without a hitch, and drew more than 900 registrants. "Our biggest concern was technology glitches or Zoom bombing, but we experienced neither," says Hays, who couldn't be prouder of her team.
GEL sessions included academic information presentations, programs on transitioning to college, and health and wellness. Prospective students and their families could pop into open houses, ask questions of current students or discuss their impressions with other admitted students. The student panel at the end of the day was resoundingly popular. "They answered a ton of questions from admitted students and their families," Hays says.
"I'm sad that we couldn't have seen them and introduced ourselves to everyone who attended online, but we received nice feedback from families, saying the day was fun, and several told us that our GEL was the most comprehensive of those preview days they've attended."
While the Admission crew hustles to stay connected with admitted and other prospective students, the staff in Student Financial Services is doing everything they can to assist in the financial discussion.
"We're accustomed to having conversations with families about financial hardship, but those conversations have increased significantly in the last two months," says Sarah Everitt, director of Financial Aid operations. "The longer the uncertainty of our current pandemic continues, the harder those questions get about funding a college education."
Financial Aid has simplified the process to submit a financial aid appeal, for both prospective, as well as current students. Families can call, email or schedule a virtual appointment with Financial Aid counselors online. The number of online monthly appointments increased from 11 in February to nearly 150 in April. "We're now averaging 12 appointments a day," Everitt said on April 21.
The office coordinates aid from federal, state, institutional and outside resources, "to maximize everyone's award in a fair, compliant way," Everitt says.
Reaching Prospective Students Where They Are
Alumni Relations and the Center for Career and Professional Development have partnered with Admission to introduce ZagsConnect, a database of profiles of student ambassadors and selected alumni for prospective students seeking answers to their questions. For example, a prospective student wishing to major in computer science might message a current student with that major to find out about classes, or an alum working for Microsoft to learn about career possibilities.
A student panel is available daily to talk with prospective students, who can also take a virtual campus tour or connect with other admitted students via ZeeMee to ask such questions as "Who's doing the Honors Program?" or "Anyone else planning to study pre-med?" Faculty are recorded are online, talking about their classes and areas of interest, allowing prospective students to get to know them.
The University admitted 200 students from the wait list in mid-April so that these individuals could get a financial aid package to compare with other schools. Also, the confirmation deadline was extended from May 1 to June 1, allowing families facing hardships more time to gather information about schools.
"We need to assure families that we are planning to be on campus in the fall, and if directives mandate we continue to educate online, we have contingency plans to do so effectively," Hays says.
You've Got to Have the Right Tools
All the shuffling, pivoting and heroics performed by the Admission staff in the past two months would have been far more complex had it not been for just the right tool: ZRM, Gonzaga's new constituent relationship management system.
One aspect of ZRM, Slate, was a particular help when campus visits were discontinued this spring. "Within only a few days we had a twice-daily Virtual Information session built, emailed those whose visits were canceled inviting them to those virtual events, and within the week, we had a fully integrated virtual visit schedule," says Associate Director Nathan Mannetter. "This would have taken much longer without Slate."
The ease with which GU can communicate to an exact population has been vastly improved. Registration and communication for Virtual GEL was created within a day; formerly it would have taken a week, Mannetter approximates.
"Without Slate, setting up Virtual GEL would have been much harder, taken much longer, and wouldn't have been as smooth," he says, with a deserved sigh.
Here are the folks who made Slate implementation possible: from Undergraduate Admission, Mannetter, Rachelle Hose, Sandra Vance, Anne Thomas; from ITS, Peggy Noble, Vipul Saxena, Lyle Spencer, Darren Owsley, Kai Uahinui, Kristi Duenas, Colleen Butcher; from Student Financial Services, Sarah Everitt; from Law School Admissions, Sierra Greene, Susan Lee; from Finance, Linda Wilson, Samantha Scott, Joan Perkins.