Dean of Education: On Hope, Through Lived Experience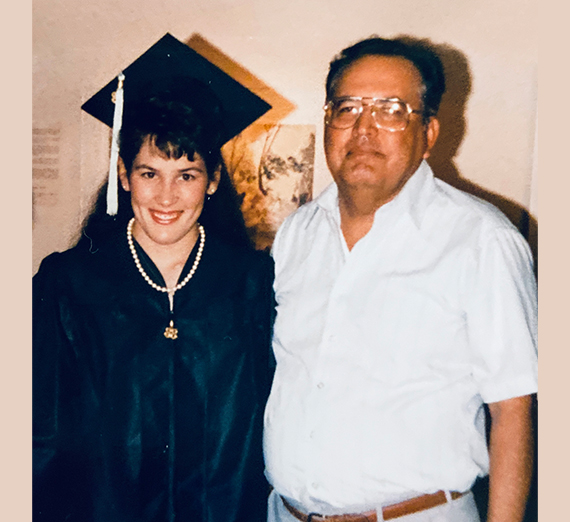 ---
Times are tough. But there is hope.
Yolanda Gallardo, dean of Gonzaga's School of Education, knows it as well as anyone. She was raised in a predominantly Latinx neighborhood 60 miles north of the Mexican border in Tucson, Arizona, where her family had little and the families of the children her father taught had even less. But she recalls her father always inviting his students and their families to dinner at their house for Thanksgiving and other occasions.
"There were six of us in our modest home with only one tiny bathroom," Gallardo says. "But there was such a great deal of hope in the way my father and mother lived, in the things they would talk to us about, reminding us to always honor others and never put ourselves ahead of anyone else. In being there with others, we found hope."
Despite the fact that the COVID-19 pandemic has prevented her from seeing her father in his dying hours, Gallardo still recalls the lessons she learned from her father. "Hard things can hurt. But it doesn't mean they define the lens through which you need to see life. We were pushed to ask tough questions and seek answers around topics that weren't easy. When it came to talking about differences or inequalities, there were no excuses. He pushed us to humanize others all of the time," Gallardo says. For her, hope can also exist in times of despair.
That's why talking about hope comes easy for her as an educator who spent 12 years in the Arizona public schools teaching on the border of Mexico. Gallardo, joining with three other teachers to rally parents, their families and local community members, worked to create a bilingual school for students when Arizona began pushing to make English the only language spoken and taught in schools. After earning her doctorate at Kansas State University, she went on to lead education studies at both Georgetown College and most recently Berea College, which she calls "one of the most beautiful experiences of my life."
"It is a school where students with great promise from marginalized populations come together, tuition-free, to ask critical questions around systems of inequity and how to challenge those systems. "Students from Berea go on to do incredible things in the world, for others," Gallardo says. And there is hope because Berea students understand its practice.
The dean spoke to Gonzaga audiences in April about hope at a time when optimism may be in short supply. Hope comes in understanding how the lived experiences of others are inextricably linked with our own. "We need to understand how we share things, and how we are different," she says.
View Dean Gallardo's recorded webinar:
The hope is made much stronger when it is hope in community with others. And we're seeing that today as people around the world unite – people understanding the magnitude of COVID-19 and the shared responsibility to distance from one another, people in Italy coming to their balconies and gifting each other in song, and the New York residents sharing cheers for the medical community every night at 7 p.m.
These examples give us hope, she says.
"In this moment, we have seen health care workers, educators and many others engage in hope every minute of every day they are on the job. These individuals have to have hope beyond themselves. We've also seen how individual struggles are connected to others. Professional identities have been destabilized by layoffs, people wondering, 'How am I going to reimagine myself professionally?' Hope comes into play when we can see ourselves in one another – in our pain, our anxiety, our humanity," Gallardo says.
But out of this plight, "we become aware of our collective weaknesses," she says. We're reflecting about what we value, building solidarity, longing for community, re-examining what we care about in relationship with one another, and taking creative action.
"We're seeing great collaboration between scientists to help resolve issues, acting in hopeful ways. Normal imperatives, like academic credit, have been set aside," Gallardo says. "Online repositories make studies available months ahead of journals, as researchers put ego and personal gain aside."
Out of this blossoms hope.
"Love for others is the 'why' behind the hope. We have to have the belief that everyone deserves that love."
Dean Gallardo learned from her father that hope goes much deeper than a simple wish; it must be an enduring practice with and for others. Ruben Gallardo, her father, lived hope in his community as an employment office worker, constantly fighting against racial discrimination facing his clients, and as a teacher serving children from low-income communities. His daughter has taken much inspiration from her father – her first teacher on hope as a practice.
Learn more about Dean Gallardo's vision for the School of Education.