Team Behind the Teams: A+ For Academic Support at Gonzaga
Winning In the Classroom Matters at GU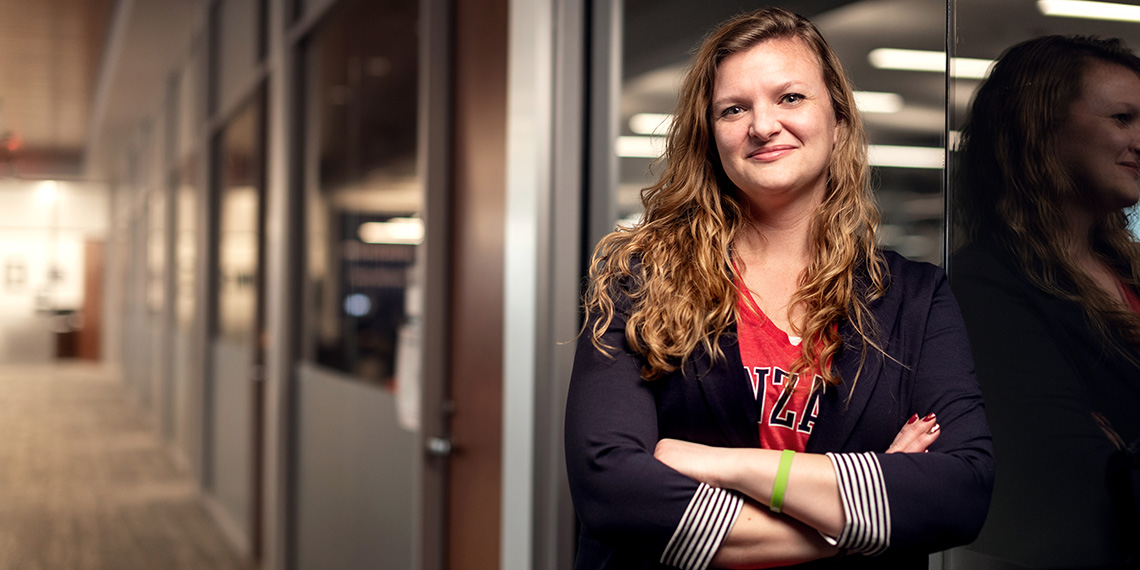 Gonzaga Athletics' holistic commitment to the success and growth of each student includes the dedication of staff focused on student-athletes' academic performance.
"We put a lot of time and energy into making sure they have a really great experience here and they're meeting the goals they've set for themselves," says Steffany Galbraith ('11,'13 M.A.), director of Academic Support Services.
Since the most common challenge student-athletes face is time management (especially first-year students), her team helps students to establish a routine, including how they will get from weight training on one end of campus to class on the other end, and when they will eat and study. New student-athletes take a semester-long orientation class to introduce them to resources available to help them make best use of their time. Galbraith's team wants to make sure "no one is falling through the cracks."
It all starts with the commitment of the coaching staffs to recruit students they believe will be a good fit, athletically, academically and culturally. And then there's the integral role faculty members play.
"We're a small school, we run into challenges and things we just can't predict and our faculty and staff have always been supportive about working through these," Galbraith says. "We never take it for granted."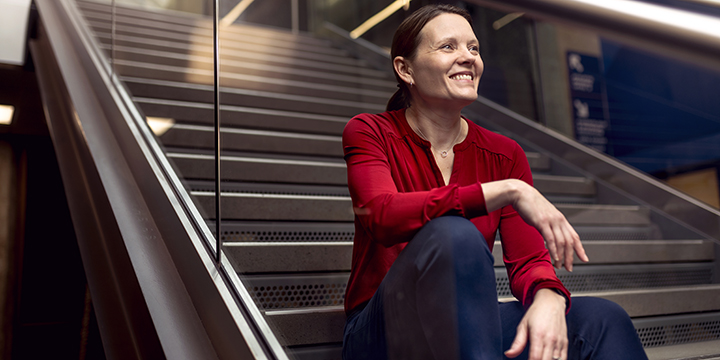 s
Peggy Sue Loroz ('95), Ph.D.
Going FAR to Help Athletes Achieve
Peggy Sue Loroz ('95)
, a professor of marketing in Gonzaga's School of Business Administration, also has served the last eight years as the University's Faculty Athletics Representative (FAR).
It's an NCAA-designated position appointed by the university president and housed outside of athletics to serve as a liaison between academic affairs and the athletics department.
"I try to ensure that there is an appropriate balance between athletics and academics, and that we're looking out for the total well-being of our student athletes," says Loroz.
Among many responsibilities, Loroz chairs the committee that evaluates the academic performance of student-athletes every semester to ensure that they are in good academic standing at Gonzaga and also meet the eligibility standards set by the NCAA. She participates in West Coast Conference executive council meetings and reviews every team's travel and game schedule to see how often team members may miss class. Her job, says Loroz, is to evaluate whether the demands of the sport make it feasible for the student to succeed, and for the faculty member to teach and support those students adequately.
"Faculty members make adjustments for student-athletes who miss class for travel or competition, and are flexible and supportive in ways that aren't always convenient," says Loroz, who's quick to clarify that professors don't limit that care just to athletes. "Just as they do for a student who misses class for debate or choir, or for a job interview or to care for a sick child, faculty accommodate and care for our students in this way, and all of that contributes to an atmosphere in which people can do well."
"I try to ensure that there is an appropriate balance between athletics and academics, and that we're looking out for the total well-being of our student-athletes."
Does the FAR contribute to Gonzaga's athletic success?
"Well, sort of," Loroz says, with a slight shrug of her shoulders. "I'm looking out to see if our student-athletes are receiving appropriate academic support, and I'm concerned for their overall well-being, but that's not unique to me. It's definitely a campus-wide, team effort."
Loroz was a student-athlete on the women's rowing team during her undergraduate years at GU. Her current dual role as professor and FAR allows her to maintain her passion for teaching and stay connected to college sports. In her view, being a successful student-athlete is similar to being a successful student in general – achieving academic goals while developing as a person and community member. That's why the favorite part of her job is interacting with students.
"Every moment spent with students is a good moment," she says.
Galbraith agrees. Seeing students grow over the course of their time at Gonzaga, is "the root of all we do."
Did You Know?
The Life Skills Program connects student-athletes to community outreach programs, providing opportunities for leadership development and learning outside the classroom.

30-35 peer tutors work with athletes each semester.

In 2018, Gonzaga posted the nation's best Academic Progress Rate multi-year average, with a score of 998 on a 1,000-point scale that measures academic eligibility and retention of student- athletes. In 2019, the Zags had the second-highest APR and graduation success rate in the nation, right behind Harvard.

Roughly 330 student-athletes enrolled in 2019-20 represent 29 majors. More than a third of them choose fields of study in the College of Arts and Sciences, and another nearly 30 percent are enrolled in the School of Business Administration.
Learn about the 'cura personalis' approach to care for student-athletes.