Team Behind the Teams: A Cura Personalis Model For GU Athletics
Zags Help Zags, On and Off the Court
Cura personalis – care for the whole person – is deeply Jesuit and manifests itself in myriad ways at Gonzaga University, including in its top-ranked athletics programs.

While the GU men's basketball team has enjoyed No. 1 rankings, and the women's basketball program is a perennial top-20 team, the fact is, all student-athletes are equal off the court.
Our 300-plus student-athletes benefit not only from the best facilities, but also with wrap-around health and wellness services that help young men and women to become the best versions of themselves during one of their toughest phases in life – one which is uniquely pressure-filled for student-athletes.
The GU Athletics framework for success is a holistic philosophy centered on four pillars: proper nutrition, mental health, physical health, performance and sleep.
A New Era of Success
A former Zag student-athlete, Senior Athletic Director and Senior Woman Administrator Shannon Strahl ('99, '02 M.B.A.) oversees a wide array of support services, including NCAA compliance, academic support, life skills and health and wellness. In her office overlooking the original "Kennel" in the Martin Centre, she reflects on how far the department has come in all aspects of its growth over a generation.
Volleyball, baseball and each of the basketball teams jockeyed for court time, and were scheduled at all hours of the day on this one court. All teams also shared one small weight room, and cramped offices served as tutoring spaces.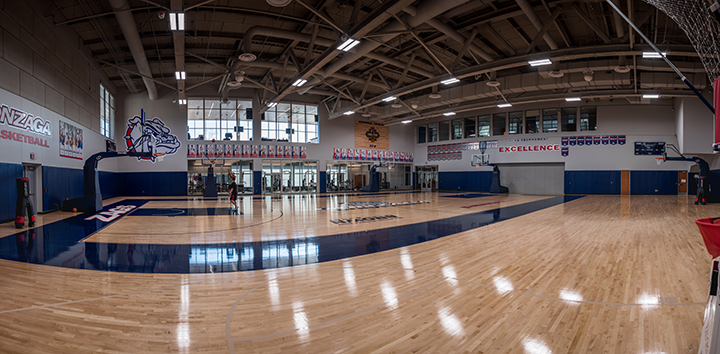 Those legacy facilities are still in use, but pale to the modern, multi-million-dollar facilities such as McCarthey Athletic Center and the Volkar Center for Athletic Achievement, which houses the Diedrick & Delong Sports Medicine Center; Strength, Conditioning & Performance Center; full-size practice court; student support services; and administrative leadership offices.
Yet Strahl is quick to point out GU's focus isn't just about new facilities. It's about people – and the Gonzaga Athletics experience centers around a family concept where folks look
out for each other. That remains unchanged from earlier, more modest days.
The Human Touch
Mike Nilson ('00, '09 M.A.) remembers one of his early days as a walk-on freshman basketball player in the late '90s. He was nervously filling out paperwork and was self-conscious about not being on scholarship like most of the others. He felt a tap on the shoulder and was reassured by a man who turned out to be Director of Athletics Mike Roth, who knew him – a walk-on freshman player – by name.
Nilson became one of the iconic players of his era, a relentlessly focused sixth-man who played with heart and trained like few others. Today he pays forward his experience to current athletes as a strength and conditioning coach for the women's basketball team, among others.
Nilson and Travis Knight ('00), the men's basketball strength and conditioning coach, share a common experience as Zag athletes from a different era who see the same values at play. The two became friends while attending GU and now share an office.
The pair does much more for the student-athletes than their titles might indicate. The GU program has evolved to incorporate many complex performance and team-building activities and cutting-edge physical training regimens that give the Zags an edge on and off the court. Their approach is driven by data that tracks athletes' sleep, nutrition and exertion.
Equally important is the entire support staff's role for student- athletes in settings where unique bonds are forged. That connection is important, because sometimes the season includes walking alongside young people who are driven to succeed, but inevitably, meet challenges due to injuries, or to life outside the lines of play.
The experienced Athletic Training team, headed by Bill Drake, runs a fully functioning sports medicine clinic insideMartin Centre, which connects directly with both McCarthey and Volkar centers.
Men's basketball Head Athletic Trainer Josh Therrien and his fellow trainers are primarily responsible for treatment of physical injuries student-athletes sustain in training or during competition. They travel with the teams and are the first on the court to help an injured player.
Yet triage isn't their preferred role. They focus on preventing injuries and building resiliency, with the aim of setting up student-athletes for healthy, successful lives.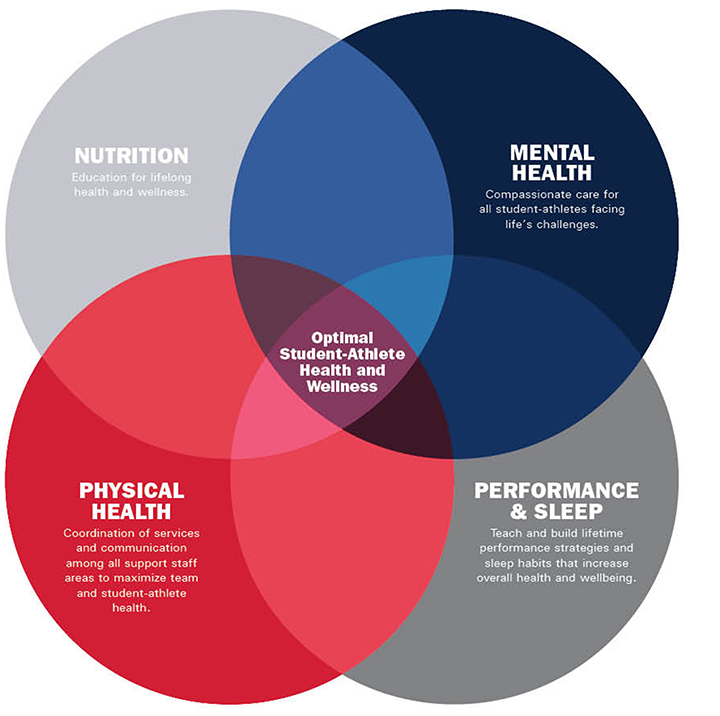 Students At The Center
It's hard enough being a student, much less a high-profile athlete. When a student-athlete struggles, Athletics often counts on Gonzaga's Center for Cura Personalis (CCP) and the Office of Health Promotion (OHP) to provide extra support.
CCP director Nicola Mannetter and OHP director Jenna Parisi offer well-being case management and preventive educational training for all students. Campus-wide initiatives such as Zags Help Zags and Bystander Intervention emphasize a community support model, where no one is left behind. "Each student deserves opportunities to learn and practice strategies that will help them thrive at Gonzaga and beyond."
A shared commitment to those ideals by athletic leaders ensures a positive lifetime impact on student-athletes well beyond their wins and losses at Gonzaga.
The GU Student-Athlete Health and Wellness Initiative
Health & Wellness
Alumni
Alumni
Center for Cura Personalis (CCP)