Gonzaga Launches Opportunity Northeast, a Community Initiative
Targeted, Strategic Approach Aims to Amplify Impact
SPOKANE, Wash. — Gonzaga University today introduced Opportunity Northeast, an initiative dedicated to improving the quality of life for individuals, youth, and families in Northeast Spokane while providing transformative learning opportunities for the University's students, faculty and staff.
University President Thayne McCulloh, who has championed the initiative, said Opportunity Northeast represents a mission-driven commitment by Gonzaga to work side by side with community partners and neighborhoods in Northeast Spokane to address their broader priorities — particularly in the areas of health and education.
"This effort is a direct expression of our identity as a Jesuit, Catholic, humanistic university," President McCulloh said. "Like our founding Jesuits who answered the City's call to build a university here, we are committed to responding to the needs of today, as we have for more than 130 years."
"Through our existing programs, we have come to understand our neighbors in Northeast Spokane, and to recognize and respect the important community-building work they are doing here. We can do more to help. This initiative allows us to continue to provide exemplary learning and engagement opportunities for our students, faculty and staff," he said.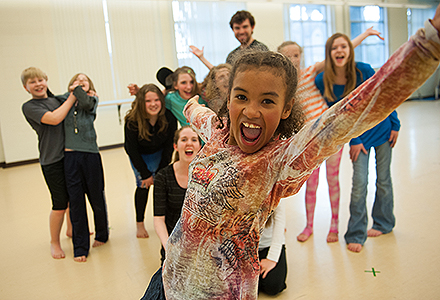 Molly Ayers, director of GU's Center for Community Engagement, said Opportunity Northeast builds upon successful long-standing programs such as Campus Kids, the Hillyard Youth Collaborative, and the Walking School Bus.
"We know many students thrive in a hands-on learning environment. We believe we can have deeper and more lasting impact in the community by focusing our efforts on a specific place, aligning with partners, concentrating on priority needs, and working intentionally toward the shared outcomes our neighbors desire," Ayers said.
Northeast Spokane includes nine separate neighborhoods: Logan, Bemiss, Chief Garry Park, Hillyard, Nevada Heights, Whitman, Minnehaha and parts of East Central and Shiloh Hills.
"Northeast Spokane neighborhoods are richly diverse, with residents who are committed and involved in community matters, who are open and welcoming, and who are devoted to improving the community for all," said Ayers.
Spokane's Northeast community faces significant economic, educational and health challenges. Data from the 2017 census gathered for Northeast Spokane's Zone Project reflects these challenges: median household income is $33,171 and 39% percent of children under 18 are living in households at or below the poverty line. Between 77-94% of students enrolled in neighborhood schools qualify for free or reduced-price lunch. Life expectancy rates in these neighborhoods are significantly shorter than in many of Spokane's neighborhoods.
"We began this effort by listening," said Ayers. Gonzaga conducted an extensive assessment of community assets and priorities in Northeast Spokane in 2014-15 through the Mapping Assets and Promoting Strengths [MAPS] project. That assessment was revisited in the spring of 2019, as GU students, faculty and staff interviewed more than 100 residents and community leaders to update the information. The efforts found community priorities remain around food insecurity, improved access to healthcare and educational opportunities, and a desire to build stronger, more connected neighborhoods. In addition, concerns about quality and affordability of housing have increased since the original study was done.
As a result of the updated research, Gonzaga has identified three initial areas of focus:
Educational Opportunities: Build a pipeline of support to improve educational access, outcomes, and opportunities for youth; work with partner organizations to offer educational opportunities and programs for adults, contributing to increased financial security and job readiness.
Whole Health: Improve access to wellness programs, health screenings and care; build a safer and more connected community; address food insecurity; and support community efforts to increase access to high-quality affordable housing.
Engaged Campus and Community: Engage the entire University in providing learning and engagement opportunities for GU students, faculty and staff, and support community leadership development efforts.
"We are working with neighbors to develop goals and target outcomes in these areas," Ayers explains, "and we'll create new projects and activities where students can do meaningful work toward accomplishing them. We expect it will take some time, but we're confident we can have a positive impact."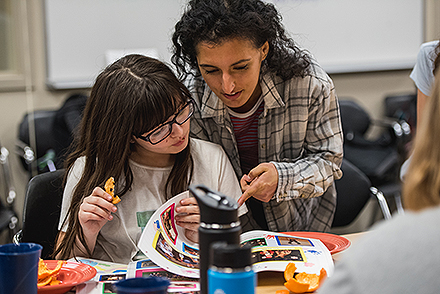 "It's important to know that Gonzaga and Northeast Spokane are not alone in this work," President McCulloh said. "We have strong support from benefactors who are walking with us, challenging us to be innovative, and encouraging us to consider how positive and lasting impact can be realized through our collective efforts.
"These efforts are very much a part of our identity," he continued. "For many years, Gonzaga students, staff and faculty have been engaged together with our schools and community partners, working together to improve the experience of kids and adults. This latest expression of our commitment to community is in our DNA."
Dave Richardson, executive director of the Northeast Community Center, is among several community members who are involved in the Opportunity Northeast's advisory board.

"The students and Gonzaga are taking time, effort, energy and focus to become involved in the neighborhoods," Richardson said, "walking beyond the ivory walls and out into the community where they can make a difference. To see Gonzaga have a presence at this level is wonderful."

Visit www.gonzaga.edu/ONE to learn more.
Academics
Careers & Outcomes
Diversity & Inclusion
Faith & Mission
Service & Community Impact
Academic Vice President
Community Action and Service Learning
News Center