Service Ethic a Key in Making Students Become People for Others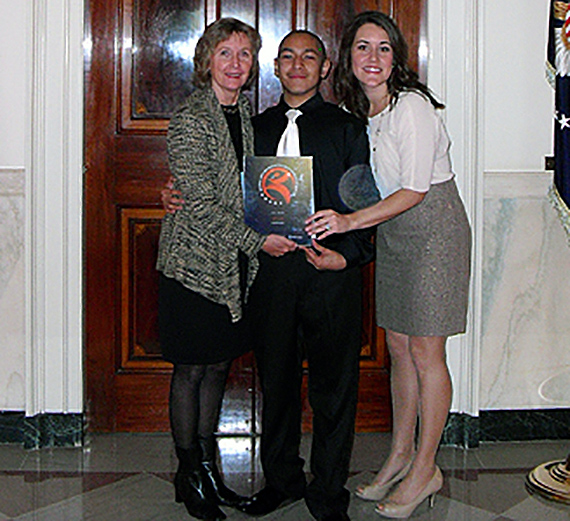 ---
(Above) Gonzaga alumna Meagan (Brncick) Terry ('06), PlatteForum student representative Salvador Flores-Martinez, and PlatteForum founder Judy Anderson. The three were honored with a National Arts and Humanities Youth Program Award at the White House on Nov. 2. First Lady Michelle Obama presented the award. Photo courtesy of PlatteForum.
National Survey Underscores Zags' Zeal for Service; White House Honors Alumna
By Mary Joan Hahn

SPOKANE, Wash. — When Meagan (Brncick) Terry ('06) went to the White House Nov. 2 to accept the National Arts and Humanities Youth Program Award, she said it felt like the culmination of a path she chose as a Gonzaga University undergraduate. As education director for PlatteForum, an innovative arts center in Denver, she uses art to help youth face challenges, discover their place in the world, and realize their biggest hurdles to achievement may be self-imposed.

Terry's passion for the Jesuit ethos of service, which is intentionally integrated throughout the curriculum, particularly in service-learning courses, and her considerable gifts for transforming lives were developed and refined at Gonzaga's Center for Community Action and Service-Learning (CCASL).

"Serving and engaging with my community at Gonzaga is the foundation from which my current career path transpired," Terry said. "At Gonzaga I saw that serving others creates a ripple effect: The change we make in the life of one student lasts for generations and deepens that student's commitment to their community. As I continue to see this principle reflected in my work today, I will forever be grateful to GU for that inspiration."

Sue Weitz, vice president for Student Life, says service plays a crucial role in the multiple ways that Gonzaga's Jesuit pedagogical experience transforms students to become people for others.

"Cura personalis — care of the whole person — involves creating experiences that enable students to prepare for lives enriched by service," Weitz said. "Service-learning helps students understand what it takes to change the world."

Alex Power, a Gonzaga senior business administration major, also embodies a balanced integration of academic rigor with the compelling ideals expressed in Gonzaga's Mission Statement. As a mentor for Campus Kids, a SMILE coordinator, Reality Camp participant, and a leader in Mission: Possible, he has experienced firsthand Gonzaga's transformative power.

"I have such a privileged life and we take for granted what we have sometimes," Power said, adding, service "forces you out of your comfort zone and gives you the ability to experience sides of people's lives that you typically are never able to see."

Terry and Power are not alone as Zags with a zeal for service, according to a recent survey of more than 22,000 students at 48 universities nationwide. The Civic Engagement Consortium Survey, conducted by the National Association of Student Affairs Professionals, found that 79 percent of Gonzaga students plan to be actively engaged in their communities after graduation — that's 6 percent higher than the national benchmark among students at institutions participating in the study.
Zags also topped the national average for engagement in university-sponsored service activities, including participation in:
Mentoring or tutoring programs (20 percent above national average);
Service-oriented groups (11 percent above national average);
One-time service projects or trips (8 percent above national average);
Solving a community issue or problem (4 percent above national average);
Gonzaga student respondents reported working most frequently in social justice issues such as homelessness and hunger, elementary education, community development and impact, and youth development (out of school). Some 1,975 Gonzaga students participated in the voluntary study.
Asked to identify how their service experiences changed them, most Gonzaga student-respondents said service was instrumental in their acquisition of specific perspectives and skills necessary to become "men and women for others." The following statistics summarize Gonzaga students' responses:
Learn about people with different backgrounds, perspectives: 78 percent agree, 8 percent above national average.
Learn how to work collaboratively with others: 77 percent agree, 5 percent above national average.
Learn how to see from another's perspective: 76 percent agree, 9 percent above national average.
Learn to tailor communication style to effectively express, listen and adapt to others: 73 percent agree, 6 percent above national average.
Contribute to sense of who I am as a person: 74 percent agree, 10 percent above national average.
Provided 'real-life experience' for skills learned in class: 74 percent agree, 7 percent above national average.
With 15 Gonzaga alumni participating in the Jesuit Volunteer Corps, Gonzaga is tied for the fourth most-represented alma mater in JVC this year; only Boston College (24), Fordham (20), and College of the Holy Cross (16) had more. For the next full year of JVC service, these Gonzaga alumni will dedicate themselves to living simply and working for social justice in a spiritually supportive community, helping people on the margins of society nationwide. In addition, six Gonzaga alumnae embarked recently on a year of full-time volunteer service with Jesuit Volunteer Corps Northwest.
Clearly, Gonzaga students involved in service grow to become alumni who embody what it means to be people for others.