At 20, CCASL Eyes Future Impact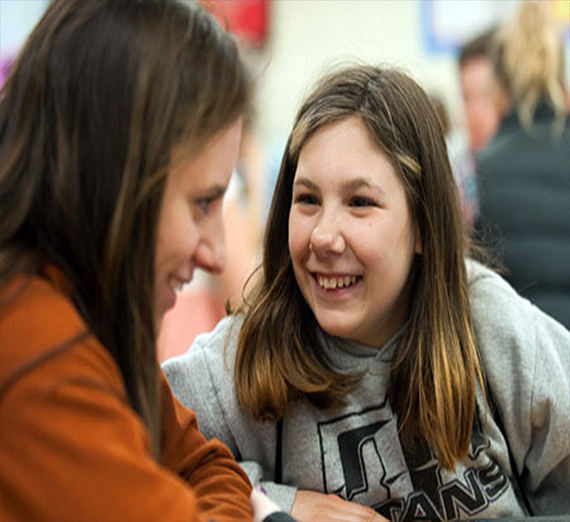 ---
Gonzaga News Service
SPOKANE, Wash. — For 20 years, the Center for Community Action and Service-Learning has provided Gonzaga University students with transformative service experiences while partnering with the community to address critical needs. As CCASL Director Todd Dunfield ('00) reflects on its success, his eyes flash with excitement discussing what more it can do.
Whether mentoring at-risk youth in public schools, building homes with Habitat for Humanity or traveling across the country to serve through Mission:Possible, CCASL has provided students with life-altering opportunities to engage with social justice issues and develop skills and experiences for their careers. CCASL's 15 distinct programs now offer opportunities for some 3,000 student volunteers to provide more than 75,000 hours of community service each year.
The stories of CCASL's human impact, both for Gonzaga students and the people they serve, are powerful and plentiful. For example, the mother of a participant in Gonzaga University Specialized Recreation (GUSR), said the program has made a significant difference.
"GUSR has been a godsend and has changed our lives for the better. I can't say enough. It has taught Matthew to put one foot in front of another among so many other things. We love GUSR!"
Gonzaga's ethos of service is reflected in its graduates. For the past two years, Gonzaga has been No. 1 among "Small Colleges and Universities" in the nation for Peace Corps volunteers with 22 undergraduate alumni serving in 18 countries worldwide. Fifty-two May graduates chose to participate in postgraduate service opportunities in programs including the Jesuit Volunteer Corps, AmeriCorps, Teach for America, and the Peace Corps.
Mentoring
Started in 1995 with the model Campus Kids program at Stevens and Logan Elementary, CCASL now operates six distinct mentoring programs in 13 Spokane Public Schools, with approximately 350 Gonzaga students serving more than 700 youth.
Immersion
CCASL's service immersion programs offer weeklong trips for students to better understand their personal values and those of the communities they serve. The programs include:
Justice in January — in which students to serve the immigrant population in the United States. From Jan. 5-11, 2015, the students will travel to Tucson, Arizona, and San Diego to expand their perspectives on immigration issues.
Reality Camp — in which students spend five fun days before first-year orientation engaging in community service projects, interactive reflections, and social activities.
Mission: Possible — a spring break initiative, started in 1998, in which more than over 100 students travel to 10 sites nationwide to serve local communities. This year, a dozen or so students will visit Opus Prize winner Sister Tesa Fitzgerald in Queens, New York and her innovative program Hour Children, which helps women emerging from prison and their families.
Serve in South Africa — a new three-week immersion trip being planned for May 15 through June 3. The focus will be on the nation's peace and reconciliation efforts in the wake of apartheid.
Student Engagement
From one-day experiences through the Zag Volunteer Corps, to ongoing service commitments with programs such as Homeless Outreach, CCASL offers students multiple hands-on opportunities to engage with and serve the community.
Academic Service-Learning
With approximately 1,600 undergraduates taking a service-learning course each year, it's difficult to graduate from Gonzaga without an academic service-learning experience, said Dunfield who volunteered for AmeriCorps for a year and has been with CCASL for 15 years.
"Students' service-learning experiences allow them to bring real-world sticky problems back to the classroom, creating more opportunities for learning," Dunfield said. "Service-learning changes the dynamics of the classroom for students. The experience causes students to ask more questions, think more deeply, and really get the most out of their service-learning."
The Future: Collective Impact
While CCASL will continue to offer programs that provide great service experiences for students and help the community, Dunfield said its future will likely be directed more intentionally toward collective impact, a creative model in which communities coalesce to help solve significant problems.
"For example, 'What if we set a common target with the community, for example improving high school graduation rates?' Then, Gonzaga, which has a long history of helping the community, works with community partners to solve the problem," Dunfield said. "What can we do to benefit the entire community if we work together? I think for the next 10 or 15 years of CCASL, we will be asking that question and developing some really good ways to benefit the community."
Gonzaga and CCASL are already moving in that direction with initiatives like the Hillyard Youth Collaborative, an innovative model involving eight funders that have catalyzed and coordinated community efforts to ensure students finish high school.
With plans to move into the new John J. Hemmingson Center this fall, Dunfield is excited for the new synergies, conversations and ideas that will result from having all of the related student development offices under one roof.
"It's an exciting time. Our mission is to develop students with an ethic for service and a lifelong thirst for social justice. The Hemmingson Center will provide all of us in student development with so many new opportunities to do just that," Dunfield said. "We are realigning resources to better develop students and to accomplish even greater things for the community."