Live at the Scene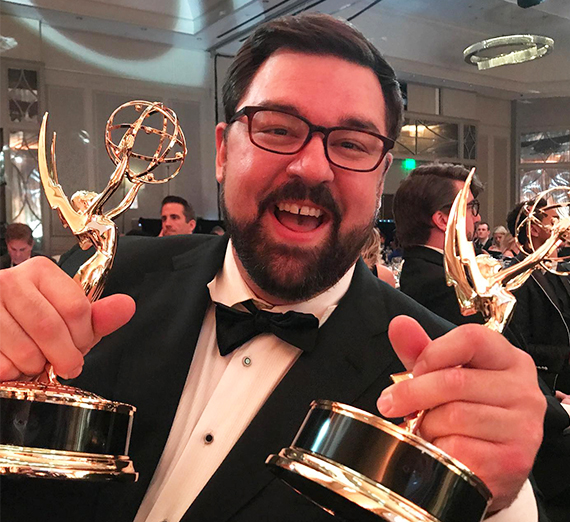 ---
Amid the majors, minors, electives, clubs, volunteer opportunities and endless activities, most college students at some point feel their heads swimming with dreams and questions of their future. Who will they be? How might their career trajectory shift with a different major, or with the inspiration of a perceptive professor?
Special Projects Photojournalist Eric Carlton ('08) knows that a story, and a dream, can change in an instant. The student who began his undergraduate studies with a pre-med chemistry major graduated in five years with a broadcasting degree.
After Gonzaga, Carlton moved from his family's ranch outside Yellowstone National Park to Louisiana, where he worked in the film industry and acquired his first job at an ABC affiliate TV station. He followed TV news from Louisiana to North Carolina, and finally to Atlanta, where he accepted a position at a CBS affiliate. Carlton knew he'd found his calling, even if it wasn't the career he'd initially imagined.
In 2019, Carlton and his collaborators at WGCL-TV, Atlanta, received two Southeast Emmy Awards from the National Academy of Television Arts & Sciences. One award spotlighted an investigative report he'd helped produce: "Buford School Board Shakeup," part of a series examining the resignation of a former superintendent. The other went to a spot news piece covering the devastating aftermath of a tornado in Fairburn, GA: "A Really Rough Night."
While every story holds special meaning for him, Carlton recalls "A Really Rough Night" with the memory of a neighborhood unexpectedly transformed overnight – and a moment of compassion that they almost missed while live at the scene.
Carlton and his reporter colleague had already filmed the tornado-struck community, interviewed victims and officials, and packed their equipment. He'd recorded the toppled-over street signs; the glass strewn across the pavement; the gaping holes in cars, windows and roofs; a dictionary coincidentally blown open to the word "terror." While editing the story, Carlton noticed a group of volunteers bringing a wagon through the neighborhood, offering food and water to families rebuilding their homes. He retrieved his camera, closing the story with generosity amid a scene of heartbreak.
"There's a phrase in the news business that you meet people, usually on the best or the worst day of their lives. This was one of those stories where you meet someone on the worst day," Carlton says. "You hate to have to cover those stories, but when you do, you want to make sure that you tell it both accurately and in a way that does them justice."
Carlton received these Emmys just a few weeks before he and Julie Garon ('06) were married in June 2019. In another unexpected turn of his story, Garon and Carlton shared overlapping years at Gonzaga and in Louisiana but never met until living in Atlanta.
"We were both on Bourbon Street when the Saints won the Super Bowl," he says, adding that they knew many of the same people. Their meeting, a bit like Carlton's journey to TV news, felt like fate.
"Our wedding overshadowed any award that I could get, because I got to marry the love of my life," Carlton says.