Alumni & Faculty Publish Global Servant-Leadership Book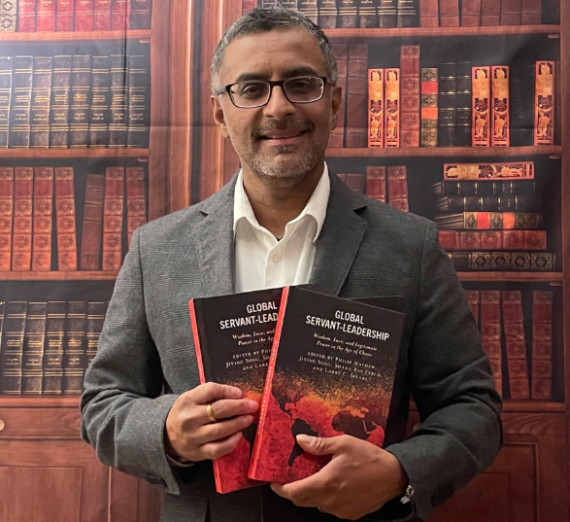 ---
Essays from Gonzaga's School of Leadership Studies Alumni, faculty, and community members were published in a 2020 anthology titled Global Servant-Leadership: Wisdom, Love and Legitimate Power in the Age of Chaos. Drawing upon a diverse group of voices and contexts from around the globe, the book addresses some of the most significant leadership challenges of the twenty-first century and seeks to uncover the means for more healthy and sustainable individuals, families, organizations, and nations.
Dr. Philip Mathew, graduate of the Ph.D. in Leadership Studies program and now Professor of Organizational Leadership and Resource Management at Olympic College, shares his perspective as the book's first editor:
"We live in a global era and the twenty-first century reality is that leadership is international, interconnected, and interdependent. The book aims to widen the lens so that we can understand leadership as being much broader than what we traditionally envision it to be here in the West. The influence of people, organizations and systems from different cultures and communities is vital to effective leadership."
Dr. Mathew was joined by Dr. Jiying Song, a fellow alum of Gonzaga's Ph.D. in Leadership Studies program and now Assistant Professor of Business Management at Northwestern College. As the book's second editor, Dr. Song celebrates another major publishing of 2020 in the wake of her August release Servant-Leadership and Forgiveness: How Leaders Help Heal the Heal of the World. Alongside Drs. Mathew and Song, editors included Dr. Shann Ray Ferch, Professor of Leadership Studies at Gonzaga, and Larry Spears, Servant-Leadership Scholar for Leadership Studies at Gonzaga.
With the contributions of book chapters from the Gonzaga Alumni listed below, the anthology embraces essays from an international community of writers, hailing from Asia, Africa, Europe, and the Americas. "In the context of the most contested, divisive, polarizing and traumatic events worldwide, a theme of light, hope, and love emerges in this beautiful collection of servant-leadership writings," shares Dr. Ferch, "The questions of global chaos are approached with grace and resolve, and the humble answers forwarded by these authors are accessible, wise, and formulated with Greenleaf's unique clarion call to see things whole."
Special thanks to our Alumni and SLS/DPLS contributors: Philip Mathew, Jiying Song, Larry Spears, Karel San Juan, Christopher Horsethief, Patricia Valdez, Peter Mulinge, Peter Lim, Margaret Muchiri, and Toni Jimenez Luque.
Academics
Global Impact
School of Leadership Studies
Doctor of Philosophy in Leadership Studies