Sustainability Q&A with Mikaela Schlesinger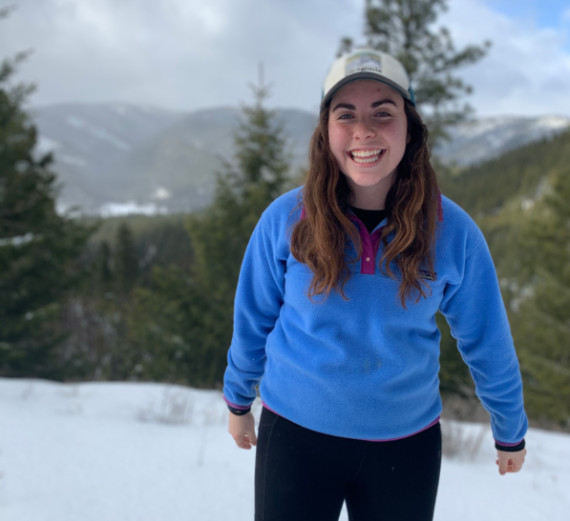 ---
What is your year, major or club affiliation at Gonzaga?
I am the president of GEO (Gonzaga Environmental Organization) as well as a student leader for Rethink Waste. Also, I'm a senior Biology major!
What does sustainability mean to you?
Sustainability to me means acting in a way that promotes and protects the current and future wellbeing of our planet, and all of the humans and other species that live on it.
How have you been involved in promoting sustainability on campus?
I joined GEO my freshman year and very quickly found a great community with those promoting sustainability on campus. I have been involved with GEO all four years and have held various roles such as communications director, vice president, and now president. I have loved being a part of this club and have made a lot of great friends through it! Through GEO, I've worked with others on increasing our social media education over the years and seeing it reach more people as well as plan many events for the club. This year, we are focusing more of our club's attention on environmental justice, and we have created a new GEO committee specifically dedicated to this topic as well as having these important discussions in our meetings. We are working towards more campus-wide events to address this important issue. Another big way I have been involved in promoting sustainability on campus is with waste reduction and diversion. After participating in SSLP as a freshman, I became passionate about reducing our waste. I have helped get universal signage in classrooms and increased paper towel composting. Also, last year, a few students and myself created a new subcommittee of GEO called Rethink Waste and through that we lead waste audits and a lot of other waste related projects on campus.
What are some things you do in your personal life to live sustainably?
I try to bike wherever I can for to limit my emissions and it's also great for practical purposes as well as enjoyment and exercise. I also try to reduce my plastic consumption and try to consciously buy products with the least amount of waste, such as buying produce in bulk with my own reusable produce bags. I compost at my house, which reduces a lot of our waste. I also have become a vegetarian in college after learning about the many environmental effects of meat. I buy second hand for everything I can. The Goodwill Outlet has been a great place that I've found a lot of things at this semester. I also have been trying to learn as much as I can about the many different intersections of climate change whether that be environmental justice or the effects of climate change and health. Lastly, I try to bring up the importance of sustainability in conversation with my friends, whether that be talking about the system change that is needed or ways to change individual behaviors.
How could Gonzaga continue to improve its sustainability efforts?
I think ways Gonzaga can improve its sustainability efforts is to try to reach more students and encourage sustainable behaviors for all students. I think this can start by trying to incorporate sustainability into more classes and orientation. For Rethink Waste specifically, we have a goal of increasing our waste diversion this next year to 70%. I also think divesting from fossil fuels would allow the university to really stand with its mission statement.
How will you continue to promote sustainability at Gonzaga?
I will continue to promote sustainability at Gonzaga by trying to continue to build community within GEO and have it be a place that all students can feel supported in, while making campus more sustainable. I will continue the conversation about environmental justice and encourage reflection on the many intersections climate change has with different social justice issues. I will also continue to work with Rethink Waste on the different projects we have such as reducing single use plastic at dining halls and implementing compost bins in the dorm.