Debate Teams from Gonzaga, Other Schools Co-Host VP Debate-Watch Oct. 7
Election 2020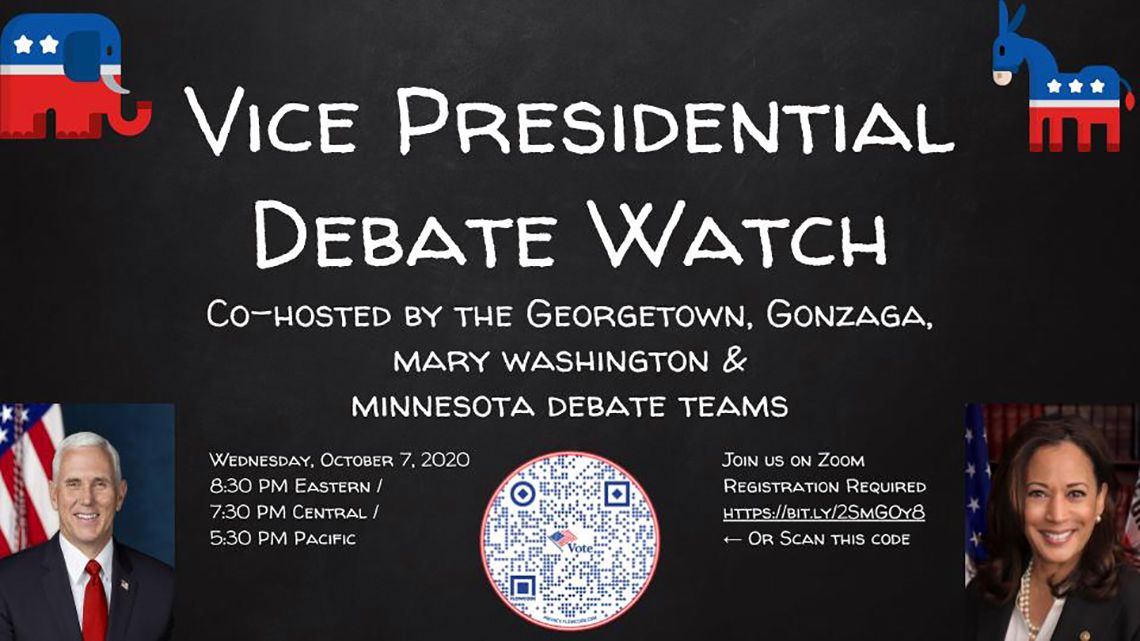 Gonzaga Debate Collaborates with Teams from Georgetown, Mary Washington, and Minnesota
The debate teams from Georgetown University, Gonzaga University, the University of Mary Washington, and the University of Minnesota will jointly host a debate-watch and dialogue session for the Vice Presidential Debate on Oct. 7. The event will take place via Zoom and is open to students and the public.
Registration is required and is available online at: https://bit.ly/2SmGOy8. Registrants will be emailed a Zoom invitation link. Capacity is limited to 300 participants.
The event is part of the DebateWatch Initiative, created by the Commission on Presidential Debates in 1996 as a voter education and civic engagement program, encourages individuals to come together to watch a debate and then participate in thoughtful analysis. The goal of the program is to engage with other citizens in civil dialogue to discuss what they gained from watching the debate.
The vice presidential debate, which will be moderated by Susan Page, Washington bureau chief at USA Today, will be divided into nine segments of approximately 10 minutes each. The moderator will ask an opening question, after which each candidate will have two minutes to respond.
"We are looking forward to collaborating with our colleagues from Georgetown, Mary Washington and Minnesota on this event. We remain hopeful the vice presidential debate will deliver the depth of substantive analysis and civil dialogue that was clearly lacking in the first debate," said Glen Frappier, director of forensics at Gonzaga. Frappier is co-organizing the event with Adrienne Brovero, director of both the debate team and the Speaking Center at the University of Mary Washington, David Cram Helwich, Ph.D., director of forensics at the University of Minnesota, and Mikaela Malsin, director of debate at Georgetown.
"In our current context, a virtual debate-watch is a unique opportunity to civically engage with others — both here and across the country — by sharing and listening to others' views," said Brovero. Participants in previous DebateWatch events expressed appreciation for the productive dialogue facilitated by the format.
The debate will start at 6 p.m. (PDT), and the virtual doors will open at 5:20 p.m. for pre-debate programming. Throughout the event, participants will be able to use the Zoom chat function and live polling to express their opinions. After the debate, participants will be sent to breakout groups to discuss the debate. The post-debate discussions will be guided by a moderator and will focus on what participants learned.
The 2020 CPD DebateWatch participants include nearly 200 schools and organizations across 45 states and three countries.
For more information about Gonzaga's policy debate program, visit www.gonzaga.edu/gonzagadebate
Media Contact: Glen Frappier, director of forensics at Gonzaga, (509) 313-6663, frappier@gonzaga.edu.



Academics
College of Arts & Sciences
Academic Vice President
Communication Studies
Debate
News Center