The 2020 Election and The Climate Crisis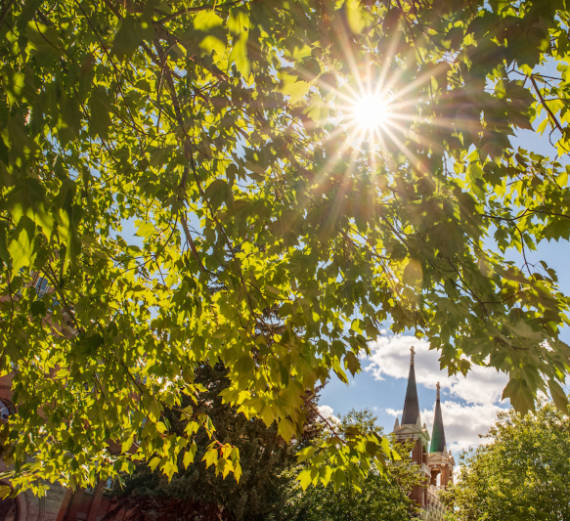 ---
If I have learned anything in the past ten months, it's that when you think that things can't get any worse, they can in fact get much...much worse. 2020 has been one for the history books, and that's for sure, challenging our routines, values, beliefs, and relationships. This year has brought a global pandemic that has affected nearly every person on the globe, the largest civil rights movement of our generation, rampant wildfires in the west, and the tragic death of the infamous Ruth Bader Ginsburg. As we think ahead to Election Day on November 3, it's hard to pick one singular voter issue to define and inform our votes because there is so much that rests on this election. In the chaos of 2020, it seems that the climate crisis has almost taken the back burner this election, getting hardly any time in the first presidential debate. In fact, according to NPR, in a recent Pew Research survey of top voter issues for 2020, "climate change didn't even make the top 10" (Pfeiffer, 2020). Although, now more than ever, we need change in order to mitigate the effects of the climate crisis, and it is becoming clearer and clearer that the results of this election may ultimately determine whether that change moves us in a positive direction or a negative one.
Sunrise Movement's Varshini Prakash, now a member of Biden's climate task force, asks us to see the ways in which the climate crisis is essentially interconnected with nearly every other major issue this country is facing. In a recent article published by the Harvard School of Public Health, Dr. Aaron Bernstein highlights the ways that climate change impacts the risk of global pandemics, linking several root causes of the climate crisis to an increased likelihood of transmission. Additionally, we have seen over the past several months that areas with increased air pollution, often low-income areas and communities of color, are experiencing higher death rates from COVID-19. Prakash links much of the climate inaction in the past decade to the disregard for Black, Brown, and Indigenous lives in the United States, who have disproportionately suffered from the climate crisis and extreme natural disasters historically. The climate crisis exacerbates and reinforces many of the injustices and global issues that have made it onto the party platforms this election, and therefore it is crucial that we vote for a better future for our planet and its people.
If you have followed along with this election through the primaries, you would know that neither of our Presidential candidates started out with very strong plans to mitigate the climate crisis. Biden's initial plan was given an 'F' rating by the Sunrise Movement. Although, after receiving the Democratic nomination for President, Biden recognized that a more comprehensive climate plan was necessary to rally voter support. Though still not in support of the Green New Deal, Biden and his climate task force plan to invest upwards of $2 trillion over the next ten years to "ensure the U.S. achieves a 100% clean energy economy and reaches net-zero emissions no later than 2050" (The Biden Plan for a Clean Energy Revolution & Environmental Justice). His plan includes incentives for clean energy innovations, significant investments in clean energy research and implementation, recommitment to the Paris Climate Agreement, plans to address environmental justice issues like the Flint water crisis, and the push for community-driven efforts to address other environmental injustices across the country that disproportionately affect lower socioeconomic and communities of color.
The Trump Administration has long denied the science behind the climate crisis and neglected to take responsibility for the United States' significant role in global carbon emissions. While his administration has not yet put forth a plan to address climate change other than so-called "forest management", in the first presidential debate, Trump stated that he wants "crystal clean water and air", although his track record says differently. His administration has reversed nearly 100 environmental policies enacted by both political parties and has proven loyalty to oil companies in the last three and a half years. While he has come around to acknowledge that human activity does indeed contribute to global climate change, he still is quite hesitant to move the U.S. towards a clean-energy economy.
In alignment with the Gonzaga mission, we are called to engage in environmental stewardship and maintain a "mature commitment to... care for the planet" (Gonzaga Mission Statement). As a Jesuit institution, we can look to our Church leaders to provide guidance in upholding these values this November as we head to the polls (or the post office). The Ignatian Solidarity Network recently released an "Ecology Voting Guide" that draws upon principles of Pope Francis' encyclical "Laudato Si". It states:
"As people of faith, we seek elected officials who prioritize meaningful legislation
that creates a just and immediate transition away from fossil fuels, centers
frontline and vulnerable communities affected by environmental degradation
and climate change, increases environmental oversight on new infrastructure
projects, as well as legislation that addresses the connections between issues
of climate change, global health, racial injustice, and migration."
Regardless of your political views, it is our duty as Gonzaga students to show up to vote this election, keeping in mind our Jesuit values and the mission of this institution that we call home. Our voices and votes truly do matter and it is our responsibility to utilize them on behalf of those who cannot. Whatever the reason behind your vote, whether it's the planet, the pandemic, or racial injustice, what matters is the mere fact that you vote.
Written by Grace Redpath
GSBA, Sustainability Chair
Sources and useful links:
NPR: "Impact of Climate Policy on 2020 Presidential Election":
https://www.npr.org/2020/09/01/908456852/impact-of-climate-policy-on-2020-presidential-election
Harvard School of Public Health: "Coronavirus & Climate Change":
https://www.hsph.harvard.edu/c-change/subtopics/coronavirus-and-climate-change/#:~:text=We%20don't%20have%20direct,and%20our%20risk%20for%20infections.&text=Many%20of%20the%20root%20causes,increase%20the%20risk%20of%20pandemics.
Joe Biden Campaign Climate Plan:
https://joebiden.com/climate-plan/#
MarketWatch: "Here's Where Trump and Biden Stand on Climate Change 2020":
https://www.marketwatch.com/story/heres-where-trump-and-biden-stand-on-climate-change-2020-09-29
Promises Kept, Trump Administration: Energy & Environment:
https://www.promiseskept.com/achievement/overview/energy-and-environment/#
Donald Trump Campaign Site:
Ignatian Solidarity Ecology Voting Guide:
https://ignatiansolidarity.net/blog/2020/08/19/ecology-voting-guide/