Leadership Fishbowl with Regina Malveaux Recap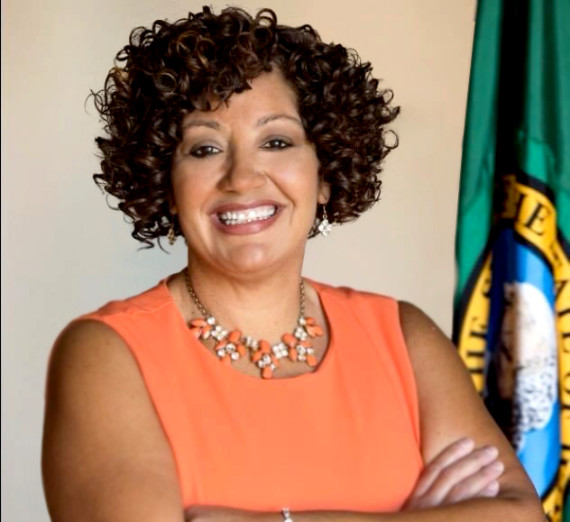 ---
The Comprehensive Leadership Program (CLP) interviewed Regina Malveaux, the Fall 2020 Leadership Fishbowl speaker.
Currently the Director of the Washington State Women's Commission, Regina has also spent years as the CEO of the Spokane YWCA, a nonprofit that provides a multitude of services for victims of domestic violence and families struggling with poverty, unemployment, and homelessness. In her interview, she told the CLP audience about her own leadership journey, how her core values are reflected in her work, and her advice for developing leaders in the CLP program as they find the "Courage to Continue", the 2020/2021 academic year theme.
As a college student and the mother of two young children, Regina discovered her passion for advocacy and policy work. She experienced advocacy firsthand when she and many other parents confronted her 3 year-old daughter's school board to push to stay open in the midst of a budget crisis. After college, she took a big risk- driving across the country to Washington DC with her two children and little money to attend law school.
With various setbacks like change in career, failing her first bar exam, and not landing a job with Michelle Obama's policy team, Malveaux learned that everything happens for a reason, and all those failures would bring her to where she is today.
Today, with over twenty years of experience advocating for women and children as a non-profit executive as a community leader and policy advocate, she had made it on to the Spokane CDA Living/Catalyst Magazine's "Power 50 Most Influential People" list. As the current Director of the Washington State Women's Commission, a resource for women to learn about opportunity, her role is to advise the legislator and governor on issues that disproportionately impact women in the State of Washington.
Regina defines leadership as "helping people know how they can connect to something bigger than themselves" and her core values are hope and compassion. She first realized she loved advocacy while meeting hundreds of strangers and encouraging them to join the Stand for Children effort, led by her idol, Marian Wright Edelmen.
Covid-19 brought a new set of leadership challenges to Regina and the well-being of her clients and staff. Her ability to make quick decisions, communicate effectively and work with community resources allowed this essential agency to remain open in the midst of the global pandemic.
In the contentious social climate of 2020 with an election, the global pandemic, and social unrest, Regina expressed the importance of having meaningful conversations, having the courage to continue, and finding moments of joy.
When discussing with others who disagree, Regina encourages us to practice patience and grace and have genuine, meaningful, worthwhile conversations. Regina was asked what this year's CLP theme, "Courage to Continue," means to her. She tied the theme to the pandemic and the racism that faces our nation and explained that to find the courage to continue, we have to "just do." There is no option to give up because there will always be something better on the other side of the struggle. Taking care of mental health, checking in on your loved ones, embracing those who are struggling, and being hopeful are incredibly powerful tools in finding the courage to continue.
Regina finds joy in going outside, reading books, listening to Prince, and creating intentional opportunities to maintain human connection.
Her advice for the CLP students is to have faith in yourself and not let others convince you of something different from what you know to be true about yourself. The best advice she ever received was to just take a breath.
The issues Regina fights for are emotionally draining. Along with that, to be Black in America and care about poverty, race the wealth gap, equity, and change, she says, "is to live in a constant state of rage." It is important to find those joys in life and to take a breath.
"Despite how heavy the world is right now, and it is really heavy, I have an extraordinary amount of joy, and I just feel really, really grateful for that," Regina said.
Academics
Global Impact
Student Life
College of Arts & Sciences