Operating in Crisis Fits Her Fine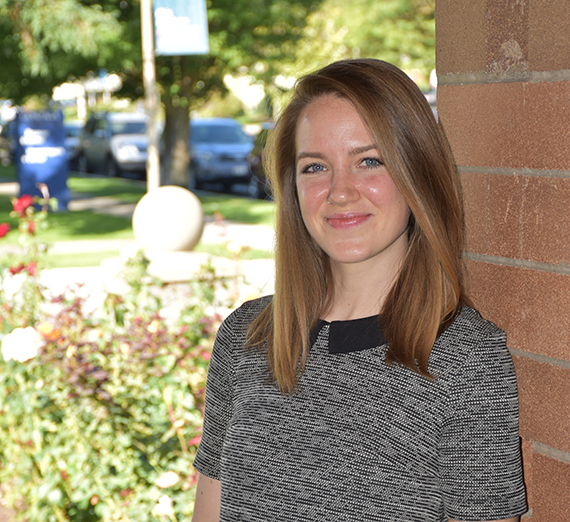 ---
When Taylor Jordan earned her master's degree in public health a few years back, she never imagined her first foray into the public health arena would be as a COVID-19 coordinator during a worldwide pandemic.
But then, she admits to leaning into jobs during crisis. "I like the challenge," the 2015 Gonzaga alumna admits.
She finds herself leading a team of four contact tracers – Bethany Hickey, Alina King, Anastacia Lee and Nicole Porterfield – coordinating testing, tracking, relocations, meals and other services for students who test positive, who have come into contact with others who tested positive, or who have not tested positive but are symptomatic. "These contact tracers have to be nimble, be able to work in a dynamic environment, and provide support, information and care for the students involved," Jordan says.
"The COVID-19 Coordinator's role is critical to the management of the process in mitigating the virus on campus," says Charlita Shelton, special consultant to the president/COVID-19 compliance officer.
"Taylor's ability to juggle the tracking, organizing moves for those students who will need to either isolate or quarantine, and handle the data reporting piece is a monumental task."
When a student tests positive for the virus, Jordan and the COVID-19 Action Response Team (CART), a multi-disciplinary team spanning several departments, follow this routine:
Interview the student to identify close contacts who will need to quarantine

Contact the close contacts and provide instructions for packing and what to expect from the moving process

Reserve a new room in the isolation/ quarantine hall

Obtain keys from the housing office

Coordinate a time with the on-call resident director to pick up student's belongings

Pick up and transfer student belongings (and the student if they choose not to walk)

Assess dining needs, including dietary restrictions and allergies, and coordinate emergency food deliveries if after hours

Report spaces that need additional cleaning to Plant Services
Those students who test positive have a little more leniency in their isolation accommodations than those who may have been exposed or who are symptomatic, and are in quarantine, Jordan explains. The "positives" live in a designated residence hall set aside for them, share common bathrooms and are free to mingle with others on that floor. Those in quarantine, however, are provided rooms with their own bathrooms, and are asked to stay in their rooms to keep them from spreading the virus if they do develop COVID-19 based on the exposure, Jordan says. Quarantine typically lasts 14 days. All students are equipped with linens, internet connection, refrigerator, microwave, snacks and three meals a day.
Impacted students and their parents have many questions. "Part of the criteria for hiring the contact tracers was their empathy for others, along with experience in public health," Jordan says. "The more we explain the importance and intention of quarantine, and the university processes in detail, the more understanding people tend to be."
Admittedly, there were some rough patches when the first students needed to quarantine, causing some confusion for students receiving notices. That learning curve demonstrated exactly what steps needed to be implemented to make it easier on all parties moving forward.
"Taylor brings a tenacious drive to her role and keeps the process of COVID-19 mitigation moving forward," says Kristiana Holmes, who oversees the work. "She realizes that students and their families can feel distressed in these situations, and provides clarity and empathy to those who may be experiencing this challenge."
Another of Jordan's primary roles is serving as the University's primary liaison with the Spokane Regional Health District. In addition to reporting, this connection guides Jordan and Gonzaga through best practices for mitigating COVID-19, and offers counsel, when necessary.
Jordan provides data for Gonzaga's COVID-19 dashboard, updated daily at 5 p.m.
She has been pleased with the community's efforts to create a safe campus environment. "Overall, the majority of our students are incredibly engaged in preventative behaviors, and are taking protocols seriously," Jordan says. "I don't take this work lightly, knowing the stakes are high. The better job we can do, the higher the likelihood we can keep the University open."
And Holmes couldn't be more pleased with Jordan's efforts. "From day one, she has been designing, implementing and evaluating new and uncharted processes to care for our students impacted by COVID-19. She directs the COVID-19 Action Response Team (CART), coordinating services between the contact tracers, Housing & Residence Life, Zag Dining Services, Health & Counseling Center, Plant Services, Cura Personalis and others, all working to keep students and our campus as safe and healthy as possible."
In the meantime, Jordan has other plans in the works. Pending the pandemic, she and fiancé/Admission Counselor Matt Lyons ('16) are scheduled to wed in the summer. But like COVID, everything remains in flux. Good thing she thrives in crisis.