Just as Intended: Gonzaga Day 2020 from the Fans
---
Gonzaga Day 2020 blends service with celebration
When Gonzaga Day began eight years ago, the goal was to unite "Zag Nation" on a single day – not just coming together in basketball fandom, but sharing in activities that represent who we are. And that means community and service.
On campus, students gathered to support a locally focused outreach effort, and for the second year in a row, that was Giving Back Packs, a nonprofit started by Rick Clark ('19) to offer supplies and hope to people who find themselves on the streets.
Across the country, alumni chapters gathered to serve at local agencies of their choice – from food pantries and homeless shelters to programs for children.
And in addition to the element of being people for others, Gonzaga Day serves as a moment for alumni and friends to reflect on why they are Zags and why the University is a special place in their lives.
Here are a few photos and posts on social media that highlight how the Gonzaga community achieved all these things.
Alumni Chapter Gatherings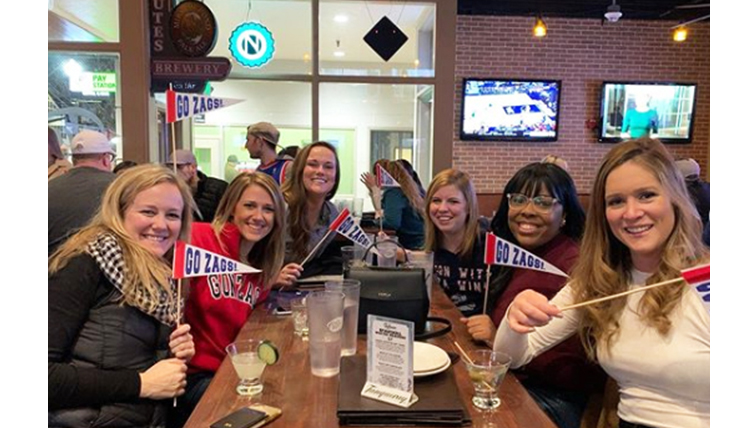 (Shown above: Boise Chapter)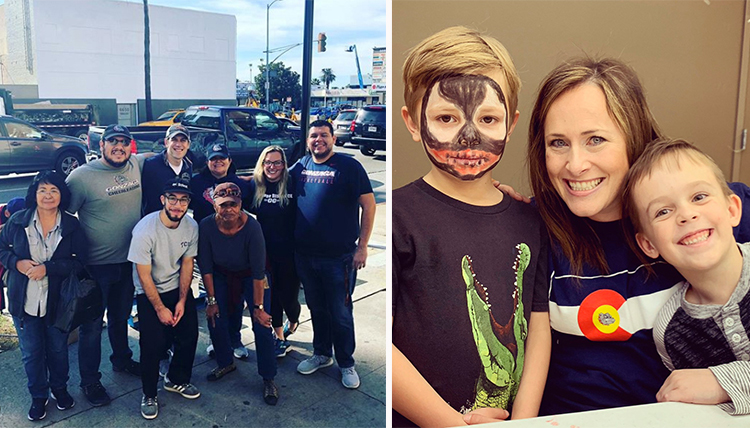 (Shown above: LA Chapter at left; service project in Denver at right)
LA Chapter President Danielle Cendejas ('04) wrote: "On this Gonzaga Day, we serve, celebrate and inspire in our community. LA Zags helped at the Blessed Sacrament Food Pantry in Hollywood, providing food for community members. Thank you, Gonzaga, for our great community."
Spokane Chapter member Katherine Morgan ('06, '14 M.B.A.) wrote: "I had so much fun spending the afternoon with current and future Zag Alumni, making an impact on the lives of our community's food insecure youth." Morgan also tweeted: "It's Winnie the Pooh Day, marking the birth of author A.A. Milne, AND it's Gonzaga Day. I rather love the beauty of two great treasures celebrated today. Oh to spend a day in the Hundred Acre Wood. I suspect Christopher Robin would have loved having a Bulldog as a friend."

(Shown above: Boston Chapter at left, Phoenix representatives at right)
Notable Moments
Denver Zags enjoyed a surprise photo opp with Domantas Sabonis, former ZagMBB player gone pro with Indiana Pacers
Bay Area Chapter members had a view of San Fran from the Salesforce tower, where they visited with President McCulloh
Peace! Two zags serving in the Peace Corps reached out from their locations of duty: Aizley Hansen ('18), Rwanda, and Becca Dunne ('18), Ukraine

(Shown above: A large turn-out of Zags in the Bay Area Chapter gather with President Thayne McCulloh)

(Shown above: At left are the Padgham sisters - Carolyn ('85), Claire ('83), and Elaine ('72, '92, '04), together in Cabo. At right, an account known only as "Dad's Always Doing Something" from Kennewick, showcases a heck of an idea board for celebrating Gonzaga Day with service, faith and activities - and a girl so zagged-up she's ready to enroll.)
Sentiments Shared
Justin Gwinn ('17) shared his wedding photo with Katie Freeman ('17) and said, "The bar bill would have been lighter, but it wouldn't have been the same without the Zags."
Raymond Loyola ('03) also shared his wedding photo with Nicole Christianson ('05). He wrote: "We were so happy to have many of our fellow Zags with us at our wedding in 2014, and thankful for all the friendships and shared Gonzaga experiences we've had with so many others."
Mary Charbonneau scored tickets to watch the game in McCarthey.
Mina Robinson, current student, said tenting in below-freezing temps was worth it, "to see our team beat BYU."
Riley Kvarda ('19) – "I uncontrollably miss my Zags."
Aubrey Weber ('13) – "Gonzaga is truly the most remarkable place on the planet. It enriched my life in so many ways and as time goes on it continue to give me everything. Best of all, it made me a ZAG."
Diana Berger ('06) – "I don't know how seeing besties and watching Gonzaga blow out BYU in the Kennel by 23 isn't a huge Gonzaga Day win. Lucky to have these people and this place forever in my life."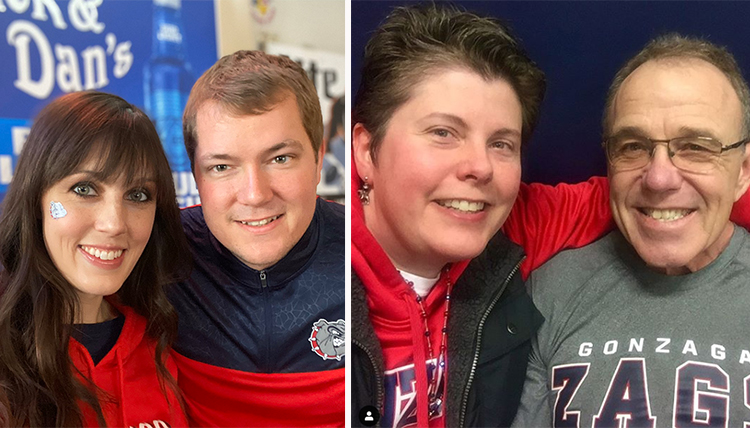 (Shown above:Alums gather in Spokane with friends. At left, Diana Berger; at right, Mary Charbonneau)
A Resounding Cheer
Fans chimed in from across the nation: New Mexico, Missouri, Idaho, New York, Pennsylvania, Wisconsin, Hawaii, North Carolina – and around the world: Korea, Malaysia, Rwanda, Costa Rica and Mexico.
(Shown above: Students celebrate near and far. At left, Janessa Tolman and friends; at right, Kat Muniz in Costa Rica.)
Learn more about Gonzaga Day updates on the university's plans for an Integrated Science & Engineering building here.
Stay tuned for Gonzaga Day 2021!
Be Involved! Find out when there's a Gonzaga event near you.