Lucky No. 9: A Reflection on Suffrage, Soccer, and Solidarity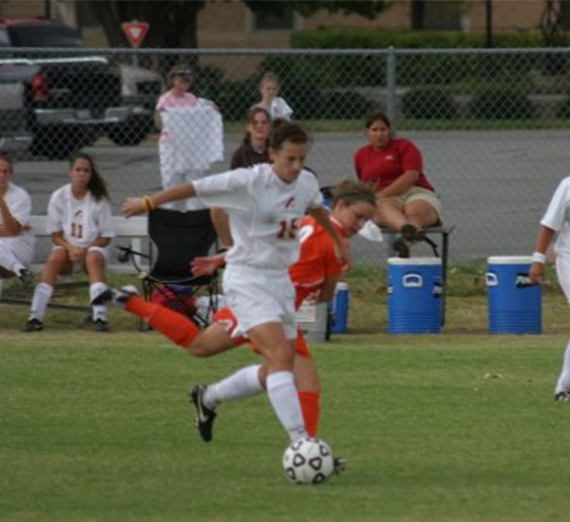 ---
In the summer of 1919, Congress approved the 19th Amendment. In the summer of 2019, we celebrated the 100th anniversary of women's right to vote and celebrated in style, as the U.S. National Women's Soccer Team won the 2019 FIFA Women's World Cup. While it might not seem like it at first glance, both landmark events are part of the history from suffrage to solidarity and a story of access and change.

For decades before the passing of the 19th Amendment, women advocated for suffrage. The National American Women's Suffrage Association, founded in 1890, came decades after the famous 1848 Seneca Falls Convention. For decades after the 19th Amendment, women continued to advocate for equal rights. Signed into law in 1972 was a big step in this history: Title IX. Title IX secures a number of rights and protections for students and educators by banning discrimination on the basis of sex at schools that receive federal funding. Perhaps one of the most well-known results of Title IX was ironically accidental – its impact on women's sports. Title IX required educational institutions to provide equitable support and opportunities for men's and women's sports. This had a huge impact, as I played high school soccer, twice competing for the Texas state title, and captained my college team.

In 1972, when Title IX was signed into law, about 700 girls played high school soccer. In 2018, 390,482 high school girls did. Fifteen of the twenty-four teams competing in the 2019 Women's World Cup had one or more on their roster who has played college soccer in the U.S. Without high school soccer and college soccer in the U.S., our national women's team would not be a powerhouse.

And a powerhouse they are. They have won four of the eight Women's World Cups (and came in either second or third in the other four). They won in 1991, 1999, 2015, and 2019. The 1999 victory was a big moment in my adolescence. Twenty years ago, in the summer of 1999, I was fourteen and between middle school and high school. The 1999 team, poised and powerful, were my idols. After Brandi Chastain scored her penalty kick in the championship shootout, securing the victory, she pulled off her jersey and fell to her knees in triumph. It made me feel like anything was possible, and it had to do with so much more than soccer. When I was in graduate school, I read an essay that helped me better understand all these experiences as an athlete. In "Throwing Like a Girl: A Phenomenology of Feminine Body Comportment Motility and Spatiality," philosopher Isis Marion Young describes the ways in which women's bodies are the "other" in society and as such are expected to behave in certain ways. This has ramifications for women's bodies in motion. She writes, "For many women as they move in sport, a space surrounds them in imagination which we are not free to move beyond; the space available to our movement is a constricted space." Constricted space describes both the public sphere in which women work and live their lives, and it even shapes the fields of women's sports.

Seeing the U.S. women's national team work hard, advocate for themselves, and have pride in their achievements was a breakthrough for me. I had terrible self-esteem throughout my adolescence, and they helped me develop confidence. Between the 1991 and 1999 World Cup championships, I wrote to many of the players and told them why they mattered to me. Many of them wrote back, and I've held onto those creased postcards like talismans. They remind me that women are powerful and that I should seek more in the world. It's not just about soccer. It's about succeeding in one's career. It's about working on a team and the strength that comes from community. It's about being an active participant in the world. It's about being more than you think you're capable. It's about breaking out of the constricted space.

The U.S. Women's National Team has won the Women's World Cup again this summer. Like previous years' teams, these women are vocal advocates for social justice causes, like racial and gender equality. For example, striker Christen Press links those together, for "there is no future of gender equality without the future of racial equality." At their ticker-tape victory parade in New York City, team co-captain Megan Rapinoe addressed the crowd, and her speech ended with a challenge for all listening. "This is my charge to everyone: We have to be better, we have to love more and hate less. Listen more and talk less. It is our responsibility to make this world a better place."

From suffrage to solidarity—Elizabeth Cady Stanton would be proud.
Sources:
Moira Donegan, "USA's formidable women's soccer team is no accident," The Guardian, 6 July 2019, https://www.theguardian.com/commentisfree/2019/jul/06/usa-womens-world-cup-netherlands-title-xi
Zachary B. Wolf, "If you like women's soccer, you should know about Title IX," CNN Politics, 10 July 2019, https://www.cnn.com/2019/07/10/politics/title-ix-us-women/index.html
Iris Marion Young, On Female Body Experience: "Throwing Like a Girl" and Other Essays (New York: Oxford University Press, 2005), 33. https://global.oup.com/academic/product/on-female-body-experience-9780195161939?cc=us&lang=en&
Erica Ayala, "A more diverse USWNT – and a long way to go," The Equalizer, 28 June 2019, https://equalizersoccer.com/2019/06/28/uswnt-diversity-players-color-womens-world-cup/
Victor Mather and Danielle Allentuck, "Megan Rapinoe Steals the Show at the Women's World Cup Parade," New York Times, 10 July 2019, https://www.nytimes.com/2019/07/10/sports/soccer/soccer-parade.html