Student Reflections: Back to Campus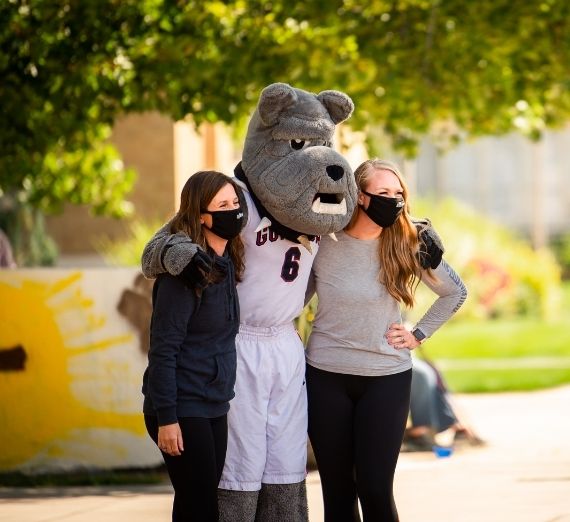 ---
While Gonzaga University created a hybrid model for the 2020-2021 school year, Zags were excited to be fully in-person for the 2021-2022 school year. With a vaccine and mask requirement and safety and capacity protocols in place, GU has been able to safely return. To learn more about Gonzaga's return to campus and current COVID-19 protocols, please check out our ZagOn webpage. These current Zags are in their second year at GU, so this year has been a new and exciting change for them. Check out their reflections below:
Annie French '24
Even though this is my second year at Gonzaga, I still feel like a freshman. My excitement for being here has not waned at all. Walking to all my classes is a new experience but I am so lucky to attend a campus where everything is in-person again. As a business major, many of my classes are in Jepson Center. I love grabbing a cup of coffee at Thomas Hammer, a coffee stand in Jepson, and then studying in the lounge. Unlike other study places, this lounge has a perfect and relaxing view of Lake Arthur.
While mask protocols are still in place, all the seating has opened back up in the COG (our main dining area). I love that we can pick and choose from an array of cuisines (the tater tots from Spike's Diner are the best) and then sit with a bunch of friends. However, when I don't have time to sit down and just want to grab a quick bite before my next class, I go to Pick 3. A throwback to middle school and brown sack lunches, here you pack an entrée, snack, and drink into a paper bag. On the weekends, I love grabbing dinner at Caruso's or Qdoba's as they both take Bulldog Bucks and are just a block off campus.
With us returning to campus in-person, we can now have guests over to our rooms/apartments. Something my apartment has started this year are movie nights. Ranging from Disney to horror, it's a great way to unwind at the end of the day as well as bond with my roomies. Also, intramurals are back! While I have never been on a soccer team, I am so excited to play indoor soccer. Intramurals are a great way to meet new people and you can either make your own team or join a random one. Overall, I am so excited to be back on campus and enjoy everything that GU has to offer now that everything is in-person.
Go Zags!
Coleman Brummel '24
The return to campus this year was nothing but spectacular. After being kept in quarantine three times, attending almost all my classes online, and the Gonzaga campus being an utter ghost town for the last year, this year couldn't have had higher standards. So far, Gonzaga has completely exceeded my expectations and desires for the fall semester and I honestly couldn't be happier.

The first aspect that really caught my eye since returning to campus is having everyone in-person on campus. It feels like a tight knit community of students. With the in-person student population at Gonzaga increasing tremendously from last year, the dynamic on campus has completely changed for the better.

Another part of the return to normalcy that I loved was the return to in-person learning. I tend to doze off in class quite often and without the aspect of physically being in the classroom, I felt that my learning was being jeopardized. Even with the mask requirement still in effect indoors, being able to sit in a classroom and get to know my professor and my fellow students has benefited me socially and intellectually in so many ways.

The best part of the return to campus this year is knowing that we'll get to go to basketball games in-person. With the unbelievable season we had last year, it was super disappointing that we had to watch home games from our couches. With the return to campus this year and the talented young additions to our team, we might just have another shot at a national title. I couldn't be more excited for this season and I'm looking forward to living through a normal year as a Gonzaga basketball fan.
Jensen Kintzele '24
Over the course of the past year, we have all sought a return to normalcy. At long last, we have achieved it, and the feeling is incredible. For students, this means a return to in-person classes, spending Friday evenings watching sporting events on campus, playing intramurals on weeknights, seeing friendly faces, gatherings with groups of friends, working out at the gym, joining GU clubs, and becoming a fully involved member of the Gonzaga community. At last, we get to be the Zags we set out to be when we chose Gonzaga as our second home.
This fall, I return to campus as a sophomore after experiencing a freshman year that I hadn't quite envisioned for myself. My expectation growing up had been that my freshman year would be the most exciting and fun year of my educational experience, as many people claim that it is. I was planning on signing up for every intramural possible. I was going to try out for club soccer, meet friends in my residence hall, meet people in my classes, hang out with friends in other residence halls, have lunch with a random student, and get involved in as many clubs as I could. I was going to be the biggest fanatic at basketball, soccer, volleyball, and baseball games. I was also going to explore the city of Spokane, enjoying my newfound experience at my favorite home away from home. While I did not get to experience most of this my freshman year, it has not mattered, because sophomore year's return to campus in-person has brought all of what I dreamt of and more.
Campus is active. I never thought I would see this many students on campus. Between classes, I see dozens of faces that I've never seen before through the bustling crowds. I also see many faces that I do recognize and it is nice to stop for a brief moment to catch up before heading to class. It is comforting to see those that I already know, as well as have the opportunity to meet new people and exchange a friendly greeting. Around campus, people are playing Spikeball on sunny days (which is most days), the turf soccer field is consistently being used for a variety of activities, and many students can be found studying outside in the grass or on benches placed around campus. Campus has never been more alive!
Students are out supporting the athletic teams! The first weekend of the year, the soccer field and volleyball arena were completely filled to the brim with cheering fans. The atmosphere was electric, and come basketball season, the support will only grow! In-person classes have brought back focused and productive learning, as well as a connection to the professor that was difficult over Zoom. The dining hall is back to serving meals with real plates and silverware (which makes the food taste so much better!) and the food has improved so much!
And of course, we can all now gather together as a community, meet new people, make friends, and make the most of the experience that we are embarking on together. A return to normalcy was needed and the students at Gonzaga are making the most of it.
Megan Baird '24
As many of you know, Gonzaga has switched back to in-person this fall and the energy on campus has been like no other. There have been so many opportunities with events moving back to being in-person. From SpikeNites, to late night COG (our cafeteria), residence hall events, and speakers on campus, I have met so many new people. Being able to interact with so many fun and new people has made my already great experience even better!

In addition to the social attraction to an in-person campus is being back in the classroom. I know for myself and others the idea of being back in a classroom creates stress and anxiety. However, as the weeks have continued, I have found great comfort being back in a classroom, collaborating with my peers and friends. When we were on Zoom, it was difficult to build relationships within classes. I struggled to message people if I had a question in the class due to only seeing them through small boxes on a screen (most of which were black squares). Unlike our Zoom year, being in person has allowed me to talk to people in small groups and feel much more comfortable to reach out to my classmates when a question arises. Furthermore, being in the classroom with the professors has allowed me to create genuine connections with them that make me excited for my academic future.

One of my favorite places to go on campus to study is the Hemmingson Center. In Hemmingson, there are many environments to settle down and grind out an essay. Having the increased amount of seating around the Starbucks area has been a new addition this year that I've really enjoyed. The wooden tables are perfect for study groups that may not fit at a table in Hemm Den, a cozy spot downstairs. While the line is always long, studying at the wooden tables allows me to refill on water/coffee or grab a sandwich and refuel. While last year I found myself in Hemm Den most nights, the new and increased seating next to Starbucks and Handcrafted, a food stand, has been a savior for me this year.