U.S. News and Carnegie Change Gonzaga University's Classification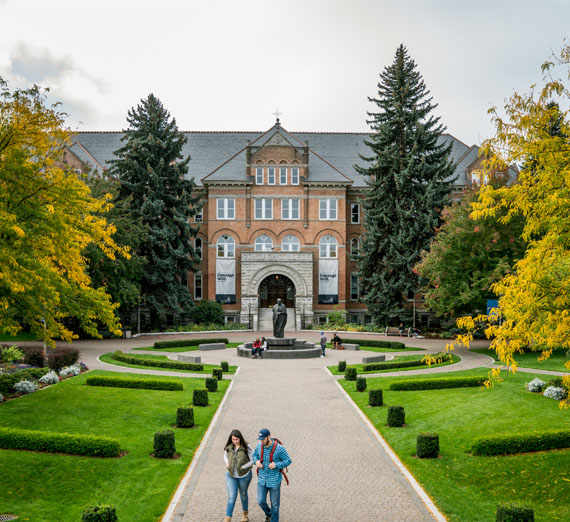 ---
SPOKANE, Wash. — U.S. News & World Report will categorize Gonzaga as a "National University" when it releases its 2020 annual rankings on Sept. 9, 2019. Gonzaga is currently ranked as a "Regional University." This is driven by the Carnegie Classification of Institutions of Higher Education moving Gonzaga University from "Master's University" to a new category — "Doctoral/Professional University" — in response to the number of students who are conferred doctorate degrees from Gonzaga.
For decades, Gonzaga has been categorized as a "Regional University" in "Master's Colleges and Universities." U.S. News & World Report currently ranks Gonzaga the No. 4 best in the West, the 20th consecutive year GU has ranked among the top four West regional universities and the 24th consecutive year (31st in 34 years) it has ranked among the best regional universities.
Given Carnegie's reclassification of Gonzaga, and U.S. News & World Report's pending re-categorization of Gonzaga to a "National University," the University will no longer be ranked in the Western Regional rankings. The University will be ranked among a new, much more expansive set of peers that includes both private and public universities across the country.
U.S. News & World Report defines National Universities as schools that offer a full range of undergraduate majors, plus master's and doctoral programs, and emphasize faculty research. The category includes 399 universities (211 public,180 private and eight for-profit) across the country ranging from Ivy League schools to major research institutions. That list includes Gonzaga and other Doctoral/Professional Universities; Doctoral Universities: Very High Research Activity ("R1") institutions; and Doctoral Universities: High Research Activity ("R2") universities.
"While the Carnegie Commission has chosen to reclassify Gonzaga — and U.S. News will categorize Gonzaga as a National University — our identity as a Catholic, Jesuit, and humanistic university dedicated to educating women and men to become leaders in serving others for the common good remains unchanged," Gonzaga President Thayne McCulloh said. "Our mission inspires us to excellence in academic and professional pursuits, and in cultivating the capacities for critical thought, lifelong learning, spiritual growth, ethical discernment, creativity, and innovation within our students."
The Carnegie classification, developed by the Carnegie Commission on Higher Education in 1970, is the widely accepted empirical framework to compare colleges and universities for educational and research purposes. Late last year, Carnegie created a new subcategory within the "Doctoral Universities" titled "Doctoral/Professional Universities," which includes universities that confer 30 or more "professional practice" doctoral degrees each year across two or more programs and confer fewer than 20 research/scholarship doctorates.
Gonzaga University offers a diverse spectrum of undergraduate degrees and master's programs in addition to five doctorate degrees: a Ph.D. in leadership studies from the School of Leadership Studies, as well as four professional doctorates including a juris doctor from the School of Law; a doctor of educational leadership, School of Education; a doctor of nurse practice and a doctor of nurse anesthesia practice, both from the School of Nursing and Human Physiology.
Please find FAQs.
For more information, please visit www.gonzaga.edu/National


About Gonzaga University
Gonzaga University, established in Spokane, Wash., in 1887, is a private, Jesuit, liberal-arts institution that develops every student's intellectual skills, imaginative capacities and ability to innovate so our graduates become leaders who shape and server their professions and communities for the good of all. Gonzaga offers 16 undergraduate degrees through 49 majors, 58 minors and 49 concentrations; 24 master's programs; and five doctorate degrees, through the College of Arts and Sciences and six schools: School of Business Administration, School of Education, School of Engineering and Applied Science, School of Nursing and Human Physiology, School of Leadership Studies, and School of Law.
MEDIA
: Please contact Pete Tormey at (509) 313-6132 or
tormey@gonzaga.edu
.