Mission Possible Celebrates 20 Years
Service immersion program continues to make an impact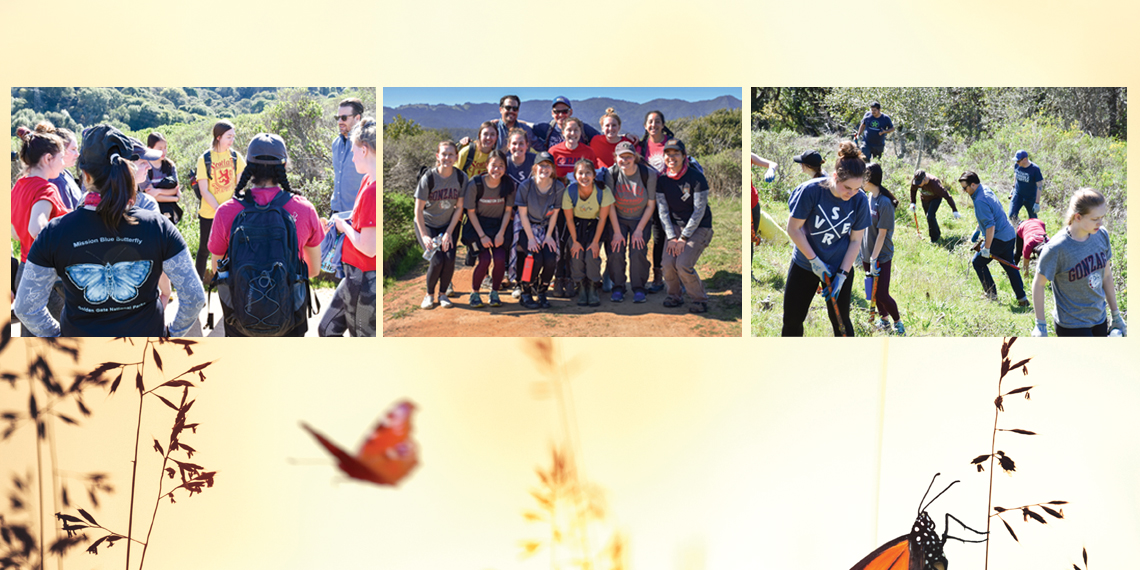 Like many Jesuit projects, Gonzaga's Mission: Possible started humbly with a vision and a commitment to action that over time has fostered a lasting legacy.
The year was 1999 and the Zags men's basketball team was starting its legendary postseason run. Meanwhile, a group of GU students was listening to those games between volunteer assignments in rural Mississippi on an "alternative spring break" that would become Mission: Possible. The calling that moved the first group of students remains strong today.
Mission: Possible is a weeklong service immersion program where students serve and learn alongside community partners across the country during spring break. Students explore the complex structural and social realities affecting communities and reflect on their role with these issues through the lens of the four pillars of the Center for Community Engagement: simplicity, spirituality, community and justice.
Center for Community Engagement's Mission: Possible
To celebrate Mission: Possible's 20th anniversary, we take a look at a moment when the program's past collaborated with its future in a poignant way.
Serendipity
The past and the future of Mission: Possible connected serendipitously on a brilliant day last spring in the hills above Marin County, California. That's where a group of Gonzaga University students and their staff adviser were busy restoring and protecting butterfly habitat in the Golden Gate National Recreation area alongside partners from a local conservation group.
Meanwhile, alumnus Aaron Sanchez ('02) quickened his pace on the trail with sweeping views high above San Francisco Bay as he approached the group. Sanchez was on break from his day as a marketer at LinkedIn headquarters in San Francisco and, no doubt, memories of a similar trip, 20 years earlier, flooded his mind.
While the setting was different for this group of students, the objective was the same as in Sanchez's days: Give of yourself in service to a greater cause. The informal reunion came together when the organizers of Mission: Possible invited Sanchez to see how the humble program had evolved since its founding in 1999 – and how things have stayed the same.
Sanchez was a member of the original Mission: Possible student group. He signed up for an "alternative Spring Break" during orientation in 1998 and was surprised to be called upon months later about an assignment to visit rural Mississippi.
>>> Related story: Mission: Possible Living Legacy of Service Learning at Gonzaga
Although Sanchez didn't know what he was getting into, he headed off joyfully with fellow Zags.
Today's GU students go into the modern iteration of the program with more structure in place. Staff in Gonzaga's Center for Community Engagement orchestrate 8 to 10 teams traveling across the nation over Spring Break, while student leaders assigned to each location handle logistics. A faculty or staff member accompanies each team, and the group meets regularly for pre-trip discussions on a variety of social justice topics.
On this day, Sanchez joined students in clearing invasive California underbrush that suffocates the western monarch butterflies' natural habitat. And before departing, he offered a word of thanks to the students on behalf of all Gonzaga alumni, for carrying on Mission: Possible two decades later.
Their work – whether for environmental causes, children's programs, community development or tribal relations – will likely impact them the way it did Sanchez, cementing in them a desire to be part of work that makes a lasting difference.
Have a fond memory of your own Mission: Possible experience? Share your story.
Help make a service-learning opportunity possible for the next Zag servants.
Faith & Mission
Global Impact
Service & Community Impact
Student Life
Sustainability
Center for Global Engagement
Gonzaga Magazine