University Discerns in Mission Priority Examen Process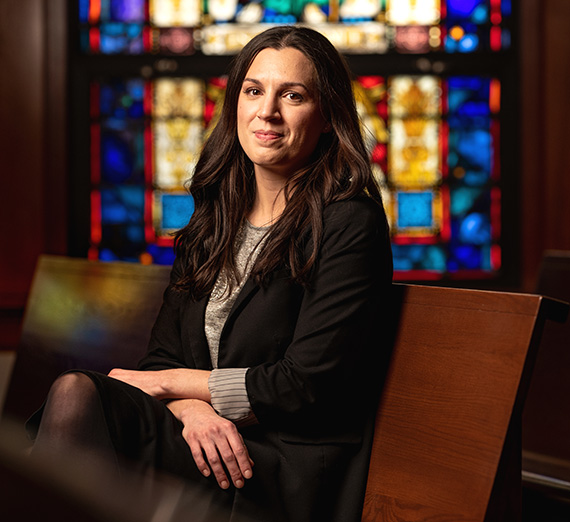 ---
Saint Ignatius, the founder of the Jesuits, is known by many names, including soldier, pilgrim, student, priest, and spiritual leader. One of my favorite names for him, though, comes from George E. Ganss, S.J., who wrote: "His genius lay, not in charming style like that of St. Theresa or St. Francis de Sales, nor in speculative wisdom like that of St. Thomas, but more in the practical wisdom of an apostolic organizer." His legacy is alive today because he invested in structures and ways of operating to preserve and give life to the Jesuit mission.
As Ignatius' path was unfolding, he and his companions in ministry discerned whether they should form a religious order, each taking time to pray about this decision. They could have simply continued as a collection of individuals, but they had a sense that they could accomplish something greater if they formalized their connection. Each of the original companions came back from prayer with a "yes"—yes to forming one mission body, and yes to the gifts and challenges that come with seeking to accomplish their work in community.
Thus began the work of building up the structures of the religious order. For Ignatius and the Jesuits, this centered on discernment as the heart of their way of proceeding: seeking to hear and respond to God's invitation. As they worked on the religious order, they discovered how to do this not just as individuals but also collectively. Communal discernment is now an essential part of any work that bears the Jesuit name. It is about a community finding creative ways to ask how God is inviting us to "be" and to "do" in our time and place. It is about nurturing a capacity for discernment and action, not just as individuals, but also as a "we."
This last year, Gonzaga experienced an intentional process of communal discernment, called the Mission Priority Examen. We had a responsibility to complete this process as a member of the Association of Jesuit Colleges and Universities, but our hopes went beyond a sense of obligation. We embraced this Mission Priority Examen as an opportunity to increase our awareness of how we live our mission and how we aspire to grow in the future. Furthermore, we engaged this process, rooted in the movements of the Jesuit Examen, as an opportunity to increase our capacities for discernment and action:
Gratitude: Ignatian spirituality begins with an awareness of all life as gift. Likewise, Ignatian discernment begins with gratitude for the abundance of God's love. We embodied this principle in our Mission Priority Examen by taking time to recall and name stories and examples that capture who we are at our best, celebrating our successes.
Preparation: One Ignatian discipline involves clearly naming the grace one seeks in discernment. We focused our collective efforts by asking community members to reread foundational Gonzaga documents, reminding ourselves of our goals before engaging in our assessment.
Review: Regular habits of Ignatian examination support us in making sense of the story of our lives in relationship to God's story. In the Mission Priority Examen, our shared project of weaving together a comprehensive narrative allowed us to better understand the bigger picture of Gonzaga's mission, including how different functions work together.
Accountability: Ignatian humility is about courageously naming strengths and weaknesses. Our communal reflection generated honest assessments of how we hope to improve in our work, for the sake of our students.
Resolve: In the Ignatian way, each pause for reflection renews commitment to purpose and galvanizes action. The culminating effort in our Mission Priority Examen was the naming of four strategic mission priorities, including timelines, to ensure that this process yielded positive movement toward our goals.
Ultimately, our Mission Priority Examen would not have been possible without the commitment of our community members. This kind of communal discernment depends on awareness, vulnerability, and tough intellectual and emotional work. Gratefully, our Gonzaga community gave generously to support a lively and productive process. Together, we have carried on the legacy of communal discernment in service to our mission. I think Ignatius and the original companions would be pleased!