Gonzaga to Celebrate Grand Opening of Myrtle Woldson Performing Arts Center April 25-28
'A New Season: A Celebration of Artistry, Place, and Potential'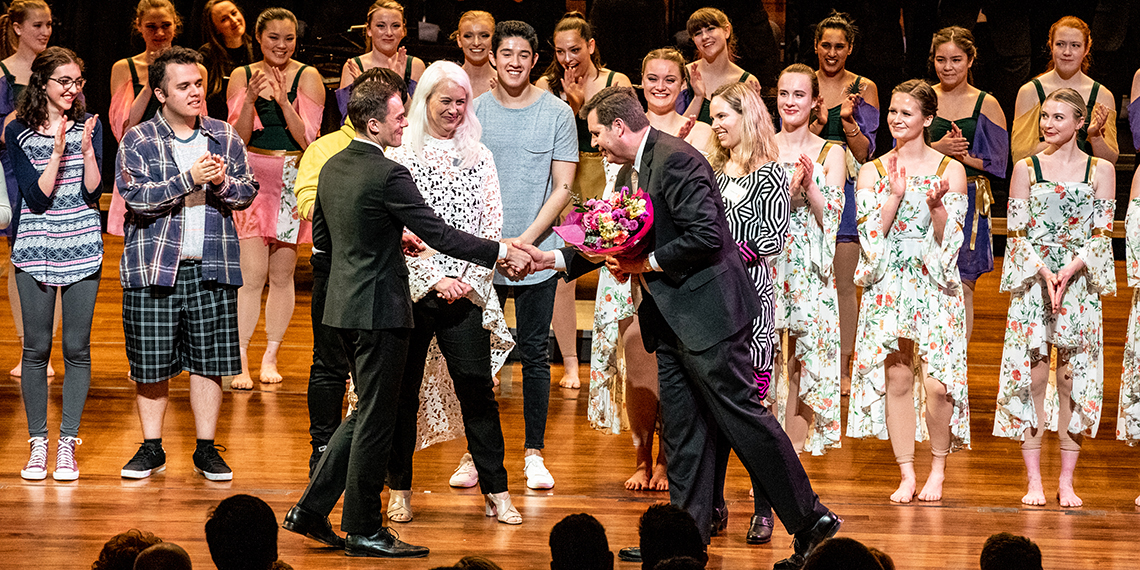 Tickets Available for Grand Opening Weekend
SPOKANE, Wash. — Gonzaga University celebrates the vision, generosity and love of Miss Myrtle Woldson with the grand opening of the Myrtle Woldson Performing Arts Center and first performance at 7:30 p.m., Thursday, April 25. More than an extraordinary center for the performing arts, this new facility represents the legacy of one of Spokane's most distinctive and generous daughters, and her commitment to the community she loved. Tickets are available.

Miss Woldson celebrated her love of the arts and student success with a $55 million gift to Gonzaga — the largest in University history — to fund student scholarships and build this performing arts center. A Spokane resident with ties to Gonzaga for more than five decades, Miss Woldson passed away on April 11, 2014 at age 104. She directed $25 million to an endowment to fund scholarships for students with high financial need, and $30 million to build the 52,000-square-foot, two-story center.
"Miss Woldson was an amazing individual. She was an accomplished businesswoman, a classically trained musician, a gardener, a philanthropist, and she was also an avid fan of Gonzaga basketball," said Gonzaga President Thayne McCulloh. "Miss Woldson had a lifelong commitment to this community, to Spokane, to the arts, and to the cause of education. Her belief in people is what carried her through her life, her relationships with many people within this community. She saw Gonzaga as a vital part of the Spokane community and the communities where our alumni go to live and lead around the globe."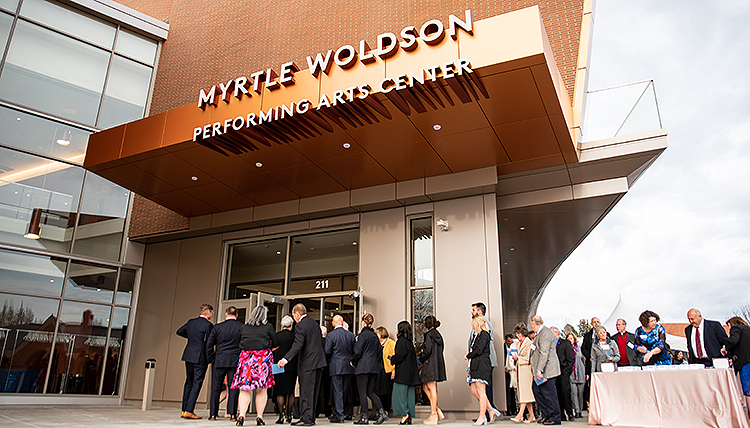 Situated on a rise offering grand vistas of the Spokane River, campus and the community, the center includes the 759-seat Fr. Bernard J. Coughlin, S.J. Theater and the 168-seat Martin and Edwidge Woldson Recital Hall. The Coughlin Theater proscenium opening adjusts from 44-to-52-feet wide with an 84-foot fly tower and fully rigged counterweight system for lighting, scenery, draperies, and scrims.
The center and the Jundt Art Center and Museum form the keystones of an arts village on the west side of campus — uniting the Gonzaga and regional communities in appreciation of the arts. The facility is expected to meet the regulations required for a LEED (Leadership in Energy and Environmental Design) Silver Certification, reflecting Gonzaga's commitment to sustainability. Overall, the project LEED strategies include a well-chosen site, sustainable site design, water and energy efficiency, material efficiency, indoor environmental quality measures and innovative measures that exceed LEED requirements. Pfeiffer Partners, Los Angeles, was lead architect with Bernardo-Wills Architects, Spokane. Theatre and music consultant: Auerbach Pollock Friedlander, San Francisco; contractor, Lydig Construction, Spokane Valley. Acoustics: Threshold Acoustics, Chicago.
The Myrtle Woldson Collection
The Myrtle Woldson Collection, adjacent to the center's second-floor lobby, pays tribute to Miss Woldson and inspires students and visitors to pursue self-empowerment. The museum-like series of spaces includes narrative panels and multimedia displays celebrating Miss Woldson's life, entrepreneurship, and philanthropy. Replicas of the living room, dining room and sitting room of her Spokane home display furniture, art, and décor collected throughout her life and travels. The Myrtle Woldson Collection will be open to the public Monday through Friday, 8 a.m.-5 p.m., in addition to performance days and times.

Miss Woldson understood how a Gonzaga education changes the lives of all students — not only those studying the performing arts — and valued Jesuit ideals and the Ignatian approach to education, President McCulloh said. "Her appreciation of those ideals is evidenced through the endowed Woldson Scholars program. This scholarship is awarded for academic achievement, community involvement and leadership to those who show great promise to impact the world. The 14 students in the first class of Woldson scholars started this academic year."
Tickets for Opening Performance
To order tickets for "A New Season: A Celebration of Artistry, Place, and Potential," the opening production in the center's Coughlin Theater — a combination of dance, theatre, and music in a multisensory tour through the seasons, visit www.gonzaga.edu/mwpac or call the Box Office at (509) 313-2787, noon-5 p.m., Monday- Friday. Performances are April 25 at 7:30 p.m. and April 27-28 at 2 p.m.

For more information, visit the Myrtle Woldson Performing Arts Center online at www.gonzaga.edu/mwpac.

Media Contact: Peter Rossing, Myrtle Woldson Performing Arts Center, (509) 313-4748 or rossingp@gonzaga.edu.
Arts & Culture
Academics
College of Arts & Sciences
Dance
Music
Theatre Arts
Music Education
News Center