What Makes Spokane Special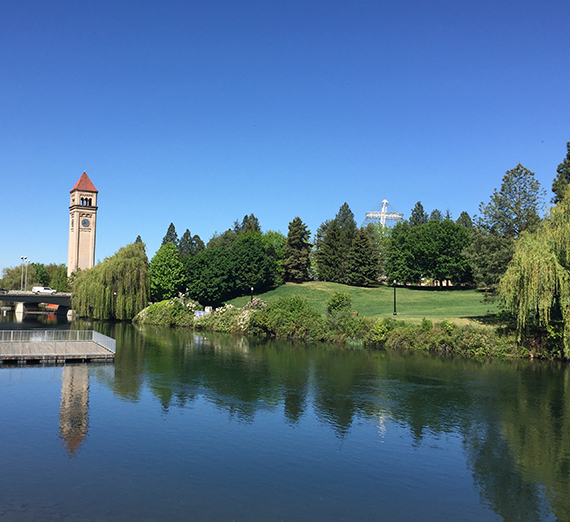 ---
When I drive into Spokane, heading east on I-90 down Sunset Hill, there's a point where the highway dips and the Spokane skyline spreads out on the horizon. Every time, my heart surges. I look for Beacon Hill and Mt. Spokane at first, and as I get closer, I search for the smokestacks at the steam plant, the imposing brick of the flour mill, and of course, the spires of St. Al's.
I love this city. Because get this: the two largest state parks in Washington are within 20 minutes of town, the 40-mile Centennial Trail alongside the river offers countless views of varying topography and places to enjoy a swim.
Dozens of restaurants offer locally-sourced ingredients, and the local music scene has something for everybody's taste.
Best of all, Spokane is affordable. Music to my college-student ears.
After four years (and one summer) here in the Inland Empire, I'll let you in on the secrets, compiled by a group of Spokane-loving Zags.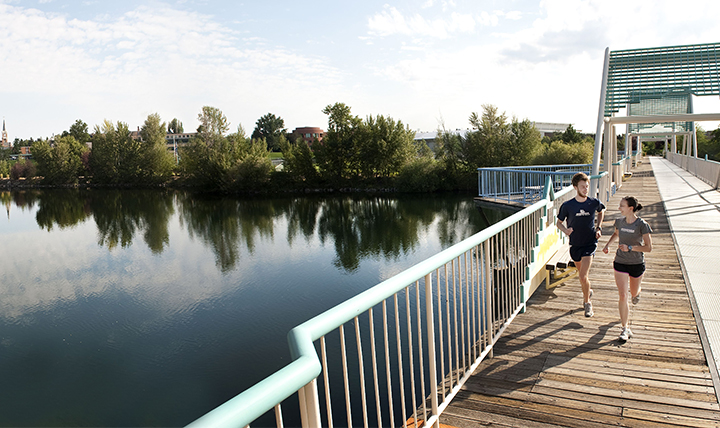 Eat
If you're looking for a tasty bite just off campus, Ultimate Bagel is a great place to go. Their support of the Zags can't be beat (check out their giant wall of old newspaper clippings), and neither can their bagels. My favorites are the sea salt and the snickerdoodle.
One of the beautiful things about on-campus meal plans is the Bulldog Bucks. It's like a gift card to all your favorite restaurants! Two of the best are Aloha Island Grill and Azar's. Both are locally-owned and give you massive portions of food for cheap. At Aloha, I like the teriyaki mushrooms (based off their famous teriyaki chicken) smothered in lava sauce, a zingy garlic-based glaze I put on literally everything. At Azar's, I'm a fan of the falafel, or, if you're just looking for a snack, try the feta-and-tsatziki-smothered fries. Whoa.
Everyone likes a classic. If that means a classic breakfast, look no further than Kalico Kitchen or Frank's Diner, both just a few minutes' drive from campus. They serve massive plates of pancakes, eggs, sausage, and unlimited coffee. If you haven't quite gotten your fix, head up to Mary Lou's Milk Bottle for lunch. Yes, it's that building shaped like a milk bottle. It has old-fashioned diner fare and one of the best milkshakes in town. Bonus points for nostalgia.
Sometimes your body just craves something healthy, and when that happens, head to My Fresh Basket. It's a Whole Foods-esque grocery store near Kendall Yards, one of the city's newest urban developments. It has all the healthy snacks you could ever want, plus an incredible deli, including sandwiches, a salad bar, and build-your-own poke bowls.
Flying Goat is a Spokane standby, but its popularity is well-deserved. It has a great selection of local beers on tap, and the pizzas are creative and delicious, boasting ingredients like truffle-tossed arugula and thinly-shaved prosciutto. The patio is killer, too. If you need to make a reservation, check out their sister restaurant, Republic Pi, which has the same great pizzas, and you can reserve a table ahead of time.
Mexican food is one of my favorites, and luckily Spokane has some great offerings. Cochinito is a hip, new spot downtown. Its menu is casual Mexican, locally-sourced. Everything is delicious, but of course it would be, when they make their tortillas from scratch every day. Atilano's is completely opposite, but no less satisfying. They feature huge burritos, tons of combinations, and boy is it cheap.
Food carts are prominent in Spokane, just as they are all over the country. Two cult-favorites here are Meltz and Mac Daddy's. Both choose cheese as their centerpiece ingredient, and both are decadent. Meltz specializes in gourmet grilled cheeses (think braised short rib with huckleberry BBQ sauce). Mac Daddy's serves huge boats of tasty mac and cheese, often with toppings like sriracha or pulled pork. The big seller is, get this, a mac and cheese grilled cheese sandwich.
If you're vegan, never fear. Not everything here is smothered in cheese. Boots Bakery & Lounge is a popular study spot downtown that has great salads, sandwiches, and coffee, and everything here is plant-based. Try the pumpkin waffle – it comes with chai "butter" so decadent you won't, well, believe it's not butter.
Read more about Zags' favorite restaurants in Spokane here.
Coffee
Seattle may boast the Starbucks headquarters, but Spokane has a ton of local coffee roasters that specialize in fair-trade, organic coffee. Within 10 minutes of campus, you can find a dozen great coffee shop vibes: Indaba (multiple locations), The Shop (in the Perry District), 1st Ave. Coffee, The Rocket, Ladder (all downtown) and Vessel on North Monroe.
If (like me) you need to get off campus to do any real studying, then you should go to Indaba. There are four locations, but the original is still my favorite because of its great window tables and cozy vibes. They have crazy-cool latte flavors – like lemon crème – and the baristas are super friendly. Plus, all the coffee grounds are donated to community gardens for composting.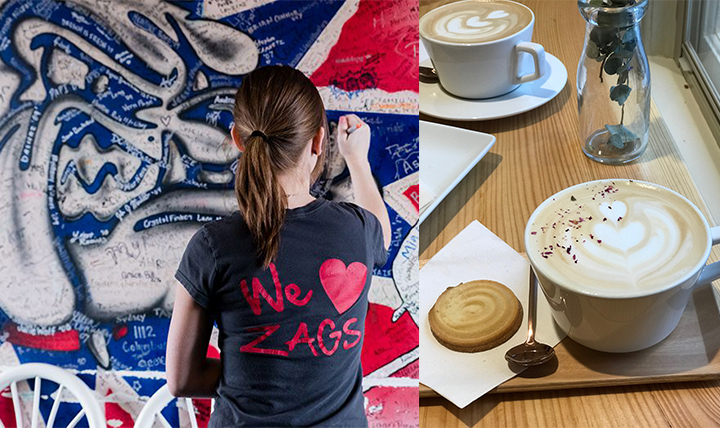 Another great patio can be found at The Shop up on the South Hill. It's got a different vibe, though, because it's a coffee shop. They have excellent pastries and a super eclectic vibe, so grab a scone and a coffee and cozy up to chat with friends or read a book.
If you're looking for a truly unique coffee-tasting experience, check out Roast House. They source their beans from all over the world, and they're all fair-trade, bird-friendly, and super tasty. Pop into their tasting room and sample as many coffees as you'd like, for free. I dare you to leave without a pound of their signature F-Bomb coffee in tow.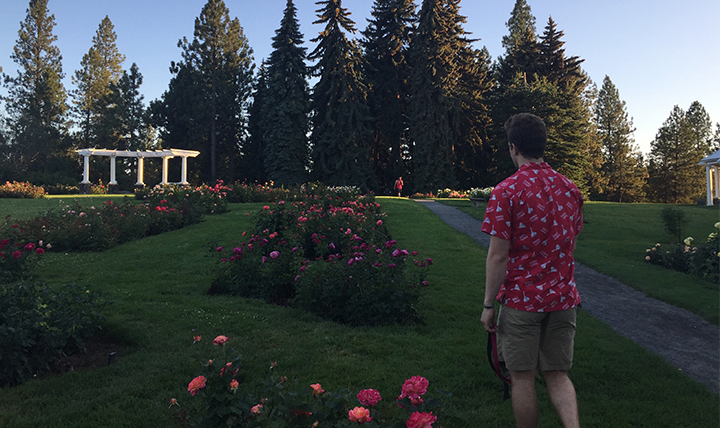 Nightlife
NoLi is Spokane's oldest and largest brewery. It's a short walk from campus, with an amazing patio overlooking the Spokane River. Mondays are pint night: simply ask for their featured beer, and they'll give you a souvenir pint glass for no extra charge. If you're not a fan of NoLi, keep exploring. Spokane is home to more than 20 craft breweries, all with unique flavors and locations, so you're bound to find something you like. Some of my other favorites are Iron Goat Brewing, Whistle Punk, and One Tree Cider.
I never used to look forward to Tuesdays, until I started going to Borracho for Taco Tuesdays. They offer tasty $1 street tacos, $3 Corona beers, and $5 margaritas with a salted rim. The patio is always lively in the summer, and the fun, hip vibes have made Tuesday one of my favorite days of the week.
Date night? There's a wealth of options just a short walk from campus. Walk or Uber downtown with your partner or a group of friends to check out some local favorites. Zola is a quirky spot with a great happy hour menu. Plus, they have live music every night at 9pm, and it goes on for a couple hours, giving you lots of time to boogie down.
And sometimes you just want a little karaoke in a dive bar. Enter Monterey Café. You'll be impressed at the talent of some of the performers, and it's always fun to hear some throwback jams.
Play
If you like a good throwback movie, then there's nothing better than the Garland Theater. Catch old favorites on Tuesday nights for just $2.50, and then head over to Riverfront Park on Wednesdays nighttime movies on an outdoor screen for $5 all summer. Bring some snacks and a picnic blanket and enjoy the sunset before the movie starts.
The up-and-coming Kendall Yards neighborhood hosts a night market on Wednesdays while the weather's nice. Go and enjoy food carts, crafts, fresh produce, live music, and some of the best views of the city you can find. That's where you'll find Brain Freeze Creamery, some of my favorite ice cream in Spokane.
If you're a trivia nerd like me, then you need to go to Pizza Pipeline on Thursday nights. Work on a team (or on your own, I won't judge) to answer questions from a variety of categories, and try your hardest to win – first prize gets a free pizza!
If you're trying to escape campus for an afternoon, one of the best places to go is Manito Park on the South Hill. It covers 90 acres and includes a rose garden, Japanese garden, two playgrounds, and a café. It's beautiful year-round and great for a stroll.
Spokane has some great venues for concerts. The Knitting Factory brings in some fun names (think Mac DeMarco and Alt-J) and the general-admission theater is open to all ages. The Bartlett is smaller and tends to host more local shows, and many don't cost more than $10. I've had a great time exploring the local music scene, and the Bartlett is a great place to do it.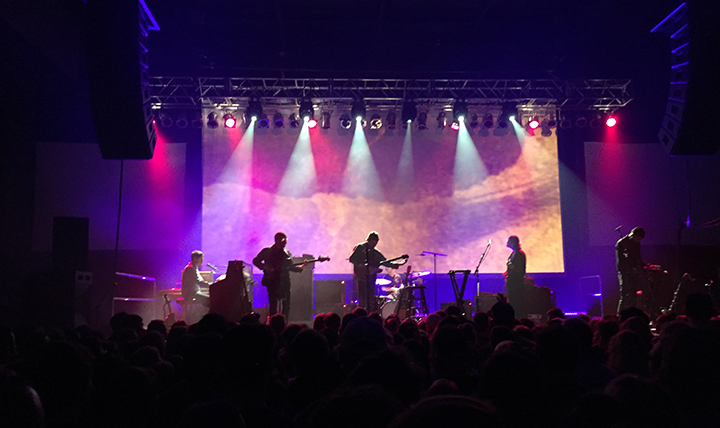 Looking to get your adrenaline rush without leaving the city? Head to Wild Walls, an indoor climbing gym downtown. It has top-roping walls and a bouldering section, as well as a yoga studio. Plus, Gonzaga offers a one-credit PE class there, which includes a gym membership, allowing Zags to climb as much as they want to. Even if you're not part of the class, head down to Wild Walls on Fridays for $5 climb nights open to all Gonzaga students.
Explore
One of Spokane's best features is the Spokane River, which snakes right through town. Enjoy views of the falls from Riverfront Park, or head downriver a bit to Bowl & Pitcher, an impressive rapid with a hanging bridge. There are areas to hike, and plenty of outfitters will rent you paddleboards or inflatable kayaks. At the very least, check out one of the many beaches where you can relax, swim, and try to beat the heat.
Beacon Hill and Minnehaha Park are interconnected areas offering great outdoor recreation opportunities. Beacon has a mountain biking trail complex, offering miles and miles of single-track through the forest. Minnehaha is a great place for some outdoor rock climbing, boasting many spots with routes already set. Climb to the top of either one for an impressive sunset.
Just 30 miles east of Spokane is Coeur d'Alene, a cute little town with a beautiful lake, complete with boat rentals, beaches and swimming for the brave-hearted. I love hanging out there during the day and walking the downtown strip in the evening, where you can find some great bars, restaurants and ice cream shops.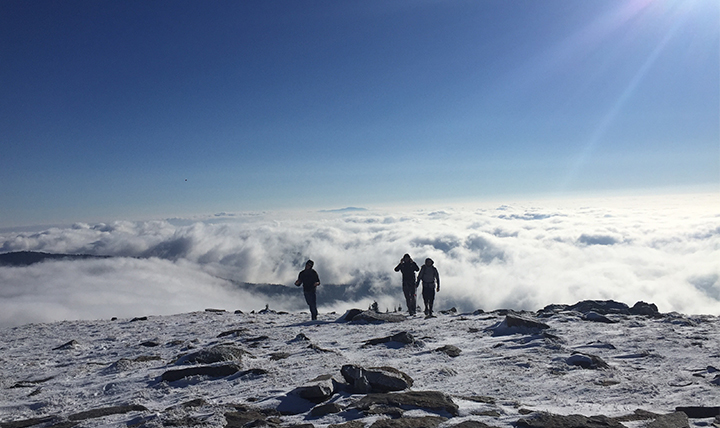 If you're a winter lover like me, then you're in luck. There are five ski resorts within a 90-minute radius of campus, and the Ski & Snowboard Club offers discounted season passes to Schweitzer in northern Idaho. It's a hot spot for Zags, and the skiing isn't bad either – last year, Schweitzer broke its annual snowfall record with an incredible 434" during the 2017-2018 year. Catch the ski bus up on Saturdays if you don't have a car. Mt. Spokane is only about an hour away, and offers both Nordic and downhill skiing for fans of both. Plus, during the winter months, half of the mountain is opened up for night skiing on the weekends, which makes for exciting Friday night plans.
With such an array of options, four years hardly seems like enough to see it all. I certainly feel like I've just started exploring the Spokane area, but if anything, that'll give me an excuse to come back.