Accepts Bulldog Bucks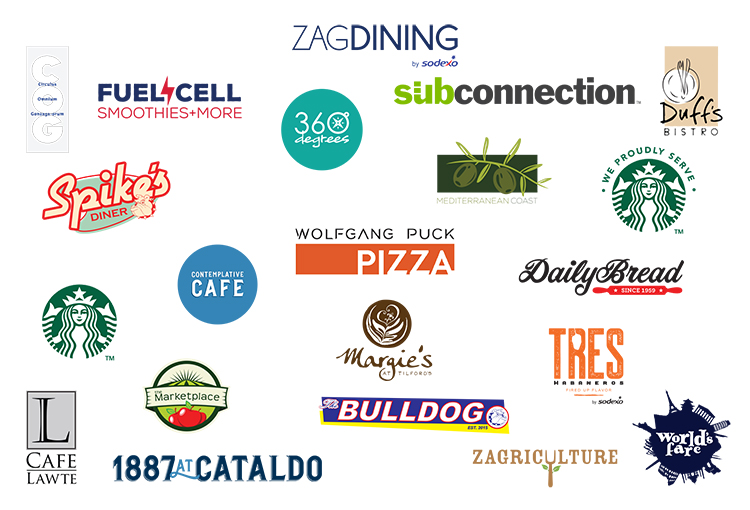 Off-Campus Locations
Aloha Island Grill
926 N. Division
Arctos Coffee
1923 N Hamilton
Blaze Pizza
926 N. Division
Bruchi's
829 E. Boone
Carl's Jr.
1230 N. Division
Caruso's
1120 N. Division
Clark's Fork
1028 N. Hamilton
DiNardi's Pizza and Pasta
(509) 960-7949
829 E. Boone
Domino's
(509) 534-1910
3031 E. Mission
Forza Coffee
1208 N. Hamilton
Froyo Earth
829 E. Boone
Jimmy John's
(509) 327-3278
105 E. Mission
Kalico Kitchen
2931 N. Division
Lilac City Bakery
1215 N. Ruby
McDonald's
1617 N. Hamilton
Method Juice Cafe
718 W. Riverside
MOD Pizza
707 W. Main Ave.
Papa John's
(509) 325-9500
920 W. Indiana
Perkins
12 E. Olive Ave.
Pita Pit
(509) 483-7482
818 E. Sharp
Pizza Pipeline
(509) 326-6412
1403 N. Division
Qdoba
1120 N. Division
Sonic
1313 N. Ruby
Starbucks
1310 N. Ruby
Sweeto Burrito
1839 N. Ruby
Tasty Bun
829 E. Boone Ave
The Mascot Pizza
(509) 315-4126
730 N. Columbus St.
Thomas Hammer
Jepson Center
Ultimate Bagel
1217 N. Hamilton
URM
902 E. Springfield
Wendy's
830 N. Division
Zag Shop
ZagDining
Wolfgang Puck Pizza
The Bulldog
Starbucks
Fuel Cell Smoothies & More
COG
Sub Connection
Tres Habaneros
The Zaggin Wagon
1887
Dub Bus
Duff's Bistro
The Marketplace
Margie's at Tilford
Cafe Lawte
Beverage and Snack Vending
Beverage and snack vending machines with card readers installed accept Bulldog Bucks. DAILY SPENDING LIMIT- For your protection, if there is an attempt to purchase more than $16.00 worth of product from a vending machine using Bulldog Bucks within a 24 hour period the sale will not be successful. This restriction is in place to protect your available funds if you were to lose your ZAGCARD.
Additional On-Campus Locations
Bulldog Bucks are accepted at many locations across campus including:
Campus Security and Public Safety
Foley Library -- printing/copying
Gonzaga Outdoors
Health and Counseling Services
Hemm Den
Housing and Residence Life
Magnuson Theatre
Mail Services
Registrar's Office
University Ministry
Zag Printing Stations


Coughlin Hall
Foley Library
Hemmingson Center 1st Floor
Hemm Den
Jepson Center
Kennedy Apartments inside Duff's
Tilford Center