Phi Beta Kappa Faculty Host Author of "Why Liberalism Failed"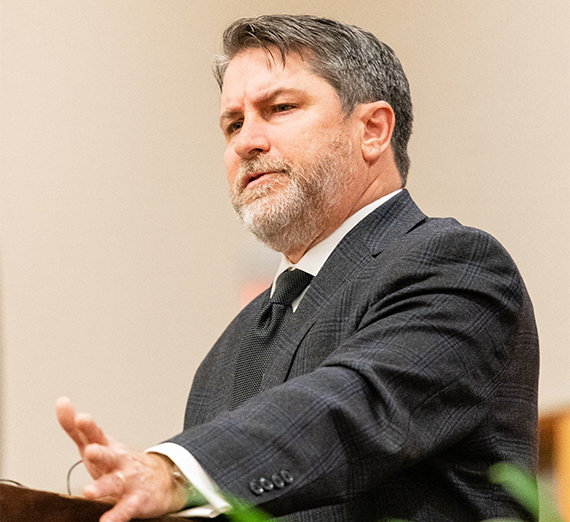 ---
Gonzaga University opened a discussion about liberation of the individual in contemporary political and social climate, featuring Patrick Deneen, author of Why Liberalism Failed and professor of political science at University of Notre Dame on Feb. 20.
The lecture was presented by faculty members who are members of Phi Beta Kappa – the oldest academic honor society in the nation. It drew students, faculty and community members to hear Deneen's timely and thought-provoking lecture on the U.S.'s current political moment and its intellectual roots, highlighting the liberal creed established the same year Phi Beta Kappa was founded-1776.
Now, nearly 250 years later, Deneen asks what Americans have to show for the liberalist structure.
"Our political battles today reflect the very triumph of liberalism, but at the same time its deepest and unsustainable currents," says Deneen.
Liberalism has failed, he argues, not because it fell short of ambitions, but rather it has fulfilled what it set out to do. Unfettered pursuit of individual liberty is not sustainable because it engenders depersonalization, political alienation and enormous income inequity.
Deneen argues American liberalism has freed people from connectedness to their communities. Americans have grown immensely more independent – as seen in a decline of marriage, religious affiliation and fertility rates, and an increase in loneliness. Americans don't live in the intermediate spaces anymore.
Referencing David Foster Wallace's analogy of a fish that is unfamiliar of the water it swims in, Deneen argues that, similarly, many Americans today are unaware of the liberalism structure they live in.
The liberal philosophy has remained the only unchallenged political ideology and is supported by today's political structure. Deneen refers to French diplomat, political scientist and historian, Alexis de Tocqueville's analysis on the American democracy: Liberal democracy would ultimately choose equality over liberty in assurance that no tyrant may emerge.
According to Deneen, Americans are continuously creating a foundation to let individual liberty thrive, coinciding with a growing state. The state becomes ever more a part of American lives as a way for them to live as free and separate individuals.
During a Q&A session after the presentation, Deneen responded to insightful questions by students. Deneen encourages society to prepare for political change by conceptualizing new political ideologies and rethink the nature of political alignments. Build community around personal values, rather than society-imposed values and encourage adolescents to pursue passion in their education.
The event was the inaugural lecture of the Phi Beta Kappa Faculty of Gonzaga University, which includes 33 individuals. Founded in 1776, Phi Beta Kappa, one of America's most prestigious academic honor societies has celebrated excellence in the liberal arts and sciences and championed freedom of thought.