When You Pray, Move Your Feet
50 Years of Pilgrimage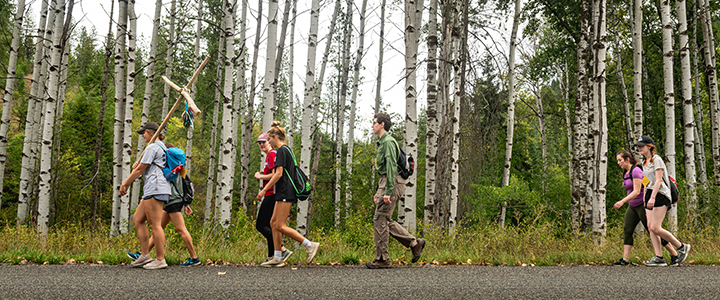 Its tradition is rich and storied, but the celebration of 50 years of Pilgrimage added some beautiful symmetry to its legacy.
On Sept. 14, 2019, nearly 100 students, staff and faculty made the 11.5-mile trek along gravel roads of the north Idaho wilderness just as has been done for more than half a century. The last of several reflections on that day was read by Fr. Scott Coble, S.J., who was one of the founders of the Pilgrimage and has participated in all but a handful of them.
As Coble sent this year's group of pilgrims on to their final leg, he quoted a popular African proverb which has been the foundation of Pilgrimage's long-held tradition at Gonzaga.
"When you pray, move your feet," Coble urged them. That they did, following in the footsteps of generations before them.
Pilgrimage is something the Gonzaga community has been experiencing since 1970, when Coble and others launched it as an overnight affair with camping. Two Pilgrimages were held that year, one in the spring and one in the fall. The current one-day format begins on campus early in the morning and returns late in the evening, but its soul remains.
Video: Gonzaga's First Pilgrimage
Take a firsthand look at the first Gonzaga University Pilgrimage in 1970, narrated by co-organizer and alumnus Jack Praxel ('71).
The route begins near Interstate 90 and ends at the historic Mission of the Sacred Heart (Cataldo Mission) in Idaho. After the hike to the Mission, participants join local tribal members for lunch and a joint celebration of the Eucharist. The Mission is the site of the oldest standing building in Idaho and was the headquarters of the region's first Jesuit missionaries.
A mix of Gonzaga students, Jesuits, faculty, staff, alumni, family and friends took part in this year's milestone trek. The journey's impact is profound on those who embark upon it.
"When we walk the route of Pilgrimage we embrace a longstanding tradition of praying on our feet," says Luke Lavin, director of the Office of Mission and Ministry. "The land teaches each of us its sacred story by truthfully revealing an encounter of indigenous peoples and Jesuits and the founding of Gonzaga University. It is a wonderful chance to learn from the land, its original peoples, and this holy place that most of us come to as visitors."
Share your own Cataldo Mission journey with us.
Alumni
Faith & Mission
Office of Mission & Ministry
Gonzaga Magazine