GU Celebrating 50th Year of Pilgrimage Events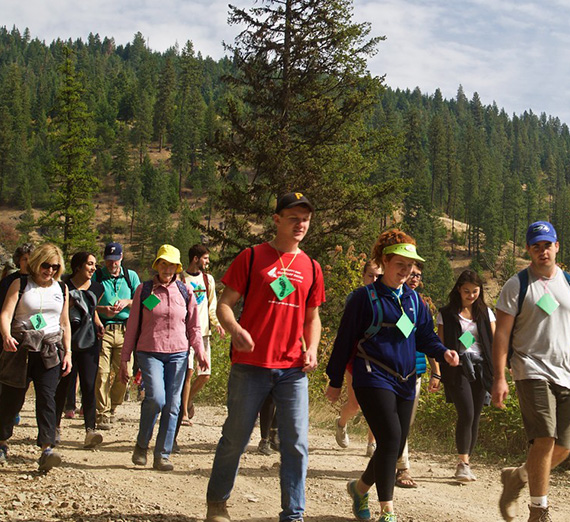 ---
Its tradition is rich and storied, but the 50th year of Pilgrimage on Sept. 14 will add to that legacy.
The spiritual 11.5-mile trek along gravel roads of the north Idaho wilderness is something the Gonzaga community has been experiencing since 1970, when it was an overnight affair with camping. Two Pilgrimages were held that year, one in the spring and one in the fall. The current format begins on campus early in the morning and returns late in the evening.
The route begins near Interstate 90 and ends at the historic Mission of the Sacred Heart – or Cataldo Mission – in Idaho. After arriving at the Mission, participants will join tribal members for lunch, followed by celebration of the Eucharist. The Mission is the site of the oldest standing building in Idaho and was the headquarters of the region's first Jesuit missionaries.
Gonzaga students, Jesuits, faculty, staff, alumni, family and friends are invited to take part in the milestone trek. Registration is available at: https://commerce.cashnet.com/GUMisMin
"When we walk the route of Pilgrimage we embrace a longstanding tradition of praying on our feet," says Luke Lavin, director of the Office of Mission and Ministry. "The land teaches each of us its sacred story by truthfully revealing an encounter of indigenous peoples and Jesuits and the founding of Gonzaga University. It is a wonderful chance to learn from the land, its original peoples, and this holy place that most of us come to as visitors."
Share your Pilgrimage memories with us!