Gonzaga Hosts National Higher Education Sustainability Conference Oct. 27-29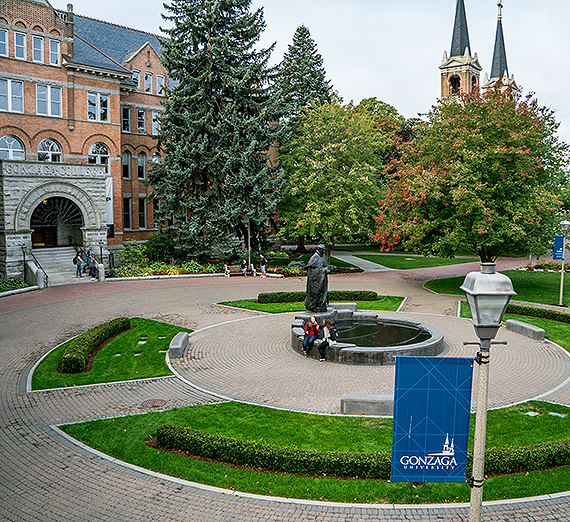 ---
SPOKANE, Wash. — Gonzaga University will be a host institution for the 2019 Association for the Advancement of Sustainability in Higher Education (AASHE) conference, and welcome more than 2,000 delegates to the event Oct 27-30. The AASHE is the leading association for the advancement of sustainability in higher education.
According to organizers, the conference is the largest stage in North America to exchange effective models, policies, research, collaborations and transformative actions that advance sustainability in higher education and surrounding communities.
Jim Simon, GU's director of sustainability, will emcee the opening session on Sunday, Oct. 27, and will welcome delegates for a campus tour that day. Three groups of Gonzaga students will deliver presentations during the symposium, covering such topics as Fair Trade campus advocacy, GU's solar roadmap and its "Real Food" system.
Last month, Gonzaga announced it had achieved its "Real Food Challenge" goal that 20 percent of food served on campus would be sourced from ecologically sound, fair and humane, and local- and community-based providers by 2020.
That early accomplishment joins a growing list of small and big steps toward creating an environmentally sustainable campus. Read more about Gonzaga's campus sustainability efforts.
"I am so excited to welcome colleagues from across North America to Spokane to network, share and learn about sustainability best practices in higher education," Simon said. "With over 25 students, faculty and staff attending the conference and through our role as a host institution, I know that participants will be able to see the tangible ways that Gonzaga University cares for our common home."
With a theme of Co-Creating a Sustainable Economy, AASHE 2019 aims to tackle the root cause for the continued rise in carbon emissions with a conference that explores, showcases and strengthens higher education's contributions to the movement toward a sustainable economic framework for the planet.
Media: Contact Jim Simon, Gonzaga's director of sustainability: (509) 313-5571; or simonj@gonzaga.edu.