Alexa Comes to Campus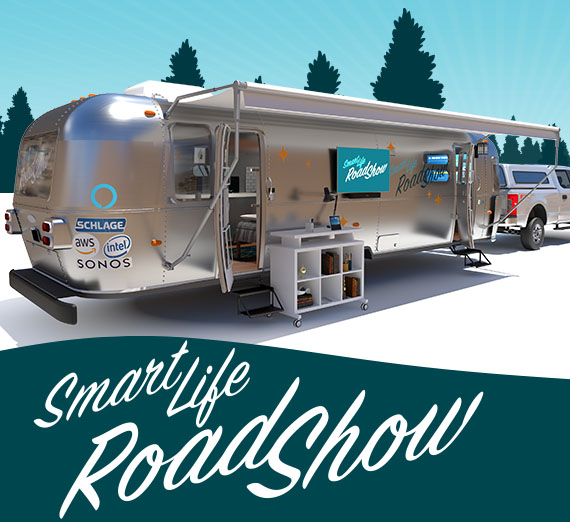 ---
Inside a shining, silver, 30-ft. trailer parked outside the John J. Hemmingson Center, a chorus of vocals united to demonstrate the power of voice-controlled technology. "Alexa, good morning." "Alexa, get ready for bed." "Alexa, good night." "Alexa, show me recipes." "Alexa, how do I get more financial aid?" "Alexa, is the entrance locked?"
Sponsored by Intel and Amazon Web Services, the Smart Life Roadshow is a nationwide tour exhibiting smart products equipped with voice recognition and Intel processing. These devices are intended to make the home more productive, integrative and efficient. Some of the big brands featured included HP, Sonos, ecobee, ASUS, Acer and Schlage.

The Airstream made more than 20 stops at universities, Amazon book stores, and technical and lifestyle events in 2018. Gonzaga was its last stop before heading to the Las Vegas Consumer Electronics Trade Show in November.

Walking through the trailer transported students into a home environment with the air of a futuristic, sci-fi film. From a hideaway bed, shower head, thermostat, electric kettle, door deadbolt, Phillips lights, shades and television, to computers and speakers, almost everything in the trailer responded to voice, remote or controller commands.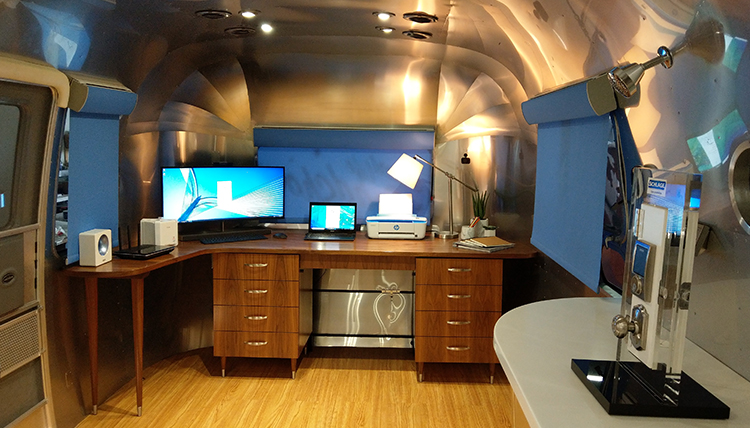 Alexa controls the trailer's home environment in customizable routines. "TV time," for example, dims the lighting to a desired color and brightness, draws down the shades, and raises a TV and speaker from a hidden compartment behind the couch. Similarly, "Goodnight" lowers the bed and blinds, locks the door, dims the lights, and adjusts the thermostat to a pre-set temperature. With "Good morning," the blinds lift again, the lights slowly turn on, and the kettle begins to boil water. Even showers are now customizable.

"It's kind of a magic show where the magician is Alexa and everything inside the Airstream is controlled by your voice," says Arima Nam, the Roadshow tour manager and on-site team lead.

The show stressed Alexa skills that can partner directly with universities, helping students organize their class schedule and advisor appointments, learn about financial aid opportunities, and track assignments, deadlines and learning trends.

"That's something students are really interested in, when they learn how specific those Alexa skills can be tailored to their studying needs," Nam explains. "Alexa is already famous for being able to answer questions and help keep you organized … but these very university-specific skills that Alexa offers are surprising to students."

Students who participated in the Smart Life tour responded with surprise, excitement and uncertainty:

"That was crazy. I felt like I was in a rich person's mansion that you see on TV or in some futuristic drama, except it was real-life and actually happening. It was technology that I always kind of thought existed but never interacted with before, so it was really exciting and new," says sophomore biology major Sarah Miceli. However, she admits it's a little unrealistic for students because of the expense. "That's a lot to have in a dorm setup, or in a house that you only lease for the year."

"I felt like I was in an episode of 'Black Mirror.' It freaked me out," says first-year, French and public relations major Miranda Abunimeh. "I have an [Amazon] Echo Dot in my dorm room, and I don't think I would go beyond that."

For some, the role of voice-recognized, camera-operated technology is opening doors for a future of expanding possibilities. Karsen Hansen, a junior studying computer science through the Computational Thinking major, says, "It's kind of exciting to get a little taste of the future that we're stepping into. Full automation is pretty exciting. It's definitely advantageous if there could be that link between academics and your technology at home." Still, he says, "For now, I'm sticking to my hard copy notebooks."

Students and a few faculty members have raised concerns about personal data and privacy in a culture of voice-controlled technology. Amazon addresses these privacy questions in an article titled "Alexa, Echo Devices, and Your Privacy."

"When you speak to Alexa, a recording of what you asked Alexa is sent to Amazon's cloud, where we process your request and other information to respond to you," the article says. "By default, Echo devices are designed to detect only your chosen wake word (Alexa, Amazon, Computer, or Echo)." Microphones on the Amazon Echo can be muted. "When the microphones are turned off, your device cannot stream audio to the cloud, even when you say your chosen wake word," the article also mentions. Additionally, the Amazon Echo gives a visual indicator whenever audio is sent to the cloud. Visit the article here to learn more.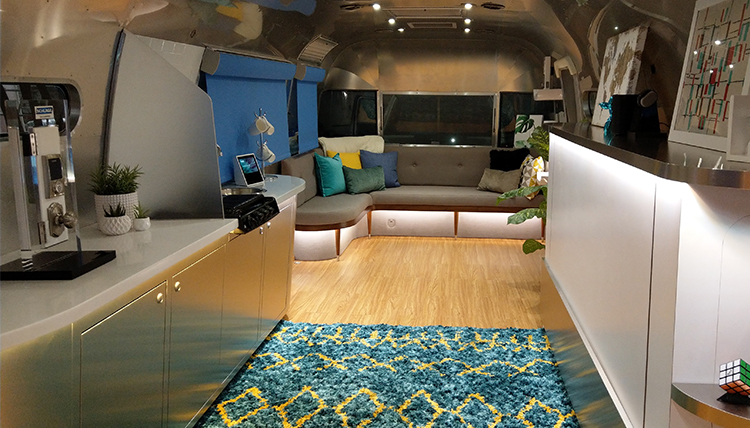 Gonzaga's Information Technology Services department and the School of Engineering and Applied Science (Computer Science department) co-sponsored the Spokane stop.