Engineering Grads Enter Top Programs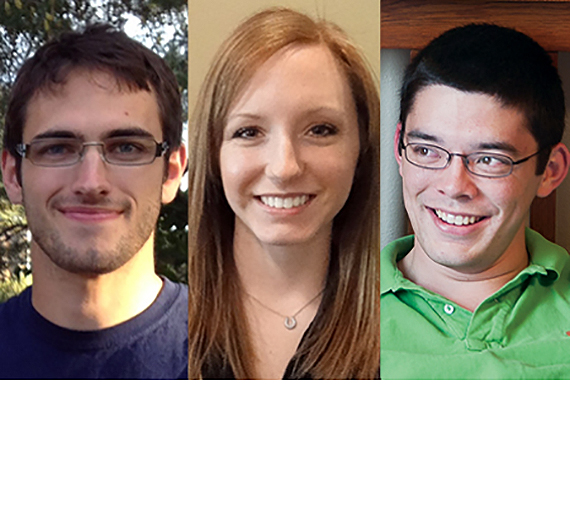 ---
(Above) Samuel Hardison, Kari Jenson and Andrew Matsumoto
Gonzaga News Service
SPOKANE, Wash. — Gonzaga University's School of Engineering and Applied Science is consistently ranked among the nation's best. That excellence is reflected in its graduates, who are advancing to some of the finest graduate programs in the nation.
Samuel Hardison, who graduated from Gonzaga in May with a civil engineering degree, is pursuing a master's degree in civil engineering at the University of Illinois Urbana-Champaign. Kari Jenson, a 2013 mechanical engineering alumna, is earning a Ph.D. in biomedical engineering at Purdue University's Weldon School of Biomedical Engineering. Andrew Matsumoto, a 2012 summa cum laude civil engineering graduate, is pursuing a doctorate in civil and environmental engineering at Duke University's Pratt School of Engineering.
All three alumni credit the School's academic rigor and personal faculty support with preparing them to be accepted and to succeed in these premier graduate programs.
Samuel Hardison singled out his professors for preparing him well for the Illinois Urbana-Champaign program, which is tied (with University of California, Berkeley) as the nation's best civil engineering graduate program in 2014 U.S. News & World Report rankings.
"I would definitely encourage everyone to look at Gonzaga. I can't say enough about the people in the School of Engineering that helped me get to where I am now," Hardison said. "They are great mentors and wonderful to be around. Speaking about Gonzaga as a whole, I believe anyone can have as an incredible experience there as I did. Going to Gonzaga was the best decision I have made."
Hardison said he particularly enjoyed his Zag experience as a senior when he was intimately engaged in promoting Zag spirit. He was one of five seniors who took on the identity of Spike, Gonzaga's beloved mascot, and wore the Spike suit on numerous occasions — including athletic contests and other special events.
Hardison also was part of a student senior design team that helped Spokane Community College address a shortage of skilled tradespeople in the Spokane area. SCC selected Integrus Architecture and the student team to design a new center for skills training. Integrus provided the architectural design while the civil design team developed a structural system for the building
Hardison envisions continuing to design buildings — at least during the early part of his career.
"Later on, I would love to become a teacher and hope to be as good a teacher as all the teachers I have had," he said.
Kari Jenson, who received a National Science Foundation Graduate Research Fellowship, said Gonzaga allowed her to maximize her undergraduate education and clarify the field she wished to pursue in graduate school.
"The small classes allowed professors to know your name and hold you accountable for doing your best, and encouraged us to come to them for additional help if necessary," she said. "My senior year, my advisor and several engineering faculty allowed me to take a human motion kinetics course, which was outside of the normal mechanical engineering curriculum, but it held more interest for me and it helped solidify my interests within biomedical engineering."
Several of her engineering professors became trusted mentors who have played key roles in her success.
"I think GU made me a more confident person, and a well-rounded thinker — not many engineering programs require their students to take religion and philosophy! I was always encouraged to try new things and think bigger," she said. "I also learned how to work hard without overworking myself, which is key to surviving grad school and probably life in general."
Although Gonzaga is not a big school, Jenson said it is well known in the Midwest. When she dons her Kennel Club shirts, Jenson has heard, on several occasions, "Go Zags!" from passersby.
Jenson, who is focusing on skeletal mechanics and biology, currently envisions a career in industry, "hopefully with a company that does osteoporosis-related research or bone-implant interface research." However, she acknowledges, "I still have about four years left and many more new experiences though so it could change."
Andrew Matsumoto was a body in motion at Gonzaga. In addition to rigorous academic workloads in engineering and the Hogan Entrepreneurial Leadership Program, he was deeply involved in research, including as part of a five-member senior design research team that captured a $90,000 Environmental Protection Agency grant in a national engineering competition in Washington, D.C. In his spare time at Gonzaga, when he wasn't studying, Matsumoto also served as the student representative to the Board of Regents.
Matsumoto believes his undergraduate research experiences at Gonzaga helped lead to an NSF Graduate Fellowship and a James B. Duke Fellowship from Duke for his engineering doctorate.
Looking back, he said Gonzaga prepared him superbly for Duke.
"Having taken almost all of the environmental engineering courses that Gonzaga offered gave me a leg up on the coursework part of the Ph.D.," Matsumoto said. "Actually, as I stare at the bookshelf above my desk I think about half of the books up there are books that I got for courses as an undergrad and still use."
Matsumoto's focus is environmental process engineering, "which means that I do a lot of environmental chemistry research that has engineering applications," he said, adding that his dissertation project is still being defined but will involve remediation of contaminated sediments.
The Hogan program, Matsumoto said, taught him to be more reflective in his work and "to understand what I'm learning and its value beyond monetary benefits or even technical accomplishments. Improving the lives of others is as vital as any success," he said.
After graduation, Matsumoto envisions a teaching career at a primarily undergraduate institution.