Zags Hit TEDx Stage, Oct. 6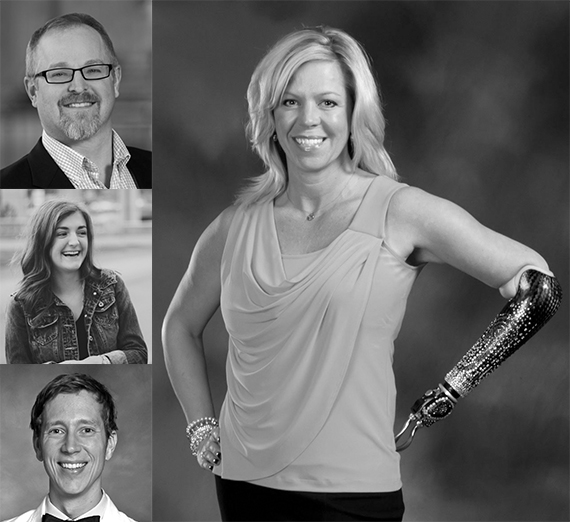 ---
"Beyond Ourselves, where bright local minds will re-examine ideas and challenge current understanding," is the theme of the TEDx Spokane event taking place Oct. 6 at the Bing Crosby Theater. TEDx talks are independent from but similar to the TED talks designed to spread "ideas worth sharing." Of the 13 speakers taking the stage on a variety of topics, six are affiliated with Gonzaga University.
(Shown in photo above: Kevin Sanders, Kinzie Farmer
and Scott Hippe on left; Carrie Davis on right)
Carrie Davis ('16) is a Spokane native who has spent the last decade coordinating a nationwide support group for amputees. She has served as the director of patient experience for Hanger, Inc., which provides orthotic and prosthetic services.
Kinzie Farmer ('19) is a curious soul with a knack for storytelling. She's spent the last two summer exploring new communities in Mexico, Spain and Ireland. A current student of the School of Business Administration, she is an intern in Gonzaga's Marketing and Communications department.
Scott Hippe ('11) is completing his residency as a family physician and is committed to helping rural and underserved areas. During his training he advocated for better access to health care and health insurance in Idaho.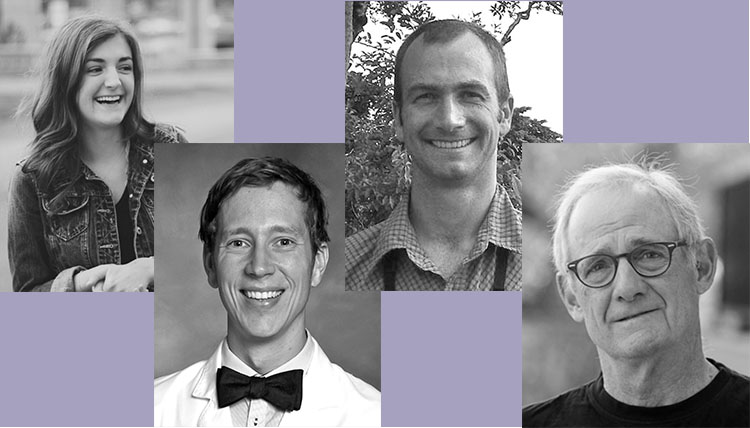 (Shown, left to right: Kinzie Farmer, Scott Hippe, Brook Swanson, Jim Sheehan)
Kevin Sanders ('11,) thinks trust is at the root of any good business, and he would know, after spending the last 25 years in senior-level marketing roles in hospitality, higher education and health care. However, he also believes trust is at an all-time low in today's society. Sanders is a graduate, former adjunct instructor and marketing advisory board member for Gonzaga's School of Business Administration.
Jim Sheehan ('73) spent his first career as a public defender, learning how the justice system often fails to support those it is designed to protect. Frustrated with the grind, he has spent the last 20 years designing beautiful and affordable places that promote creativity and social justice. (More on Sheehan from a 2014 Gonzaga Magazine story.)
Brook Swanson is a biology professor who has explored the design of animals through evolutionary biology. He is interested in interdisciplinary thinking he's calling "radical collaboration." He's presenting his work in conjunction with the Gonzaga dance department. (Read more about this and watch a video here.)
Visit
TEDx Spokane's
official website for more information on speakers, tickets and more.