Gonzaga Digital Humanities Project Shines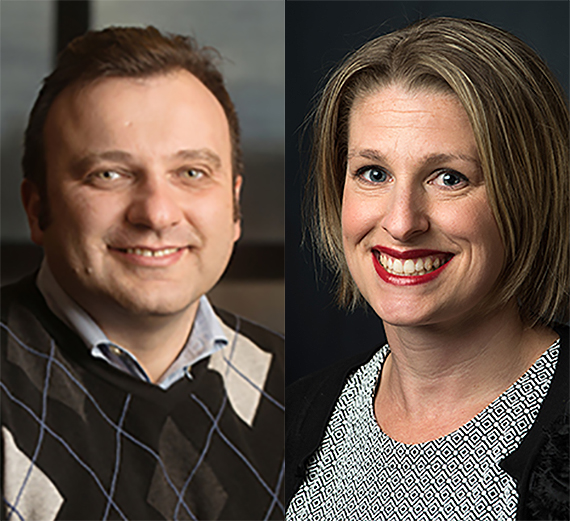 ---
SPOKANE, Wash. — An academic paper presented by Gonzaga University faculty Katey Roden and Pavel Shlossberg at the Alliance of Digital Humanities Organizations Annual Meeting was selected as one of six finalists (from approximately 500 submissions worldwide and one of two U.S. finalists) for the prestigious Paul Fortier Prize.
The paper, titled "Mapping and Making Community: Collaborative Digital Humanities Approaches, Experiential Learning, and Citizens' Media," was presented at the ADHO meeting in Cali, Colombia in June. The paper results from a project in a course offered jointly by GU master's programs in communication and leadership studies and organizational leadership in the School of Leadership Studies. Shlossberg is as an associate professor in the COML program. Roden, a lecturer for English and women's and gender studies, is director of Gonzaga's Digital Humanities Initiative.
"We are extremely grateful and honored to have received this recognition, as the Fortier Prize is one of the most important and prestigious international digital humanities prizes," Shlossberg said, noting researchers from Germany won the award. "This also reflects the good work Gonzaga is doing and the strides that we are making in the areas of digital humanities, public humanities, study abroad and experiential learning in Latin America, and global leadership education and scholarship."
Their community mapping project grew from Gonzaga's long relationship with the Pontificia Universidad Javeriana in Cali and Bogotá and was made possible through collaboration between GU schools and programs and grassroots community partners in Colombia. This summer, Roden and Shlossberg took 15 students to Cali to develop and test digital technology mapping tools in their collaborative work with four community organizations that work to promote democracy, create grassroots civil society, and amplify marginalized voices in socioeconomically vulnerable neighborhoods.
"Digital technology mapping tools provide a set of ready enhancements to experiential learning, study abroad, and communication and community development courses," the two wrote about their project. These features highlight the promise and purpose of digital humanities by creating bridges that foster global collaboration, create open access platforms, and help equalize access to knowledge locally and globally, they said.
"Creating digital humanities projects for the public and with the public is a powerful way to engage in participatory communication and provide students an opportunity to think about both global and digital context," Roden said. A website is being created through the project to increase the impact, visibility and fundraising capacity of the four organizations.
For more information about this project, visit Global Engagement in a Digital Age and the course in Cali, Colombia. Learn more about the University's efforts to provide students and scholars with tools and opportunities to experience our interconnected world through Gonzaga's Center for Global Engagement.

MEDIA: To arrange an interview, please contact Professor Shlossberg at (509) 313-5761 or via email.