Guest Expertise: Equality, Saints, and the Free Market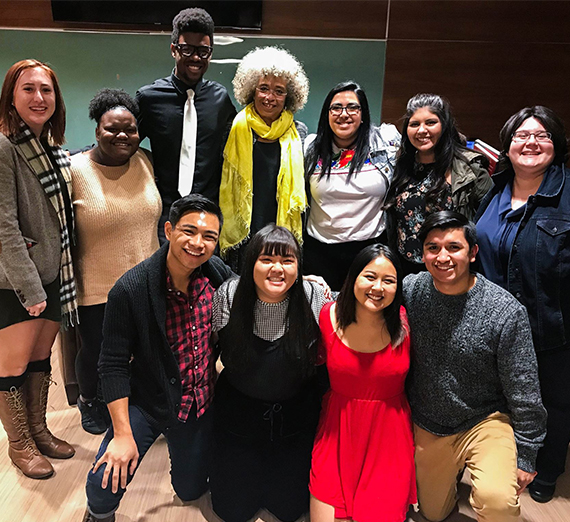 ---
Every year, Gonzaga welcomes dozens of guest speakers to address students and the broader community, covering a variety of popular topics of interest. Here are just a few examples from 2017-18.
Angela Davis: On Controversy, Equality and Education
By Kate Vanskike
Angela Davis is about as controversial as the causes she champions. She emerged as a counterculture activist in the 1960s, had membership in the Communist and Black Panther parties, and was on the FBI's Ten Most Wanted List. Speaking to students at Gonzaga in October 2017, she expressed a kind of bemused surprise at the consternation her appearance caused, and joked that she would "like very much to engage in some controversy."
But, as voiced by Gonzaga's Interim Academic Vice President Elisabeth Mermann-Jozwiak at the event sponsored by the Center for Public Humanities, Davis has "given voice to the range of social problems associated with incarceration and the criminalization of those who are most affected by poverty and racial discrimination. She has also conducted extensive research on gender and imprisonment, and what is known today as intersectionality."
Mermann-Jozwiak added, "Her work has always emphasized the importance of building communities that advocate for economic, racial and gender equality."
Of many topics Davis discussed with a captivated audience, first was the importance of an interdisciplinary education and the humanities, the latter of which she believes has been on a decline since the focus turned to STEM (science, technology, engineering and math). STEM teaching should occur "only within a framework that the humanities can provide," she said, "otherwise knowledge can be generated in ways that are entirely disconnected from ideas and principles related to the human condition." She added, "The dwindling support of the humanities ... has helped to create a crisis in democracy."
Davis emphasized the importance of valuing knowledge that emanates from outside educational institutions. "We enter universities with the understanding that this is where we're really going to learn. But we should not forget that knowledge gets produced in many other venues as well." An interdisciplinary approach calls us to "Look in unexpected places for insights about the problems of our world."
Randall Rosenberg: Saints and the Human Spirit
By Jeff Bunch
"What is it about saints or models or exemplars that awaken the human spirit?" Randall Rosenberg asked this of students, faculty and Jesuits at the Bernard J. Tyrrell, S.J. Lecture in Philosophy of God and Theology.
Rosenberg, associate professor of systematic theology at Saint Louis University, explored the lives of Holocaust victim Etty Hillesum and French saint Thérèse of Lisieux, who managed to find and emulate holiness in difficult times.
Rosenberg is the author of "The Givenness of Desire: Concrete Subjectivity and the Natural Desire to See God." Joseph Mudd, Gonzaga associate professor of religious studies and former doctoral classmate of Rosenberg, introduced him as "an original Catholic thinker."
"He's really good at bringing the larger context of the Catholic intellectual tradition together with systematic theological concerns – to be able to talk about the lives of the saints and think about larger theological questions," says Mudd. "I've always been inspired by his creative synthesis and integration of a variety of different disciplines into this theological and philosophical conversation."
That type of discussion is the goal of the lecture series, Mudd says, to model for students how to bring together subject matter that can seem otherwise disparate and disjointed.
Steve Forbes: The Free Market
By Beatrice O'Campo
Gonzaga's College Republicans invited Steve Forbes to campus in February to discuss the importance of the free market. The CEO of Forbes Media Co. and editor-in-chief of Forbes magazine, he said the free market is crucial to the pursuit of knowledge and the growth of countries and economies.
Forbes theorized that the root of all economic stagnation is blocked knowledge and government intervention in the free market. Taxes, regulations and the like will ultimately lead to a weaker economy.
"Regulations are like taxes," Forbes stated. "We've gone overboard with them in this country. For example, they put in (net neutrality) two years ago. It made no sense; there was nothing wrong with it. Don't regulate the internet or economy like it's a dial-up telephone – let it flourish."
According to Forbes, letting the free market flourish is crucial not only for the economy, but also for worldwide society. Critics of capitalism may point to the exploitive effects of globalization, but, says Forbes, free markets breed humanity and cooperation.
"No one group of people, no matter how smart, should ever be in control of regulating the system … Get the federal government out of the way and let things roll," Forbes said. "Free markets, if allowed to work, will always enable growth and progress. They turn scarcity into abundance."