Sneaky Jesus and Death Row Encounters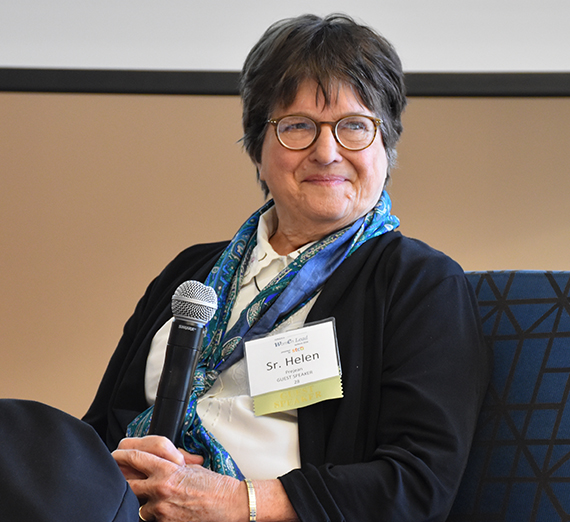 ---
By Kate Vanskike-Bunch
Criminals, convicts, felons. These are a few of many terms used for those who find themselves behind the bars of prison – some of them guilty, some of them innocent, all of them demonized.
Finding humanity in each of these faces is a gift of Sister Helen Prejean's. So is giving them a voice, teaming up with attorneys and fighting the death penalty.
After 30 years in this work, the southern Louisiana nun is an encyclopedia of convictions and cases, heart-wrenching pleas and wicked crimes; quotes from Chavez, Camus and Jeremiah; songs, poems and cheesy clichés; names, faces and stories of capital punishment; death by people, death by the government, death by machines.
Despite that, she remains hopeful, joyful and quick-witted, with a simple call to see people as people.
"It took a Jewish lawyer and a Catholic nun to save a Muslim kid," she quipped of one case.
But in a world where people seem to enjoy the dramatization of crime and cruelty as entertainment, Sr. Prejean's plea is to stop demonizing those who receive a guilty verdict and start seeing the story behind their lived experiences.
In "Dead Man Walking," Sister Prejean tells the story of Patrick Sonnier, the first man she visited on death row.
"I had never witnessed the premeditated murder of a human being," she says. "After witnessing his killing, I promptly threw up."
It's a scene not many people experience for themselves. Carrying out the final deed of the death penalty happens in the dark, in the middle of the night, in a building set apart from the rest of a prison. There's a reason for that, Sister says. If more people were witness to the act, there would be more uproar over its legal status.
"But I was a witness," she says, "and so I have to bring it close for people."
That's why "Dead Man Walking" became a movie, a play and now an opera, and why her soon-to-be-released memoir, "River of Fire," is important. Like the death penalty, "What makes mass incarceration, poverty in ghettos, torture at Guantanamo possible is that people don't SEE it," she says.
Writing Letters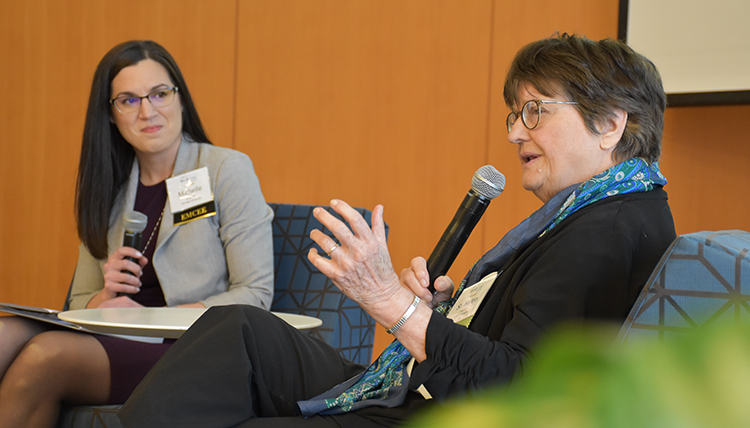 Early in her service as a nun in New Orleans, Sister Helen was approached to begin writing letters to men on death row in Louisiana.

"I can do that," she replied, somewhat absentmindedly. She had an English degree. She knew poetry. What could be so difficult?

That was "Sneaky Jesus," she says – "the way God gets us involved in things."

Writing the letters was easy. What was difficult was getting to know the man to which she addressed her mail, the man who responded, who asked for a visit, who told her his life story, including details of a horrific crime against teenagers who would never return to their parents. More painful yet was seeing the agony of the legal system – fraught with decay, ambiguity and inconsistency – outlining his future, naming his final day, issuing his final breath.

"I got to know Patrick Sonnier as a human being," she says. "I've been a witness and I have to tell the story."

She continues, "We are not a people set on vengeance. We don't reflect deeply on the death penalty because we don't understand. Can we take all the resources that are put into that death machinery and the prosecution and use it to address poverty and safety and at-risk children?"

"The Torah says, 'The life of one human being is worth the whole universe,'" Sister quotes. "I am against the death penalty because the light of God is in everyone."


Sister Helen Prejean was a keynote speaker at the 2018 Women Lead Conference, hosted by Gonzaga's School of Leadership Studies. Learn more about her work at sisterhelen.org.