Sister Helen Prejean to Speak in "The Journey Toward Justice" Lecture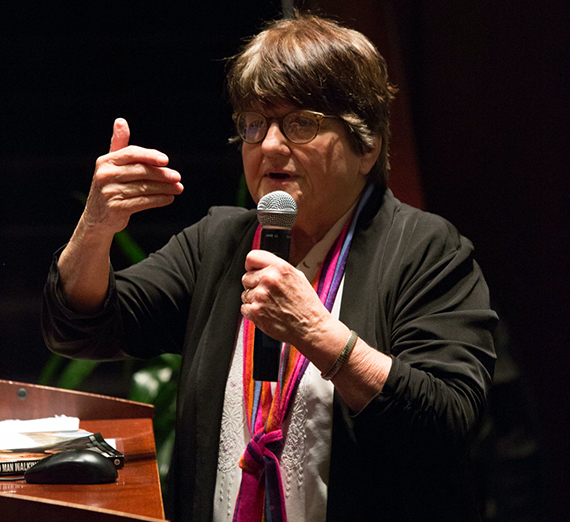 ---
Photo Courtesy of the Gonzaga Bulletin
Gonzaga News Service
SPOKANE, Wash. — Sister Helen Prejean, C.S.J., best-selling author and human rights activist, will speak at Gonzaga University on Friday, Oct. 11 in a program titled, "The Journey Toward Justice." Her lecture follows a 7 p.m. performance of a one-act play "Dead Man Walking," a reading adapted from the Oscar-nominated film by the same name.
The program, co-sponsored by Gonzaga and the Fellowship of Peace Foundation, will be held in the Cataldo Hall Globe Room and the events are free and open to the public. Local students and community members will perform the one-act play. In her lecture, titled "Dead Man Walking: The Journey Continues," Sister Prejean will discuss the death penalty. In addition, Most Rev. Blase J. Cupich, Bishop of the Catholic Diocese of Spokane, is scheduled to attend and participate in the program.
In 1982, Sister Prejean was asked to correspond with a death row inmate. After witnessing his execution by electric chair she wrote the powerful account of her experience in The New York Times best-seller, "Dead Man Walking: An Eyewitness Account of the Death Penalty in the United States." Tim Robbins adapted the screenplay for the 1995 movie "Dead Man Walking," which he directed. Susan Sarandon won the Academy Award for Best Actress for her role as Sister Prejean, Sean Penn was nominated for the Academy Award for Best Actor, Robbins was nominated for Best Director, and the film's main track "Dead Man Walkin' " by Bruce Springsteen was nominated for Best Song.
Sister Prejean, who received a Guggenheim Fellowship in 1995, still counsels death row prisoners and works to abolish the death penalty by educating citizens. After having accompanied six men to their deaths, she suspects some were not guilty. This realization inspired her second book, "The Death of Innocents: An Eyewitness Account of Wrongful Executions." Both books will be available for sale at the event and Sister Prejean will sign books. She is at work on another book, "River of Fire: My Spiritual Journey."
This marks Sister Prejean's first trip back to Gonzaga since 1998 when she spoke at commencement ceremonies and was conferred an honorary Doctor of Laws degree.
The Fellowship of Peace Foundation, which is organizing the program, is a Spokane-based nonprofit organization focused on ending the death penalty and promoting criminal justice system reform.