GU Announces Key Leadership Changes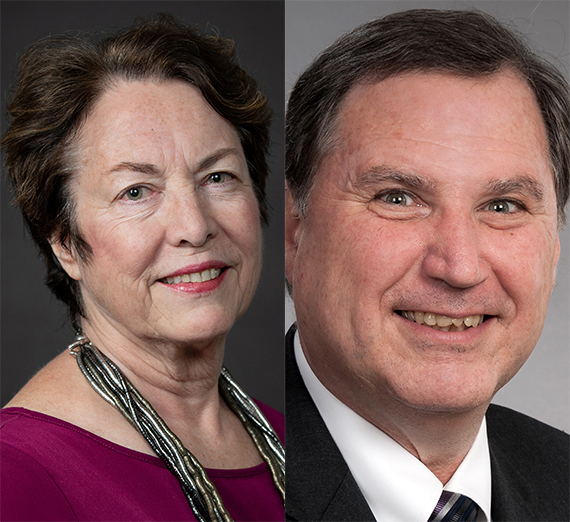 ---
(Above) Lizbeth Martin, Ph.D., and James Angelosante
Gonzaga News Service
SPOKANE, Wash. — Gonzaga University President Thayne McCulloh has appointed James Angelosante as vice president for administration and named Lizbeth Martin, Ph.D., as interim provost and senior vice president for the 2018-19 academic year.
Angelosante, the former executive director and chief financial officer for University of Washington's facilities services, is responsible for several administrative and business support operations at Gonzaga, including human resources, plant and construction services, sustainability, Hemmingson Center and auxiliary services, and other operations.

"Mr. Angelosante comes to Gonzaga very highly recommended by colleagues with whom he has previously worked and is looking forward to working with our community in the months and years to come," President McCulloh said in making the announcement.

Angelosante, who officially joined the Gonzaga community July 11, said he is eager to lead and expand the growth and innovation taking place on Gonzaga's campus as well as to engage with members of the Spokane community.

"I am very excited and passionate about the mission of the University as well as the visionary leadership that President McCulloh provides and the direction in which he is taking Gonzaga," he said.
Angelosante holds master's degrees in business administration from Syracuse University and in strategic studies from the U.S. Army War College. He received his undergraduate degree from the U.S. Military Academy at West Point.

Martin, former provost and vice president for academic affairs at Holy Names University in Oakland, California, will have responsibility for bringing together the academic and student development divisions, thereby creating new opportunities for collaboration and program design.

Martin will facilitate Gonzaga's transition to a provost structure, a change motivated by the desire to provide a more fully integrated student experience, President McCulloh noted in the announcement.

"In asking Dr. Martin to join our community, we are engaging with a thoughtful, seasoned administrator in the work of creating an effective provost structure at Gonzaga," McCulloh said. "Additionally, we seek her support and insights to find worthy successors for three current deanships in the Schools of Engineering and Applied Science, Nursing and Human Physiology, and Leadership Studies."

The School of Law recently completed its search for a successor to Dean Jane Korn, announcing Jacob Rooksby, J.D., Ph.D., as dean in April.
Martin said Gonzaga's mission and dedication to the development of the whole person drew her to this position.

"This next year will be one of broad collaboration as Gonzaga moves to incorporate an administrative structure intended to serve the needs of the complex and enterprising university Gonzaga has become. I am delighted to be on board for this transformative year," she said.

Gonzaga will search for a permanent provost during the 2018-19 year, with the intent of having that individual on board by midsummer 2019. During the interim, Martin will serve as the University's chief academic officer, partnering with the president and other senior administrators to provide leadership to the institution.

Martin earned a bachelor's degree in psychology from Brown University and both a master's degree and doctorate in physiological and developmental psychology from Stanford University.

In making the announcement, President McCulloh also thanked Elisabeth Mermann-Jozwiak, Ph.D., for her exceptional service as interim academic vice president in the 2017-18 academic year. Mermann-Jozwiak reassumed her role as dean of the College of Arts and Sciences on July 16.

For more information, view the releases about James Angelosante and Lizbeth Martin.