Presidential Speaker Series Sheds Light on Sexual Assault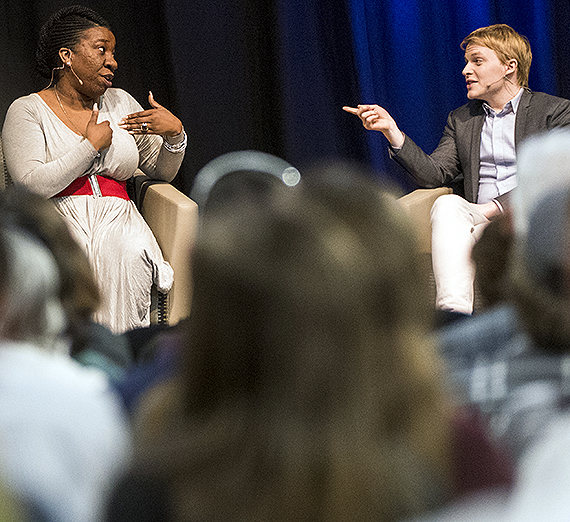 ---
By Kendra Andrews
Class of 2019
Gonzaga News Service
SPOKANE, Wash. - The seventh Gonzaga University Presidential Speaker Series illuminated the issue of sexual assault, presenting a conversation with Tarana Burke, founder of the #MeToo movement, and Ronan Farrow, a journalist whose stories about the Harvey Weinstein scandal were recognized with a Pulitzer Prize.
In the presentation April 20 at the McCarthey Athletic Center moderated by local TV anchor Stephanie Vigil, Burke and Farrow said they have found common ground in their work.

"Our work is dependent on each other," said Burke. "It allows me to point to something in pop culture that says 'this is not just complicated for you, this is a complicated thing.'"

While they come from two different worlds, both noted how their careers have been molded by their personal experiences.

A sexual assault survivor herself, Burke has merged that experience with activism. She serves as senior director of programs at Girls for Gender Equity, based in Brooklyn, New York, and has dedicated more than 25 years to social justice and laying the groundwork for a movement originally created to help young women of color who survived sexual abuse and assault.

She remembers when a young woman who had experienced sexual assault came to her. In that moment, Burke was unable to share that she too had been sexually assaulted. She could not yet say "me too."

"The moment I didn't say that, I realized those words are good enough," Burke said.
Video by Jackson Scallen, Class of 2020.
As a journalist, Farrow also brings personal experience to the issue.
"I had been doing investigative stories about untold aspects of American life, particularly focusing on voices that don't get heard enough and vulnerable people who are silenced because of abuses of power in various industries," Farrow said, noting he had seen the issue "firsthand in my own family because my sister had spoken out against a powerful guy on this issue."

Burke was among those recognized as Time magazine's 2017 Person of the Year: The Silence Breakers. Both Burke and Farrow were named April 19 to Time's annual list of the 100 most influential people in the world. Farrow's articles on Weinstein won the Pulitzer Prize for public service reporting April 17 for The New Yorker, which shared the award with The New York Times and its coverage of the story reported by Jodi Kantor and Megan Twohey.

However, neither Burke nor Farrow expected their work would be so culturally influential and gain so much attention.
Burke initially imagined the #MeToo movement might become some sort of secret society. Comparing "Me Too" shirts and signs to the rainbow flags supporting the LGBTQ community, Burke dreamed that those who stand in solidarity with survivors would hang them in their homes or stores.

"I didn't expect for it to grow in this way," Burke said. "I imagined that it would be something only survivors knew, that it would be a way to create safety . . . but then, I also couldn't imagine a world where we talked about sexual violence openly … and realize that this is an epidemic."

Farrow also had different expectations when he began investigating Weinstein. His biggest concerns were whether people would come forward and, if they did, if the stories would be published.

"A year ago today . . . I had a body of evidence that I knew needed to emerge and where I knew I would never be able to live with myself if I didn't carry through on that," Farrow said. "But I faced a set of obstacles where it seemed unfathomable that it would all ever come out, let alone that it would be celebrated in this way."

While the response to their work has been overwhelmingly positive, Burke and Farrow acknowledged there has been some unintended consequences, including victim-blaming and retriggering survivors of sexual violence.

"It makes me profoundly angry that these stories are sometimes weaponized against people and often I find myself wishing that I had done more or done better," Farrow said. "I want to work as hard as I can to convey how complicated these stories are and the costs they exact on these women."

Burke and Farrow both emphasized the importance of the language society uses when discussing sexual assault, harassment and violence. Burke suggests more literacy in what she calls "survivor language."

"It's important to use this language," Burke said. "We really want to move away from victim-blaming because it's more empowering for a person, psychologically, to know you overcame something, you survived something rather than something being taken away from you."
Misused language also can paint the illusion that there is an end result: one concrete thing survivors should work toward, Burke noted, saying survival looks different for every individual and that she too is still in the middle of her journey.

"I still have to wake up every day and decide to survive," Burke said.
Farrow agreed, noting he handled words "with tremendous caution" in his series.

"There were important discussions on when and how to use the word 'rape' and I am really proud that we did use that word when it was called for," he said. "That word has a culture that has accreted in newspapers for a long time with them saying 'oh, we don't use that word.'"

Burke and Farrow also discussed steps to move forward and how progress will likely occur less from policies and more through continued cultural shift away from victim-blaming to a place where stories of survival are encouraged and accepted.

"This is happening the way it should be happening: from the ground up," Burke said. "People on the ground are seeing the power in numbers and the possibilities that come from a collective of people coming forward."

In Burke's eyes, one necessary change is implementation of comprehensive sex-education starting at a young age, noting that introducing the concept of consent to children will help them understand its implications as they become adults.

"If I can teach a 6-year-old not to run with scissors, I can teach them to say 'don't touch this person.' Boys and girls have to learn this in tandem," Burke said.

While enormous work lies ahead, signs of change are appearing.

"We are gearing up for change and that feels good. It feels like people are listening differently. It feels like people are hopeful in a different kind of way," she said.