Springing for Scholarships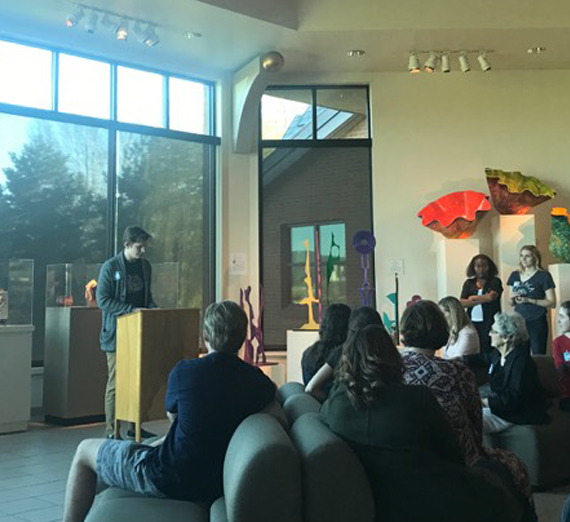 ---
On Thursday, April 19, 2018, the Jundt Art Museum and Gonzaga's University Advancement team brought together two groups of people who might not otherwise get a chance to meet. Donors who contribute to the Zag Scholarship Fund, which in turn "sponsors" Zags with scholarship awards, were invited to meet face-to-face with the students whom their generosity impacts. Hosted in the Chancellor's room overlooking the Centennial Trail and Spokane River, donors and students listened to two grateful scholarship recipients give brief reflections of gratitude and then mingled, telling one another their own, individual stories. The Zag Scholarship Reception was the first of its kind and helped provide students and donors with a deep, meaningful understanding of what "giving back" means in the Gonzaga community. Below are the reflections shared by sponsored Zags Shelby Dollemore ('20) and Giovanni "Von" Flavel ('21).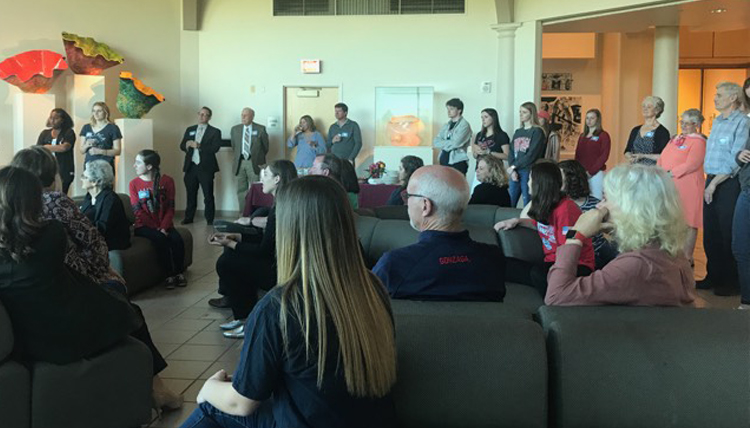 "My name is Shelby Dollemore. I'm a sophomore here at Gonzaga pursuing a degree in business administration with concentrations in finance and operations.
When deciding between universities, Gonzaga stuck out from the rest because of the location and Jesuit traditions. I was born and raised in the Pacific Northwest and I wasn't ready to leave the scenery behind. I grew up in a Catholic home but always attended public school. I was looking for a private university so that I could have an opportunity to delve into my faith in an environment where I would be supported in that goal.
Since my Freshmen year, I've been given the chance to explore so many aspects about myself including my faith, education, leadership style, and relationships. I have no doubt that I have immensely grown as a person since starting here two years ago thanks to the students and faculty who have pushed me.
On campus, I'm involved with DECA (a competitive business club), National Residence Hall Honorary (a student ran subset of housing focused on recognition and community service), the Experiential Leadership Institute, the Leans2Lead Floor, and I have a work-study position in the Hemmingson Student Center.
Scholarship means many things to me. It means I have time to indulge myself with these student organizations and opportunities without having to stress about earning more money instead. It means less sacrifice from my family that already gives so much. My parents have good careers and work hard but, with my younger sister still at home, we were worried about affording Gonzaga and still giving her everything she deserves. With the financial aid and donor scholarships that I've received, my sister will have the same opportunities I've had. Scholarship means travelling the world. Next fall, I will be studying in Florence. This has been a dream of mine for a long time but, until recently, my family just did not know where the money would come from. Thanks to additional scholarships available from the Study Abroad Office, I'll be living my dream.
I'm so blessed to be attending this school and am thankful to donors like you every day. I have seen so much love and support on Gonzaga's campus that it leaves me in awe. I am positive that being here was in God's plan for me. Even though I could've attended a less expensive school and relieved my family of financial stress, I wouldn't be receiving the same benefits that I do here. Thank you.
***
"My name is Von Flavel. I'm a first-year student majoring in accounting here at Gonzaga and am from Priest River, Idaho. Some of you may be familiar with Priest River, but if you're not, you should know that it's only about an hour east of here, and the high school I attended provided me with great opportunities that set me up for a successful college career. I really worked hard in high school, being a part of a community service group under Rotary, I was honored to be elected ASB President my senior year, and extremely honored to give the valedictory remarks at graduation.
I truly wanted an education and a college experience that was more than just four years of classes to earn a degree, and I knew that is what Gonzaga offered. Gonzaga had always been on my radar, considering it was only an hour away from my hometown, I had my aunt and grandmother attend school here, and I knew I would be challenged both in and outside of the classroom. However, like many things, the cost was the only thing in my way in attending Gonzaga. With a family simply unable to provide me with financial help no matter where I attended, tuition alone of $40,000 I knew would in no way be feasible. In fact, I almost didn't even bother in applying considering there was a $50 application fee and the high cost of tuition really discouraged me.
My original college plan entailed attending a state community college for my associates, and then transferring to GU in hopes of saving money. But fortunately, my high school advisor who earned her masters from GU strongly encouraged that I apply because of the significant financial help Gonzaga had given her in her years of attendance. So, after applying, getting accepted, being offered a very generous financial aid package to GU, and finally crunching the numbers, I was elated to find that attending Gonzaga would, in fact, be less expensive for me than transferring after earning an associates elsewhere.
Because of this and my long-time yearning to attend Gonzaga, I of course chose to attend school here. But furthermore, I also cannot forget to thank people like all of you for making it possible for me to attend my dream school. Anytime I'm given the opportunity to thank my scholarship donors, I am more than happy to do so. That is why when University Advancement asked me to speak, I had no hesitation in saying yes. In fact, in the fall I filled out a form where us scholarship recipients gave a brief bio about us, attached a picture, and thanked our donors, which would ultimately be sent out to people like you guys by the university. And this past week, my mom forwarded me a mass email sent by the university to parents and scholarship donors acknowledging that this month is scholarship month. And to my surprise, there was my face right front and center of the email. But, I am perfectly fine with my face popping up on thousands of strangers' emails, as long as I know I am giving credit where credit is due, thanking people like you all for the extremely generous donations that make it possible for students like me to attend Gonzaga. Thank you."
***
Join Gonzaga's family of donors by contributing to the Zag Scholarship Fund.