Cesar Ortiz Rios Engineers Bright Future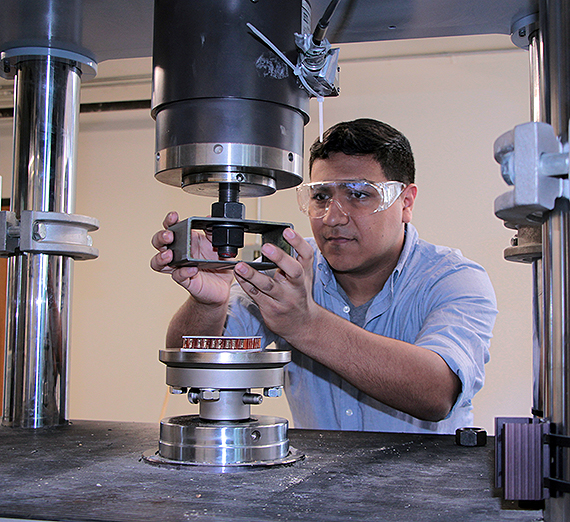 ---
By Kendra Andrews
Class of 2019
Gonzaga News Service
SPOKANE, Wash. -- Growing up, Gonzaga senior Cesar Ortiz Rios always aspired to go to college. However, since no one on either side of his family had ever gone to college before, Ortiz Rios was less sure of most everything else associated with higher education. He will graduate as a role model for his entire extended family.
"My parents always told me I needed to go to college, but that's all they ever said," said Ortiz Rios. "They didn't know how to get into a college, how to apply, how it would be paid for, none of that. And I don't blame them for it. They were never taught any of that. I didn't even know any of that early in high school."
In 1992, Ortiz Rios' mother emigrated from Mexico to the United States where she met and married his father.
With parents just as challenged as he was regarding the college application process, Ortiz turned to the Advancement Via Individual Determination (AVID) program at Windsor High School in Windsor, California. In addition to the program, Ortiz received additional help from college counselor Ann Scheder-Bieschin.
"If it wasn't for the AVID program, and Ann, I wouldn't have started thinking about college until it was too late," said Ortiz Rios, who will graduate in May with a degree in mechanical engineering and a minor in mathematics.
As a junior, Ortiz Rios and three other students assisted mechanical engineering Professor Patrick Ferro in a research project involving injection-molded ABS (Acrylonitrile Butadiene Styrene), a thermoplastic material known for its impact-resistance and toughness. His senior capstone project focuses on material sciences - the design and discovery of new materials - and is sponsored by the Boeing Co.
"My favorite part about Gonzaga's School of Engineering and Applied Science is how approachable the staff and faculty are as well as their commitment to their students' learning," Ortiz Rios said. "It's also easy to get involved in research if you talk to your professors, because they are always willing to encourage learning outside the classroom."
Gonzaga has also helped steer Ortiz Rios toward valuable career-enhancing opportunities off campus, including a 2016 summer research program involving industrial additive manufacturing processes, specifically selective laser melting - a technology involving 3D printing and manufacturing - through the Missouri University of Science and Technology's Research Experience for Undergraduates. He recently co-authored a research article on selective laser melting published in the International Journal of Advanced Manufacturing Technology.
This fall, he will return to Missouri S&T to begin a Ph.D. program in materials science and engineering. His research will involve additive manufacturing (3D printing) of metals.
"My hope for this is that I can develop an understanding of advanced manufacturing technologies like additive manufacturing so that they are one day considered to be viable manufacturing processes for other industries," said Ortiz Rios. "I'd also like to end up working as a university professor in my later years."
Ortiz Rios has been involved in many extracurricular activities at Gonzaga, including with the GU Robotics Club and the Materials Advantage Club. He serves as president of Gonzaga's chapter of Tau Beta Pi (Washington Delta).
"I've seen the School of Engineering and Applied Science clubs grow and reach new heights. We wouldn't have grown so much if it wasn't for the support of Dean Stephen Silliman and the other faculty," he said. "The energy and enthusiasm of student clubs is part of what sets Gonzaga's engineering school apart from others and I feel that they should continue to be supported in the future."
As the first person to graduate from college on both sides of his family, Ortiz Rios has brought his family great pride. Though, he does admit that all of this success has brought him unexpected responsibilities and pressure - especially as the oldest child in the family (he has a younger brother and sister).
"I'm an example to not only my siblings, but also to all of my cousins," Ortiz Rios said. "I came to college not just for myself but for everyone back home. I came because I felt that I could be an example of how anyone could not only be admitted to a four-year university but could also succeed beyond that. That's the expectation I set for myself: that I need to be more than I am for others. It is perhaps the weightiest pressure I feel as a first-generation student."