Jane Clementi: Empathy Key in Suicide-Awareness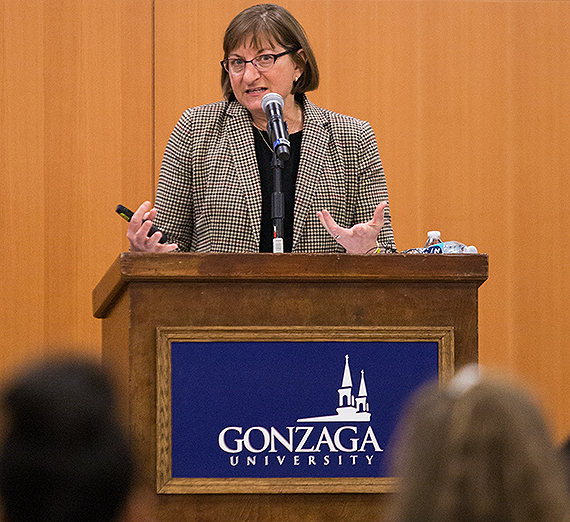 ---
Photo by Adam Miller, The Gonzaga Bulletin.
By Kendra Andrews
Class of 2019
Gonzaga News Service
SPOKANE, Wash. – Jane Clementi, whose son died by suicide as a result of cyberbullying, spoke at Gonzaga University's Hemmingson Center Monday night in a program designed to raise awareness of suicide – its causes and how it can be prevented.
Her son, Tyler, was a freshman at Rutgers University in 2010 when his roommate broadcasted video of him online in an intimate moment with another man. Several days later, Tyler died by suicide.
Following her son's death, Jane and Joe Clementi founded the Tyler Clementi Foundation, which aims to end online and offline bullying, in schools, work places and faith communities.
Clementi said the experience of losing her son burst her "bubble" and opened her eyes to some of the world's injustices and inequalities. It sparked her desire to change the culture of bullying — wanting to eradicate it from society.
According to Clementi, empathy is a key in suicide-awareness.
"You will be hearing me say that word a lot tonight," she said.
Clementi highlighted the importance of looking at situations from others' point of view and pointed out how – in many cases – those who are having suicidal thoughts do not show any outward signs or symptoms.
"Because not everyone shows symptoms, we may not see the pain someone is in from the outside in," Clementi said. "You don't know what will trigger someone. Because you don't know where they are or have been, you must treat them with kindness and empathy."
Clementi broke bullying into several categories: physical, verbal, social and cyberbullying. The majority of her speech addressed cyberbullying, which she considers the most extreme version of bullying because of its permanence.
"Once something is on cyberspace, it can be seen by thousands of people," she said. "It also allows you to say your hurtful words and not see the pain it causes."
In order to eliminate cyberbulling, Clementi and her foundation are calling for people to advance from passive bystanders to become what she called "upstanders."
To become an upstander, Clementi suggests three steps: intervene, report it, and reach out and speak to the target of the cyberbullies.
"Remaining silent and saying nothing is more harmful," she said.
Clementi also mentioned the #Day1 Campaign, a part of the Tyler Clementi Foundation that aims to stop bullying, harassment and humiliation before it begins. She is also working on the Tyler Clementi Higher Education Anti-Harassment Act that would require colleges and universities receiving federal student aid funds to enact an anti-harassment policy. Sen. Patty Murray, D-Wash., is among the lawmakers who introduced the measure in the Senate and House of Representatives on April 27, 2017.

The proposed legislation suggests counseling be provided for victims of harassment as well as the perpetrators.
In closing, Clementi said that even in the darkest of times, her trajectory has always been to move forward, and that she aims for her foundation to find ways to turn one's worst memories into something that can be helpful to others.
"At first I didn't want to share Tyler with anyone," Clementi said. "But later, I realized that this was a blessing in disguise because it started a dialogue of the need to stop bullying on- and off-line."
The event was sponsored by Gonzaga's Center for Cura Personalis, which draws its name from the Latin term that means "care for the whole person."