Music Involvement at Gonzaga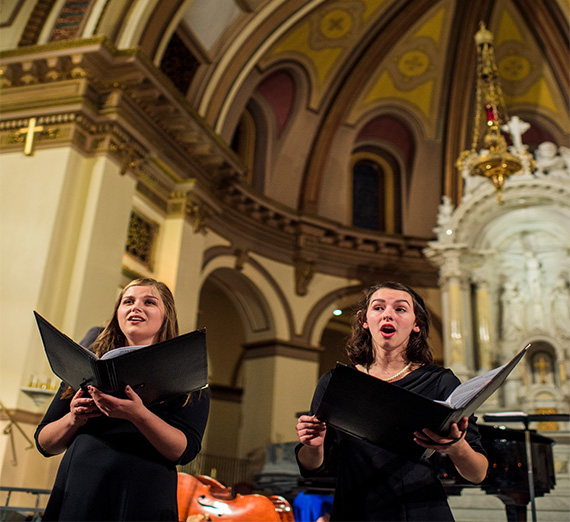 ---
Ever since I visited Gonzaga during my junior year of high school, I have heard people raving about the "Gonzaga community." It wasn't until I started at Gonzaga that I learned it could actually be difficult to find this. Lucky for me, I was enrolled in choir.
I have been in choir ever since the first grade, and I knew I wanted to be involved in choir in college, but I didn't want to major or minor in Music. Gonzaga carries the mindset that anyone who wants to sing at GU will have a place; evidenced by our placement process (instead of an audition) during Orientation Weekend. Not only are you able to be involved in music as a non-music major, but the Music Department highly encourages it. There are even scholarships available for non-music majors! Each and every ensemble in the Music Department has a wide variety of majors from Music Performance to Psychology to Mechanical Engineering.
As a non-music major, I am not limited at all within the Music Department. Choir rehearsals typically fall toward the end of the day, so I am able to fulfill my major requirements during the day, while also attending choir. This makes it really easy to fit choir into my schedule and allows me to end my day with some of my best friends. Additionally, choir fulfills a Fine Arts core requirement, so I know that these additional credits are also helping me toward my graduation requirements. Since most people participate in choir on top of a full-credit load, the Music Department waives any fees you might incur for going over the maximum credit allowance. How cool is that? The Music Department will actually pay for you to be able to participate in music!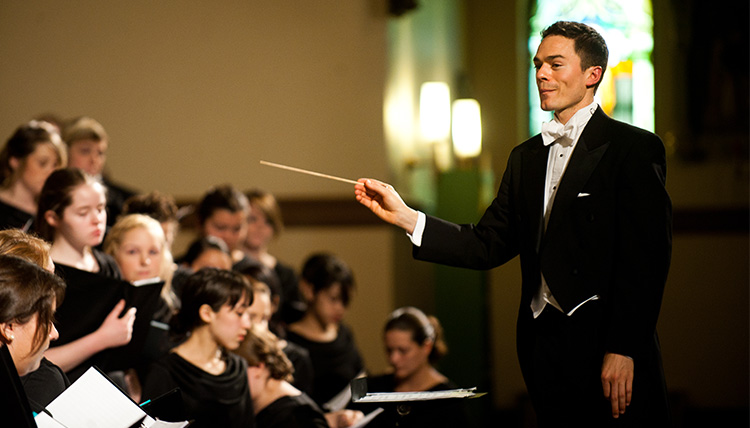 Personally, my involvement with choir at Gonzaga is what has made my experience exceptional; it's where I've found my personal community. Due to the nature of the program, choir brings students together from all areas of campus, which has given me the opportunity to become great friends with people I would have never met in my other classes. The GU Choir community never fails to amaze me. Today I am still singing with someone who I have been in choir with since middle school! Additionally, even though I'm not studying music, I had the honor of taking on a leadership role within our Choir Council. As the Choral Ambassador Coordinator, I was able to share my experiences as a non-music student in the choral department with prospective students and support other singers sharing their stories as well.
The Music Department also presents opportunities to travel around the region as well as internationally. Concert Choir does a Regional Tour to Portland or Seattle every year, while Chamber Chorus does an International Tour every other year; most recently they went to Zambia. I am thankful for the Music Department's willingness to broaden the music community to include voices and experiences from all corners of campus.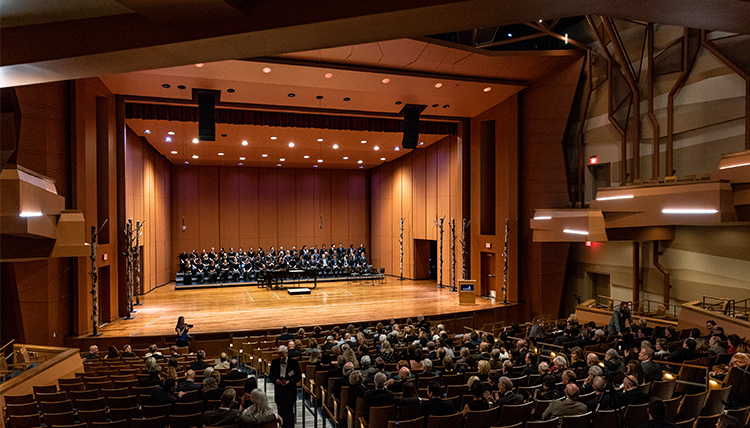 The Myrtle Woldson Performing Arts Center is a state-of-the-art facility for student performers. Learn more about it here.