Rui Hachimura Learns English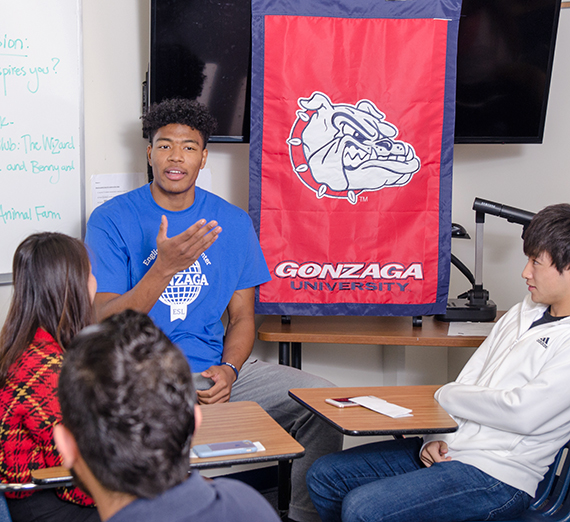 ---
SPOKANE, Wash. — Located in the heart of Gonzaga University's campus in Welch Hall — a nondescript 1950s-era brick building that doubles as a women's residence hall — the English Language Center might deserve recognition in Gonzaga's Athletic Hall of Fame for its contributions to the men's basketball team.
On a recent fall day, its students, faculty and staff were all abuzz. Star forward Rui Hachimura, from Toyama, Japan, was en route for a Q-and-A with his fellow international students and a photo shoot. This marks the 40th anniversary of the center and its English as a Second Language program, which has served more than 8,500 students from 105 countries, including nearly two dozen student-athletes in recent years.
GU staff and faculty provide language, cultural and academic support for international students.
International players have played a pivotal role in Gonzaga's rise to a basketball powerhouse the past two decades and the center has been instrumental in supporting student-athletes like Hachimura, who came to Gonzaga knowing little English.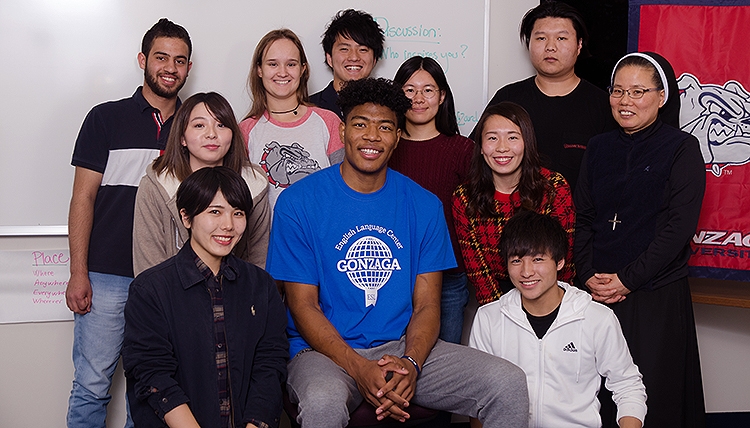 Now in his third year, the 6-foot-8-inch Hachimura enters with a broad and easy smile. He is whisked to a classroom where he responds, in English, to questions during a Q-and-A with international students.

Q. The most difficult thing about learning English?

A. Grammar.

Q. Your best memory of being at Gonzaga?

A. The people. There are a lot of people from different countries. … I really like communication, talking with them about their cultures and countries, it's very fun. I like that.

In an interview, Hachimura said learning English has been difficult and he appreciates the ELC's staff and faculty who have shown him genuine care and concern — providing language, cultural and academic support.

"The teachers here in the ESL, they are not just doing it for a job, they're really trying to help me. So they ask me about how basketball is going, not only about English, but other things about my life," Hachimura said. "Because sometimes I was stressed about something, and they kind of searched and they asked me, 'Are you OK?' It helped me a lot."
A sports management major, Hachimura aims to help the Zags advance as far as possible this season. Beyond that, he dreams of playing in the NBA and to play for Japan's national team in the 2020 Olympics in Tokyo. His plans also include helping youth.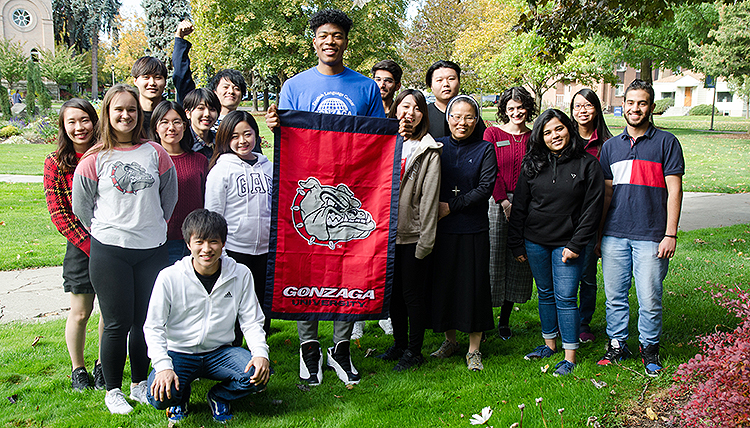 "I want to help kids in Japan," he said. "There are a lot of people like me, half black and half Asian, in Japan. I think I want to do something with them to help them either with basketball or other sports or to speak English."

Heidi Doolittle ('96), senior lecturer at the ELC, played basketball at Gonzaga and lived in Japan for three years. She understands the unique demands student-athletes face. She and the other ELC faculty maintain close contact with athletic department advisers to support international student-athletes in competition, the classroom and social life.

Doolittle knows communication involves not only words but culturally imbued body language. For example, looking someone in the eye in the United States is a sign of respect. In Japan, it's considered rude.

"There's spoken language and there is a lot of communication taking place in nonverbal language as well," said Doolittle. "We work with the student-athletes to help them understand those interactions that can be confusing to both them and their coaches and professors."
The Center lives the mission of Gonzaga to reach out to the marginalized by working with a variety of organizations in the region to help immigrants and refugees, and collaborating with community partners to provide students with opportunities to give back to the community through projects and volunteer work.
Alumni return to the center often to show their appreciation, and recommend Gonzaga to people in their native countries. One alumnus, Ching-Sow "Charles" Ni from Taiwan, attended the program two consecutive summers some 15 years ago. In his late 70s, he wanted to demonstrate to his grandchildren the importance of lifelong learning.
"Another former student from Saudi Arabia came back to campus — after graduating about five years earlier — as a stop on his American honeymoon. He introduced us to his wife," Doolittle said.
"Most of our students come here through word of mouth," said Li Yang, director of the ELC.
Hachimura said he would recommend Gonzaga to prospective international students and offer them this advice:

"Gonzaga is a very fun place because there are a lot of different people," he said. "It is very hard, but I think you should challenge yourself to such tough things because you will feel that it was the best later."