Around the World with Tommy Lloyd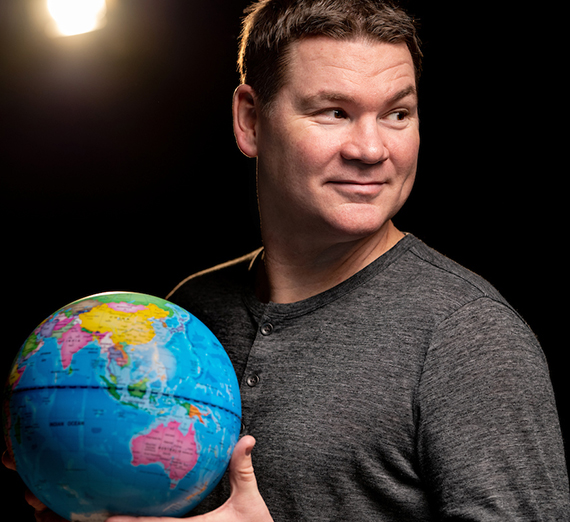 ---
Tommy Lloyd's coaching story could be titled, "Planes, Trains and Automobiles." He has spent a lot of time on all three modes of transportation as he has traveled the world in search of the next great international Gonzaga basketball recruit. His list of recruiting successes is long: Ronny Turiaf, Kelly Olynyk, Domantas Sabonis and Rui Hachimura, just to name a few of Gonzaga's success stories.
He was interviewed on sports broadcaster Fran Fraschilla's World of Basketball podcast in September, and shared his story.
Lloyd joined Head Coach Mark Few's staff as administrative assistant in 2000, one year after Gonzaga's remarkable Cinderella run to the Elite Eight. The next year he was elevated to assistant coach.
Early on, Few told Lloyd he needed to create a recruiting niche for himself if he was going to achieve notable success in this field, tossing him a media guide from a U18 international event. Lloyd had already taken a liking to the international game, having played two seasons overseas following his college career at Whitman. He took Few's hint.
Few loaned Lloyd his calling card and told him to use it as he saw fit. "After a couple of months, Coach Few asked me if something had happened to his calling card. There were over $2,000 in international calls on it," Lloyd said. Lloyd was calling all hours of the day and night to coincide with the time differences overseas. Obviously, there were a lot of relationships to be built, with European basketball officials, international coaches and scouts, and other foreign connections. Lloyd asked Few if he wanted the card back. Few said no.
Travel hasn't always been easy. Lloyd tells about the time he was flying to France when the Icelandic volcano blew, grounding air travel for several days. He made it to Copenhagen to stay with a friend, and needed to make it back to France to catch one of the few flights home.
He got on a packed train, was dead tired, and scrunched himself under a bench seat to sleep on his turn-around trip back to France. Travel's been rewarding, but not easy.
Turiaf Turned the Tide
Lloyd's first major success story was Turiaf, who he first saw play in the 2000 World Championships.
"Ronny is very intelligent, a big personality, a thoughtful caring guy who carries his emotions on his sleeve," Lloyd says of Turiaf, who was a French citizen growing up and playing in the Caribbean.
When Turiaf stepped off the plane in Spokane for his official Gonzaga visit, it was Lloyd's first time meeting him in person. Turiaf came down the ramp, turned to Lloyd and asked directly, "Can I trust you?" Lloyd's answer was, "Of course."
Then, while the two were walking campus, they went downstairs in the former Crosby Student Center and played ping pong. "He's pretty good and I'm not bad," Lloyd recalled. "He hit a great shot and I dove to the floor and got it back on the table, my knee was bleeding."
Apparently, he liked the effort. "Ronny looked at me and said, 'This place is something different. This is where I want to be.'"
Turiaf's success in a Zag uniform opened doors for a lot of other kids. "When French kids are considering playing in the U.S., he is an example they use as someone who had great success here," Lloyd said. "He's been a pied piper."
Sabonis Was Next Pied Piper
After Ronny came Sabonis. He had a real passion for basketball, and wanted to get back to the United States where he was born while his father Arvydas starred for the Portland Trailblazers. And the elder Sabonis was all about his kids making their own decisions.
Lloyd recalls being with the Sabonis family when Lithuania qualified for its seventh straight Olympic games. Lloyd said he was next to Arvydas when they played the national anthem and he had goose bumps on his arms. He was so proud. A class guy. And the celebration with Arvydas following that event was one of Lloyd's most fun ever, he said.
A Japanese Sensation
Lloyd first saw Hachimura play in 2014. He learned about Rui from a friend, but it took some detective work to track him down. Living in Japan, he was only in high school at the time. He was sent on a trip to the U.S. with a translator, and you could see the joy in his face.
"We continued to recruit him sporadically. We brought Rui back for his official visit with his mom and a translator. We could see he had a ton of potential, and we had a good feeling about him as a person. Rui was really motivated to come to America," Lloyd recalled.
When Lloyd returned to Japan with the Zags to play a game against Pittsburgh in a hangar on a Marine base there – which you might recall ended at halftime due to a slick floor – Gonzaga offered Hachimura a scholarship, and he accepted.
Lloyd met at a local restaurant with Rui, several of his family members and a half dozen professional-looking guys in suits. "At that time, I was not very good with chop sticks, but knew I had to make it through this meal eating with chop sticks. I was so proud of myself. But they probably didn't think I did very well," Lloyd revealed.
Hachimura has become a big personality in Japan. During his sophomore and junior years at Gonzaga he'd often have a dozen Japanese reporters crowded around his locker after a game. "Fast forward three years, after he was drafted by Washington, I go back for a coaching clinic, take my family, and Rui is playing with his national team in the World Championships in China. By this time Rui couldn't leave the hotel. People were waiting outside the hotel at 1 a.m. in an effort to see him," Lloyd said.
International Players
Find Fit Here
Gonzaga has had players from 17 countries over the years, and Lloyd's recruits include: current players Martynas Arlauskas (Lithuania), Joel Ayayi (France), Oumar Ballo (Mali) and Pavel Zakharov (Russia). Former players include Hachimura, Sabonis and Turiaf, along with Polish National Team member Przemek Karnowski; Canadians Kevin Pangos, Kelly Olynyk and Robert Sacre; Germans Elias Harris and Mathi Mönninghoff; JP Baptista of Brazil; Frenchmen Killian Tillie and Mathis Keita; Filip Petrusev of Serbia; Guy Landry Edi of the Ivory Coast; and Nigerian Addullahi Kuso.
So what makes Gonzaga such an attractive place for international players, Lloyd was asked?
"We have lots of experience with supporting international students. Spokane is a great place to live, but not a hotbed of outstanding high school size and talent. It reminds you of an old-school Indiana town," Lloyd said.
"We had to fish in waters that weren't over saturated with other fishermen. Develop some relationships, develop some trust. It was definitely a commitment we made."
"With these kids (who make such a big commitment to Gonzaga), you have a responsibility to deliver, and make sure they get what they need for their futures," Lloyd said.
Olynyk is a great example. After his sophomore year, with some talented players in front of him, he was going to transfer, Lloyd said. "We convinced him to take a redshirt year, we worked hard with him, and he came back as WCC Player of the Year and is enjoying a great career in the NBA, playing in this year's NBA final with the Miami Heat."
Lloyd has two passions, beyond his family. He loves to travel, make new relationships and learn other cultures; and basketball. And he's definitely found a niche for those passions at Gonzaga.
Listen to the podcast at World of Basketball.
Learn more about Gonzaga Basketball.