Big Sky Classroom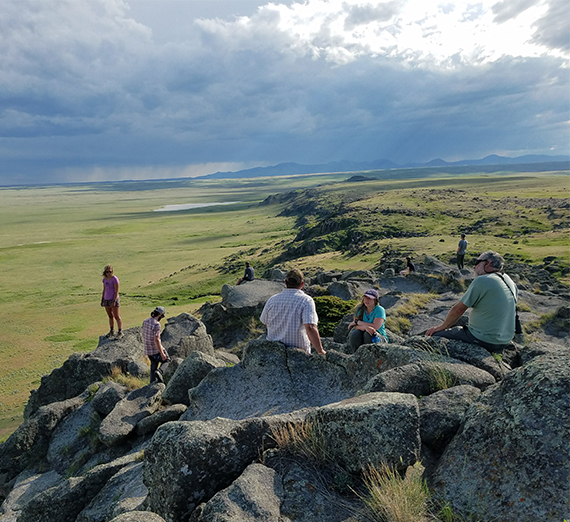 ---
We sat in a circle as we had so many times before during the 14-day trip, discussing writerly perspectives and portfolios, scribbling in notebooks. It was a scene out of any seminar-style
course, except we were sitting in the dirt, watching the sunset through the branches of a cottonwood tree.
Our classroom was a campground somewhere on the upper Missouri River, with a new program called Gonzaga in the Wilderness.
The academic adventure hybrid is the brainchild of members of the Center for Global Engagement, Gonzaga Outdoors and the College of Arts and Sciences. Greg Gordon from environmental studies and John Eliason from English accompanied eight students on the journey, discussing the rich environmental history of our location, exploring nature-writing techniques and learning valuable outdoor skills. I had the chance to be both student and assistant, aiding Matt Edenfield from Gonzaga Outdoors in everything from packing canoes to cooking dinner.
The program brought to life some of the cornerstones of Gonzaga's learning and mission objectives, such as integrative learning and cura personalis.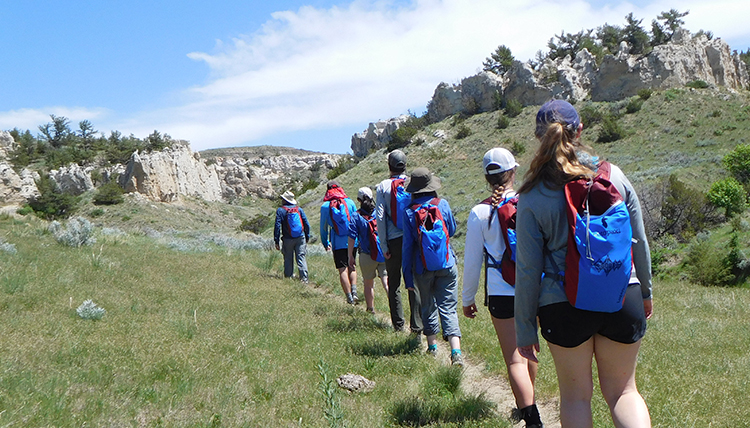 "When we put students in a chair and try to deposit knowledge into them, we're expecting them to be one-dimensional learners. This sort of class environment allows people to learn through the world and the senses," says Gordon, who spends his free time at his yurt (portable round tent) along the Dearborn River in Central Montana.
This theme of integration was present throughout the trip. The courses were designed to blend into each other, and Gordon and Eliason collaborated on their curricula before departure to ensure this would happen. All members of the trip helped with camp duties such as cooking and cleaning, and participated in group discussions and reflections. "We all have a much deeper network across campus post-trip," says Eliason.
The courses themselves were deeply entrenched in the environment we traveled through. We paddled over 100 miles of the Missouri River, through sections inhabited by Native Americans, traversed by Lewis and Clark, and settled by homesteaders. The students learned about the history of the river while exploring their own connection to the natural world. During one memorable exercise, we sat on the top of a windy plateau, reflecting on a place that was special to us, and how it compared to the spot we were sitting.
Gordon believes integrative learning helps take abstract ideas and make them concrete. "You can pick up a rock and say, 'This held down somebody's teepee 500 years ago.' You can inhabit that same ecosystem that Native Americans lived in and that Lewis and Clark traveled through, which gives students a more visceral understanding of historical events."
Creating a strong group dynamic was key to the program's success. We lived and learned together for two weeks, growing comfortable quickly in the unfamiliar environment. "On campus, we are limited by schedules and we don't see students more than a couple times a week. On this course, we provided a rich experience that fostered an intellectual community," says Eliason, who spends as much time as possible running rivers in the West, including a recent trip with his son down the Middle Fork of the Salmon.
The continuous impact of the program on students and faculty is obvious. "I've seen some students around campus, and they're different," says Gordon. "They have a sparkle in their eyes. Having that connection with their professors and peers, and sharing a meaningful experience, is really special."
Academics
Student Life
College of Arts & Sciences
Undergraduate Admissions
English
Environmental Studies
Gonzaga Magazine