What I Did with Too Much Time on My Hands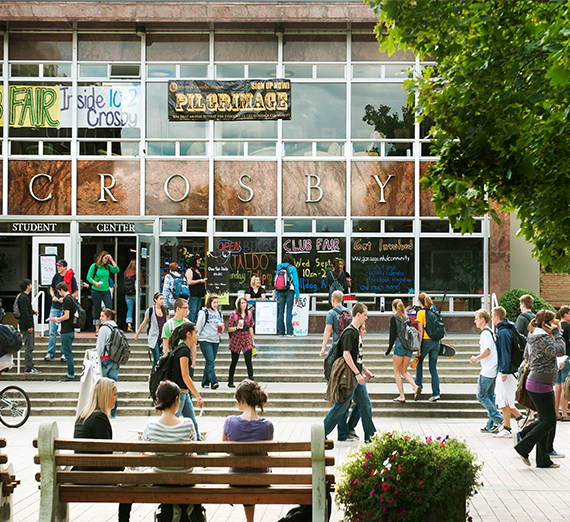 ---
Campus Involvement
Too much time on my hands! Who would've guessed that would have been a problem when first coming to college. There is so much going on during your first week that it can be a little overwhelming, but once the excitement of this new stage in your life settles down you notice you're in a bit of a lull. I found myself having finished class and homework only to find out there were at least 5 more hours until I planned to go to bed. I realized that I had way too much time on my hands and wasn't really sure what to do with it. While this was the case for me, it wasn't long before I learned that here at Gonzaga it is not difficult to fill your time with impactful and meaningful clubs and organizations.
There are also many opportunities to get involved on campus, a few popular examples are the Center for Community Engagement (CCE), clubs, and intramurals.
Looking back on my time there are a few things I wish I had known about or done from the start of my first year at Gonzaga. One of those was to be an Ambassador during my first year. Ambassadors are a group of students who volunteer their time to give tours and share their stories and experiences to visiting prospective students and their families. The program has been one of the best experiences of my time here at Gonzaga, as it has allowed me to grow and helped me find my place at Gonzaga.
I have changed from being a shy, quiet first-year student who hated public speaking and was unsure if he could be himself, to a loud and goofy senior who has spoken in front of over 800 prospective students. Ambassadors not only helped me grow as a person but it also introduced me to a group of amazing individuals that I might not have met otherwise. This program is also cross-generational, meaning you interact with seniors, juniors, sophomores, and freshman rather than those who are just in your class.
All in all, if involvement is a concern for you when coming to college there's no need to worry. Everyone varies in what they do and when they do it; some people might not do anything extracurricular their first semester and just use that time to get fully adjusted, where others might start joining clubs or participating in intramurals. Whichever you choose there will always be things for you to do and people to meet when you're ready, and at your own pace.
Off-Campus Involvement
You certainly aren't restricted to Gonzaga's campus; you have the freedom to go out and explore the awesome and unique city of Spokane. I think the best way to describe Spokane is a big city with a small town feel. It has a great combination of a city life as well as the great outdoors, leaving people with a lot of options for entertainment. If I am in the mood to be in the city then I will most often go thrift shopping, rock-climbing or my personal favorite, going to one of the numerous unique coffee shops and bakeries.
Now, if you really want to see Spokane at its peak and bustling with energy and people, then you must go to Hoopfest, the world's largest 3-vs-3 basketball tournament. People will come from all over the country during the summer just to play in, or even just watch the games taking place all over the city. Late August is when people all over Spokane will come to Riverfront Park, located downtown, and listen to plenty of live music while eating good food from the numerous truck and tents set up for Pig Out in the Park. If you're more of an outdoors person, you are surrounded by lots of fun hikes in Spokane. If you're looking for something a little more intense, then you can drive on over to Mineral Ridge trail in Idaho or even Leigh Lake in Montana.
Check out another student's perspective on life in Spokane here.