Pioneer Woman: Jane Rinehart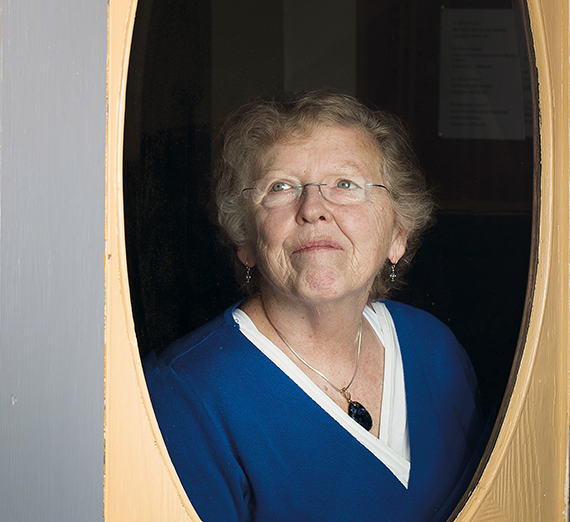 ---
(republished from Gonzaga Magazine, 2015)
Avid Listener, Storyteller, Champion
First and foremost Jane Rinehart is a storyteller. She understands the intricacies of plot, pacing and diction. She can stand in front of a class and weave a verbal tapestry that's both entertaining and enlightening.
Mostly she chooses not to. Instead the veteran professor listens. She listens to her students, to her peers, to University leaders. One hand crossed over the other wrist, head tilted to the side, she's 100 percent focused on the discussion at hand.
That, more than anything else, sums up Rinehart's 41-year career at Gonzaga. She's a storyteller who's chosen to listen first. She's a professor who feels more comfortable sitting at the back of the classroom gently guiding the discussion. She's an outspoken advocate for equality who never wanted the spotlight.
Unapologetically Herself
"It's kind of hard for me to think about my time at Gonzaga without thinking about her," says Sarah Prior ('04), a sociology lecturer at Northern Arizona. "A lot
of my academic and personal development I attribute to her."
That's a common sentiment among Rinehart's former students. While she is highly regarded as a professor, she's also been a fearless champion for equality. She founded the Women's and Gender Studies program, and has helped countless students navigate the often-tricky waters of race, gender and culture. Above all, Jane Rinehart is unapologetically herself.
"Another faculty member mentioned Jane's fearlessness, in speaking truth to power, and I thought to myself 'I can't agree,' " said sociology professor Al Miranne at Rinehart's retirement party. "It's not fearlessness. It's a sense of integrity. She feels she has no choice but to speak the truth as she sees it."

When Rinehart first came to Spokane and Gonzaga in 1974, she found a world strangely suspended in time. Faculty lunches, potlucks and a tight-knit community made Gonzaga a welcoming place, in some ways.
"I experienced both a warm welcome and a sense of shock," Rinehart wrote in an unpublished memoir. "It seemed like I had traveled back in time while moving west, reaching a place that reminded me of the small town where I grew up during the 1950s."
That small-town vibe came with downsides. Gonzaga and Spokane at large weren't telling women's stories. Gonzaga operated, she says, as if it were still an all-boys club. As the wife of a faculty member, Rinehart was expected to act a certain way.
For her, the faculty wife role just didn't fit. Rinehart wasn't and isn't critical of homemaking, or caring for children. In fact, she was in awe of the many talents the faculty wives had. However, what did strike her was an "absence of questioning both the strict association of these activities with women, and the lack of awareness of a decade of activism dedicated to creating other kinds of opportunities for women," she writes in her memoir.
"A Jesuit told me in the '70s, 'I've never met a radical feminist before.' I told him, 'well, you still haven't.' "
"I was pursuing a doctorate and academic career, and lacked aptitude for domestic arts. I was the mother of a young daughter and an infant son, but my other pursuits were discordant with the housewife stereotype. People were very friendly, but I felt like an oddball."
So, when she started teaching part time in 1974, she was surprised by the students' reactions. "That course, Women and Society, people were banging on the door to get into that class," says Rinehart.
Rinehart was a scarce commodity, and students flocked to her. That attention gave her pause. "While I didn't want to be a role model, I eventually had to recognize this was important," she says. While attending an all-women's Catholic school on the East Coast, Rinehart says she had her own female role models. The nuns.
"They were scholars who prayed. And they were so encouraging to us," Rinehart says. "They were always in front of the class giving you permission to take yourself very seriously."
While Gonzaga opened its doors to women in 1948, it was still a male-dominated institution in the '70s, with only a handful of female professors. This caused some confusion. Rinehart was thought to be longtime history professor Betsy Downey, or a Sister.
"They hadn't seen very many women," she says.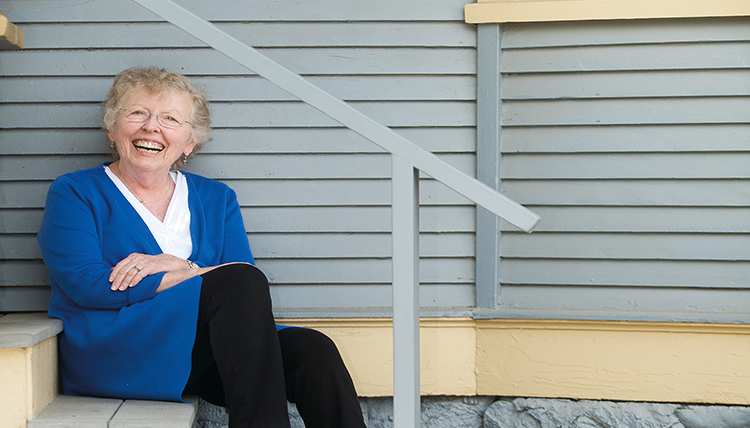 The Growing Presence of Women
Rinehart had no big plans to be a crusader. But things that were commonplace at Gonzaga bothered her. So, she started to speak up for what she thought was right. Although never brash, Rinehart was persistent. Soon she'd developed a reputation as "Gonzaga's feminist."
"A Jesuit told me in the '70s, 'I've never met a radical feminist before,' " Rinehart says. "I told him, 'Well you still haven't.' "
Starting in the '80s, more female faculty members were hired. Gonzaga, urged in large part by Rinehart's vocal leadership, began to deal with gender equality issues openly. This gradual change led to the creation of the Women's Studies Program (now Women's and Gender Studies) in 1991. The program coalesced what Rinehart had taught for years. Our understanding of gender is intimately linked to culture.
While she's unsure about the accuracy of the label, many have called her Gonzaga's first feminist – a title that, while perhaps misleading, serves an important purpose. She writes in her memoir that she has helped to "… create a collective story about women – as a subject for scholarly inquiry, as a missing presence in the canonical texts of the established curriculum, and as a neglected student voice in the University's classrooms."
She's always been the one to stand up and speak her mind. English Professor Jessica Maucione is in awe of Rinehart's ability, and willingness, to defend what she believes is right. Maucione, who was in two of Rinehart's classes as an undergraduate, says she's often uncomfortable or unwilling to express her sometimes-contentious views, especially about gender. Not so for Rinehart. "She has so much integrity she can't not do it," Maucione says.
The Women's and Gender Studies program hopes to build on the energy and passion Rinehart has brought all these years. Patsy Fowler, the outgoing director, hopes that soon there will be a related major and a women's center. Both those dreams have Rinehart's fingerprints all over them.
Rinehart wouldn't tell the story this way. For her it's much simpler. Listen, and try to do the right thing.