Rescuing the World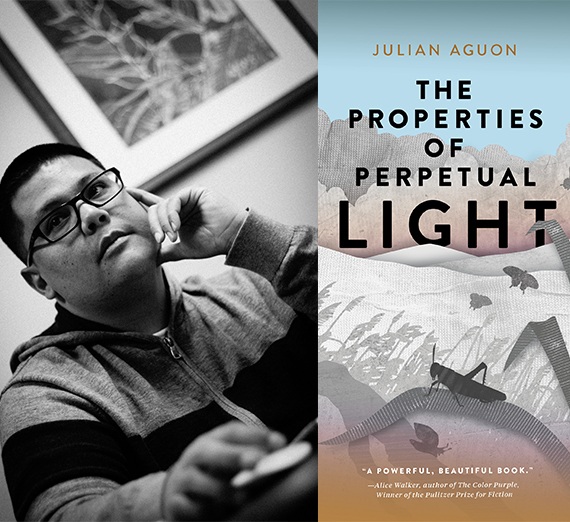 ---
"All of us, without exception, are qualified to participate in the rescue of the world."
Those were just 15 words of inspiration shared with graduates of the University of Hawaii's law school commencement in 2009 by Julian Aguon, himself a member of the class.
In fuller context, what Aguon said to his classmates was this:
"No offering is too small. No stone unneeded. All of us – whether we choose to become human rights lawyers or corporate counsel, or choose never to practice law at all but instead become professors or entrepreneurs or disappear anonymous among the poor or stay at home and raise bright, delicious children – all of us, without exception, are qualified to participate in the rescue of the world."
That commencement message, and poems and philosophical musings, and law cases related to endangered butterflies and civil rights concerns in his home country of Guam, are part of a short book Aguon published this year, "The Properties of Perpetual Light."
The activist, lawyer, writer, speaker and humanist is a 2004 grad of Gonzaga who arrived in Spokane straight from Guam and spent much of his time among friends in the Native American community, perhaps as a means of further understanding the plight of Indigenous peoples. Coming to Gonzaga was a fluke – as much an accident as literally bumping into a Gonzaga Admissions representative. But it was also the catalyst for capturing affirmation that he could – and should – write. That experience took place at Auntie's Bookstore at a book-signing event featuring Sherman Alexie.
Nearly 20 years later, Auntie's Bookstore hosted a livestreamed conversation with Aguon, led by author Tommy Orange (an Indigenous author whose book "There, There" was a 2019 Pulitzer finalist). Orange explored "The Properties of Perpetual Light" as part memoir and part political commentary, and entirely perfect as a work of literary art.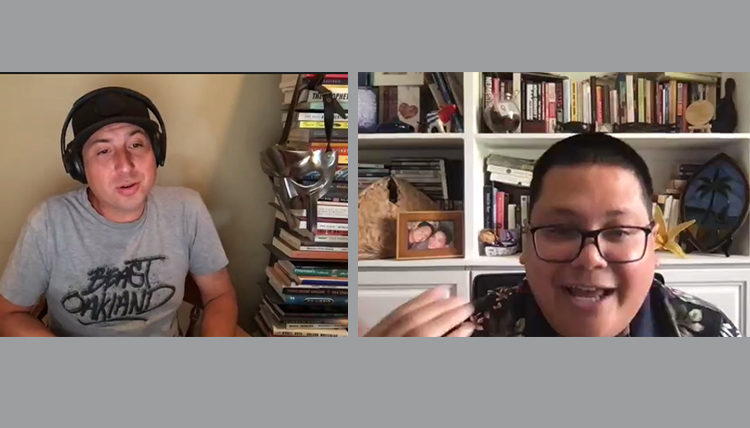 When Orange asked about the prompting of this book, Aguon replied: "I didn't board the bus with any destination in mind. I just started writing. I couldn't breathe so I had to write. The crisis in Guam, the pandemic, the disparities. The USS Theodore Roosevelt docked (in Guam) and naval personnel positive with COVID stayed in our hotels and restaurants. Every type of wargame was afoot at the same time. I needed a home for the rage I felt, and a home for the love. Halfway through, it became clear I was writing a book."
Orange replied, "I didn't sense the rage. There is so much love and beauty and light."
"The end result is love, but I think the book is meant to be an antidote to the rage," Aguon answered.
A fierce adoration of other writers complements Aguon's own incredibly poetic approach to the topics of his attention. From Rumi to Pablo Neruda, Frederick Douglass to Joni Mitchell, nearly every page has footnotes to reference the origin of lines. In an interview included in his book, a professor from Guam Community College asks of the author's introduction as a love letter to young people. "It's pretty obvious it's also a love letter to your favorite writers," she said.
Aguon said he had to include at least a few of the amazing black women – "Audre (Lorde), Alice (Walker), Toni (Morrison)," he says of the famous writers by first name as if they're friends – and other "points of light" who guide him.
"To this day, I still count my lucky stars I had a teacher as remarkable as Jane Rinehart," says Aguon of the founder of Women's Studies at Gonzaga. "That woman was a gift."
As a human rights lawyer, Aguon says he feels lucky to know amazing activist lawyers who are also artists. "We care about the law, but we see so clearly its limitations," he said in the conversation with Orange. His response to each further inquiry was layered with insight and passion.
The legal fight for protection of butterflies? "Such a metaphor for us – we (Guam natives) are fighting so hard to live."
Tackling suits against government entities? "It's about radical listening to the lives that are more vulnerable than ours."
Becoming a writer? "Sometimes we're just trying to understand what we're living through. Writers shorten the distance between words and people."
Religious expression? "I feel very Catholic in some ways. But I feel closest to God when I'm lying on the earth or in the ocean. Where I live, there's so much life in the jungly village – so many lizards, deer, grasshoppers, butterflies. That's God to me."
Orange wrapped up the online discussion with his own review of Aguon's first book: "The shortest big book I've ever read. Direct. Fierce."
And that's fitting for a piece titled in homage to the Catholic prayer for the dead which Guam children learn early in life:
"Eternal rest grant unto them, O Lord. And let perpetual light shine upon them. May they rest in peace."
» Stay Tuned
Julian Aguon will be coming to Gonzaga October 13, 2022 from 4 p.m. - 5:30 p.m. It will be an event you don't want to miss. Register for the event.