Unleashing the Treasures of Technology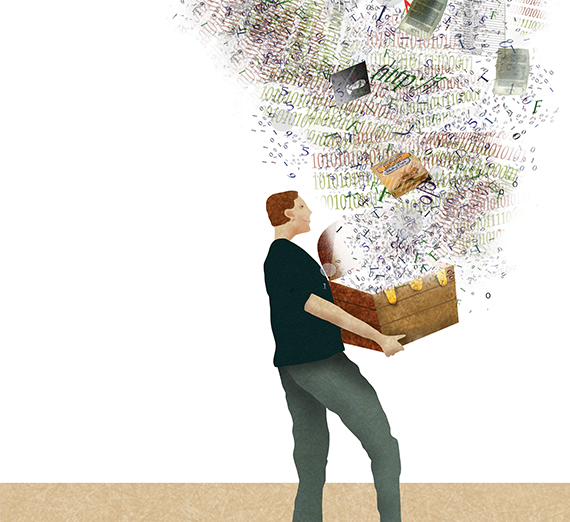 ---
Digital Humanities is a new approach to exploring histories and archives, bringing to life stories we otherwise might miss.
By Sidnee Grubb ('18)
Illustrations by Dave Cutler

How does technology increase knowledge and scholarship in the humanities? A Digital Humanities Program, like the one created in 2016 by Gonzaga's College of Arts and Sciences, is one great example. Katey Roden, visiting scholar in digital humanities and English lecturer, shares what it means for students and for the subjects they study.

What exactly is digital humanities?

This field focuses a lot of energy on exploring how digital platforms, technologies and media can reshape the way we approach questions in humanities classrooms. We think about it in a pedagogical sense, believing that digital humanities is where technology meets the study of human culture – languages, literature, philosophy, religion and the arts.

What does it look like in practice?

Let's say you want to know how many times Shakespeare uses a particular image in all of his plays. This isn't an easy question to answer, unless you can upload all of Shakespeare's plays as a data set and let a computer do the searching. Digital humanities turns text, research, documents, artifacts into data sets that can be observed and manipulated to glean understanding from them holistically and intelligently. The patterns and context that digital humanities can uncover may be invisible to the human eye. Technology isn't replacing the way we answer questions in the humanities but rather enhancing it.

How does this change the learning process as it occurs between students and professors?

Let's be honest: Faculty members in the humanities tend to be nervous about deploying technology in our classrooms because we assume that students know how everything works because they grew up as "digital natives." But a really cool thing can happen in projects where the line between student and teacher gets blurry. We get to start learning together and creating something together. That's where good learning happens.

How does this enhance the teaching mission of Gonzaga?

The mission of this initiative is to democratize access to information. If that doesn't sound Jesuit and humanistic, I don't know what does. Part of our goal in every classroom at Gonzaga, but particularly in the College of Arts and Sciences and even more particularly in the core curriculum, is to encourage students to think about who has access to information, who gets to write narratives that we accept as culture, who writes history, what voices we hear, what voices we don't hear. Digital humanities provides a platform for those who might be voiceless to have a voice. Or for those who might not have access to information, to actually get that information in a free, open forum.

How does this take place?

It can be as simple as bringing a tool into class and letting students experiment. It doesn't have to be as large as creating a digital archive, but even one little exercise rethought through a digital lens or platform can open students' minds to reconsideration of the humanities in profound ways.
Exploring a Little-Known Native History
Emily Clark, assistant professor of religious studies, introduced her spring 2016 class to the Jesuit Archives held in Foley Library at Gonzaga, where they transferred historical documents to a digital archive to preserve and share information about the King Island community of Native Americans in Nome, Alaska.

There's a long history between Jesuits and Native American tribes in the Northwest. What did your students learn?

The course had two goals: Explore the content and study of Native American religion and pay close attention to theories of colonialism and issues of sovereignty. The class went into the archives for about four weeks to digitize a small collection of photographs from 1916 and explore a collection of primary source records from the Jesuits. Together, these images and documents gave us a sense of the interactions between the King Island community and the Jesuit missionaries. After digitizing the images, we uploaded them to an online database that we've named Digital Jesuits so exhibits could be shared.

What was the learning experience like for the students?

By making public-facing work (meaning a cultural product that would be viewable to the descendants of those in the photographs, academics, other students, potential employers and more), it prompted more critical reflection about what they wanted to say. It wouldn't just be me who read their work, and that changed the game. I think the project humanized the class content on a new level. The photographs and the documents tell a complicated, yet incomplete story of a Jesuit mission. We have photographs taken by a Jesuit through the eyes of a Jesuit and documents from Jesuit missionaries. We can talk about issues of colonialism and sovereignty in the classroom, but coming upon a one-perspective story in the archives made that lesson real on a new level.

Others noted that the digital skills they learned, like Photoshop, understanding Dublin Core (a metadata standard), and database creation, would be applicable beyond the class. There was also a group of students who had an engaging discussion about the ethics of Photoshop. To clear up a blurry part of a picture, a student would have to lighten the skin of a King Islander's face. This prompted a conversation among them about the ramifications of doing that. In the end, they left that part of the image blurry.
An Online Presence for a Stage Production
Digital Humanities interns Janine Warrington ('17), Angela Rae ('18) and Elise Kuterbach ('18) created an interactive website for "Weaving Our Sisters' Voices," an original theatre production written collaboratively by dance Assistant Professor Suzanne Ostersmith and religious studies Professor Linda Schearing to explore women of the Bible. Warrington focused on providing an accurate historical context while Rae oversaw the layout and Kuterbach served as editor of multimedia content.

Rae said the digital humanities experience impacted her career discernment. "I was really discouraged with computer science because I was in classes that were really tough and full of math and abstract complexity. But this work is more front-end computer science and has made me realize this is what I want to do."

Warrington, who plans to become a pastor, says, "I want to make sure that I make space for the social justice aspects of Scripture which can kind of get skimmed over sometimes. This initiative is about being accessible to a wider group of people and I think that's really cool – having a platform to get stories out to more people who maybe aren't churchgoers or aren't Christians but can benefit from this rich text."


What's Next?
The possibilities are endless. One upcoming project is a digital exhibit of the life and times of Miss Myrtle Woldson, who funded a new performing arts center at Gonzaga, due for completion in December 2018. The exhibit will share the history of a family of philanthropists who left a mark on Spokane.